NEW DATE: SUNDAY, AUG 22, 2021 FROM 1-3 Free concert with free beach admission/swim during event time (until capacity reaches)
About this event
Fun concert on the grass featuring the Scooby Snax Band! No beach admission during event. Open to the public. Grilled burger and hot dogs for sale to help support the event cost. Due to COVID-19, limitation capacity may be in effect.
No alcohol, drugs, weapons are permitted to be brought on event property.
Food will be available for purchase via cash or credit card. No alcohol is permitted to be brought into the venue. This is a non-smoking facility.
-The Town of Acton reserves the right to refuse entry.
- Any person(s) who are noisy, drunk, threatening or unruly will be asked to leave the premises. No refunds will be issued for dismissal.
- Smoking is not permitted in event area. Designated smoking area is in the parking lot only on the paved surface.
- No dogs are permitted into the event area except service animals.
-The Town of Acton has all rights to film, photo and video production of this event.
- In the event that we have to cancel an event for any cause beyond our control including, without limitation, act of God, war, insurrection, riot, civil disturbances, acts of terrorism, fire, explosion, flood, theft of essential equipment, malicious damage, strike, lock out, weather, third party injunction, national defense requirements, acts or regulations of national or local governments. We will not be liable to you for failure to perform any obligation under these Terms and Conditions to the extent that the failure is caused by Force Majeure.
- Where reasonably necessary, the Town of Acton reserves the right to make alterations to the published event program.
- Attendees must comply with all relevant statutes, safety announcements, and Town of Acton regulations while at the event.
- Neither the Town of Acton, its employees, volunteers, band performers and production crew will be responsible for any loss, theft or damage of your personal belongs.
-By entering the Event, You assume any and all risk and/or danger, known and unknown, foreseeable and unforeseeable, resulting from, or incidental to, the Event, whether occurring prior to, during, or subsequent to, the Event, including, but not limited to, any death, personal injury or loss, damage or liability whatsoever. You understand that Your use of Your Ticket is contingent upon Your voluntary assumption of the risk and danger that may result from, or be incidental to, Your presence at the Event, whether occurring prior to, during or after the Event, including, but not limited to, any actions or omissions of the Town of Acton (as defined herein).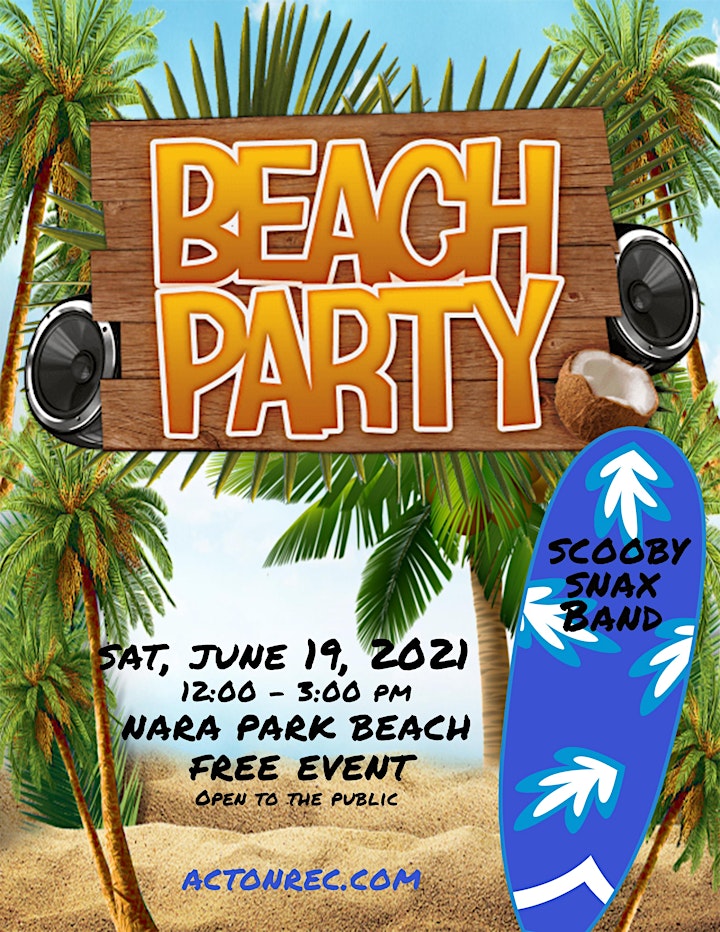 Organizer of Beach Party featuring the Scooby Snax Band 2021