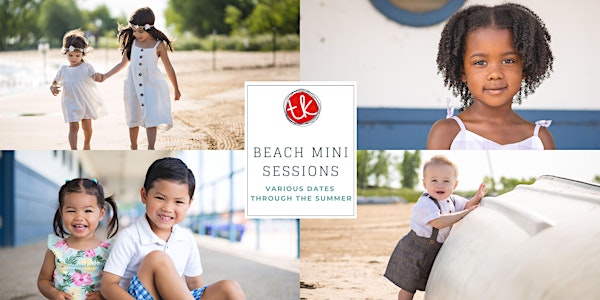 Beach Mini Sessions- For the Whole Family with Thomas
Summer Beach Photos, now for the whole family!
By TK Photography Chicago
Location
Montrose Harbor 601 W Montrose Ave Chicago, IL 60613
Refund Policy
Contact the organizer to request a refund.
About this event
Date and Time
Saturday, July 15, 2023
RAIN DATE Saturday, July 22, 2023 Same slot
20 Minute Mini Session (no more than 5 people)
10 Digital Downloads
Online delivery of Edited Images
14 days before the event, or after we receive notification of your purchase, we will send you the photography contract.
RAIN DATE
Rain date is in place for this mini-session event. The raindate for sessions is Saturday, July 22, 2023
Be sure you are available for the rain date.
The session fee is nonrefundable but transferable to another person if you can not make it. Rescheduling due to weather is at TK Photography's discretion. Decisions about rescheduling will go out via email the day of the session at 7am (for 9:00-12:00pm) and 2pm (for 4:00-7:00pm) unless there are new developments. We will not move individual sessions. If it rains on the rain date, we will move into our Edgewater Studio. If you cannot make the 3rd date, all money will become a credit towards future sessions.
We are so excited to have you join us. We are also carefully watching the Stay at Home Order and CDC guidelines for the legality and safety of running our business. In the event that we are unable to hold sessions for any given date, the session fee will become a credit towards future sessions. Unfortunately, we are unable to issue refunds.
If you, or anyone in your family, tests positive for COVID or has COVID symptoms please contact us to reschedule.
Editing time is 2-3 weeks
We recommend that your child is at least 6 months old, and able to sit unsupported, for these sessions.
Ticket sales are non-refundable. Under some circumstances, rescheduling may be permitted for a fee.
Photography Waiver
By signing up for this mini session the client grants TK Photography the right to film, record, and photograph the client and their family. Images taken may be used for advertising, display or any purpose thought proper by TK Photography.
COMPLETE PURCHASE QUICKLY!
There is only one-time slot available per day. Until checkout has been completed, slots are still available for purchase by other customers.
Having the slot in your cart does not guarantee the slot as yours. Completing the purchase is the only way to claim a slot.
About the organizer
TK Photography is a Contemporary Photography Company, based in Chicago IL.  We are designed to follow your life through every milestone and stage.   Our portfolio includes, maternity, newborn, family portrait sessions, engagement sessions, weddings, and various family events. We aim to capture genuine laughs, smiles, hugs, and moments. Your collection of photographs from us will reflect our unique style and your unique personality.