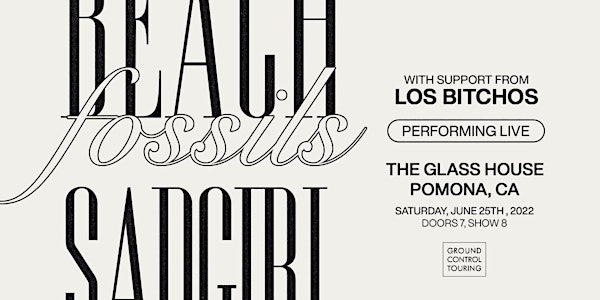 Beach Fossils - SadGirl - Los Bitchos
Viva and Ground Control Presents:
Performers
Beach Fossils
SadGirl, Los Bitchos
Location
The Glass House
200 West 2nd St
Pomona, CA 91766
About this event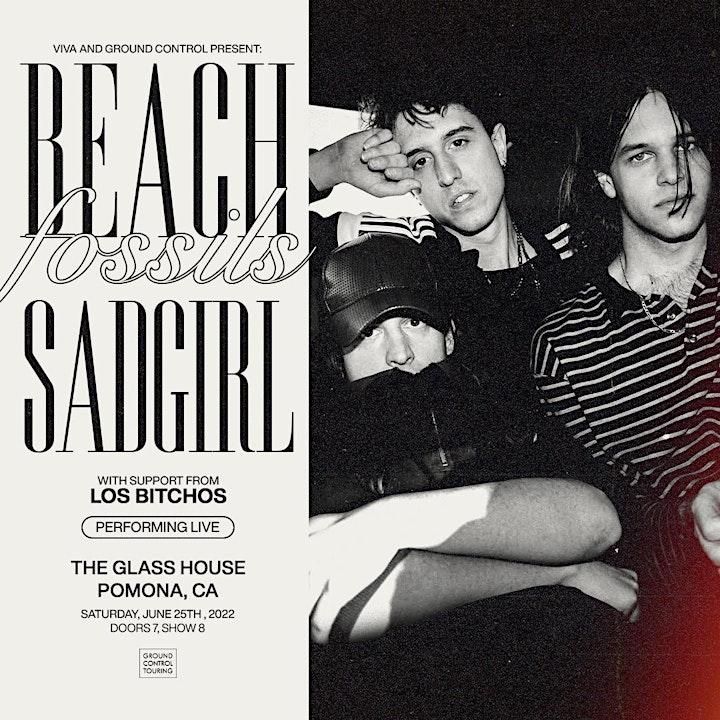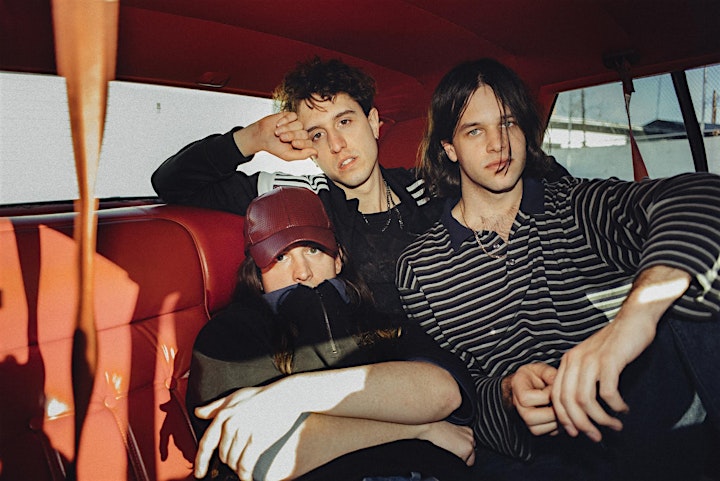 Brooklyn indie pop band Beach Fossils formed in 2009 as a vehicle for the solo recordings of multi-instrumentalist and vocalist Dustin Payseur. Beach Fossils' debut self-titled album was released on Captured Tracks in 2010 and was met with critical acclaim. 2011's What a Pleasure showed the band continuing to experiment and refine their songwriting chops. The next Beach Fossils album Clash the Truth featured a more energetic sound reminiscent of the band's live shows and was issued in early 2013 on Captured Tracks.
 After extensive touring, the group began working on a new album. This time out, Payseur involved the other members of the band in the writing process, with bassist Jack Doyle Smith and guitarist Tommy Davidson contributing ideas. Somersault showcased a band in bloom. Charting into new musical territory with a refined songwriting style, Somersault is an album that captures flashes of life in New York grounded in personal experience. The record was made in various locales in New York City, Los Angeles and a cabin in Upstate New York, featuring guest vocals from Slowdive's Rachel Goswell among others. Somersault was released in mid 2017 on Bayonet Records, a label Payseur started with his wife Katie Garcia.
SadGirl has always existed in a state of flux, with new contributors coming in and out of the equation and new tactics being explored for capturing found Misha Lindes' songwriting. And yet the heart and soul of the music has always touched upon memories of the past while mining an analog sound steeped in history, nostalgia, and LA. The group's sound digs into old school brokenhearted country music like George Jones or Patsy Cline with a slight flourish of Mexican norteño ballads. This new chapter for the group focuses more as a personal recording project than it has been in the past. If this is any indication of what's to come for SadGirl, then perhaps the past is best left to memory.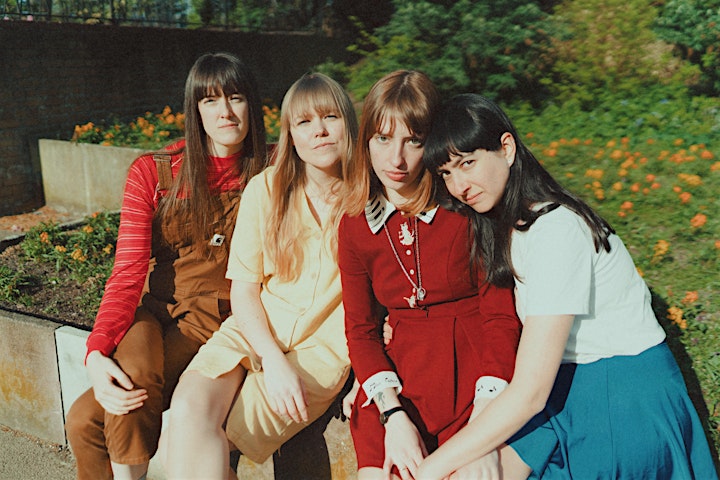 It's been a busy lockdown for Los Bitchos, we're beyond excited to say, they've finished recording their debut album with Franz Ferdinand frontman, Alex Kapranos, and of course, it sounds like the biggest party imaginable.
With an arsenal of new tracks and a crazy tour schedule, they're chomping at the bit to get out and play live again, and of course release their debut album into the wild. Further details on that to follow…
Championed by the likes of Cheryl Waters, Khurangbin, King Gizzard, Marc Riley, She Shreds, Vogue, NME, DIY and SXSW. Los Bitchos are set for a massive 2021 & 2022.
Before lockdown they'd been wowing crowds supporting the likes of Mac De Marco, Ty Segall, Viagra Boys, Bill Ryder Jones, Dry Cleaning, Kikagaku Moyo and Methyl Ethel.
Make sure you get along to a show to catch their effervescent and infectious instrumental Cumbia, at a venue or festival near you.
"It's impossible not to have a good time watching this band." - DIY Magazine
This band would provide the "perfect soundtrack to a Quentin Tarantino version of Sex and The City." - Someone on Youtube