Beach Dads Club: Battle of the Bands V

Friday, February 5, 2016 at 7:00 PM (PST)
Event Details
The Beach Dads Club 5th Annual Battle of the Bands is Friday, February 5 at the New Parish. Seriously one of the best nights out of the year. Low key. High energy. Great music, makes one realize how much amazing musical talent we have in the Beach community. Nice way to hang out with some really fun folks. Raises money for Beach Elementary. Doesn't get much better. 
This year, to open up the evening, Lucy's Home Alone, a middle school band made up of Beach alums Rachel Barton, Will and Paul Davies, Ellington Davis and Noah Rosenbaum will play a mix of soulful originals combined with classic and contemporary pop hits.
Then the Battle will begin with The Night Kitchen, a power trio featuring Beach Revue Band stalwarts Aaron Fisher (Duncan 1st, Wyatt 4th) and Tim Wright (Charlie, 3rd), playing a mixture of rock and soul from artists such as Hendrix, Bob Dylan, Dire Straits, and Marvin Gaye. Next up, the Puckett Family Project, featuring Tod Puckett (Sophia K, Macy and Ella, 4th grade) will get your boogie started with a plugged-in, rocking mix of funk and countrified rock originals. The night will close out with a high energy set from Tammy's Camaro, a 9 piece band with Brian Weiss (Clare 3rd, Aidan 5th) on saxophone, pounding out Rock, Pop, Alternative and Funk hits, b-sides and pretty much anything they think is cool from the 70's up through today.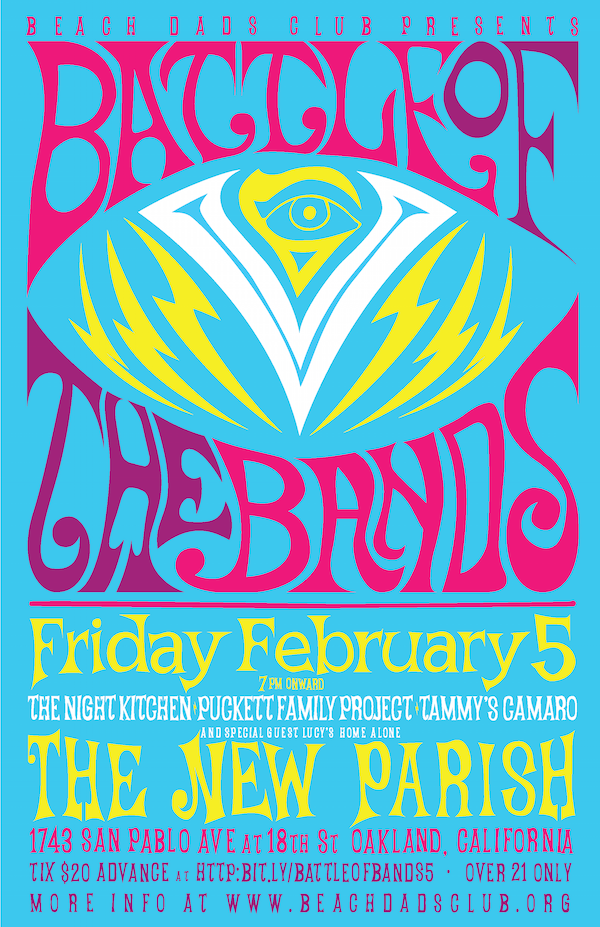 Organizer
The Beach Dads Club exists to foster community and social connections among the Dads while accomplishing special projects that have been identified as important to the Beach School community, whether physical or cultural. The club raises money to fund these projects by sponsoring creative and fun community events.
http://beachdadsclub.org