Beach Brunch & Breathing! Optional ice bath! Aug 25
Description
Deep breathing and delicious brunch at the beach in NY!
Guided Yoga, Breathing & Mindfulness Techniques
When: Sundays at 12 pm
Where: Camp Rockaway at Riis Beach, right at bus stop for shuttle/Q22/Q35.
Tickets – $30 (ice bath additional $5)
Includes 60-minute oceanic breathing session, followed by a cauliflower bowl from Cuisine by Claudette and a bowl of MUD. All followed by an optional group ocean plunge (inspired by Hannes' mentor, the Ice Man, Wim Hof)
60-minute sessions of breathing exercises to:
Improve efficiency with focus, presence, and bonding with those around you.

Release natural "happy hormones" within minutes.

Improve the immune system function.

Reduce stress, anxiety, depression.

Scientifically studied practices.
Take the NYC Ferry early from the city or Brooklyn ($2.75) to Rockaways and a few stops on the bus - and you are at Jacob Riis Park Beach Bazaar. Or take the A train to the end to 116th St in the Rockaways and walk along the water or take the bus a few stops. Call or text (low reception area) if you are looking for us: 646 then 474 3062
Hosted by: Cuisine by Claudette, EatMUD, and Hannes Bend (IG@hannesbend and webreathions.com)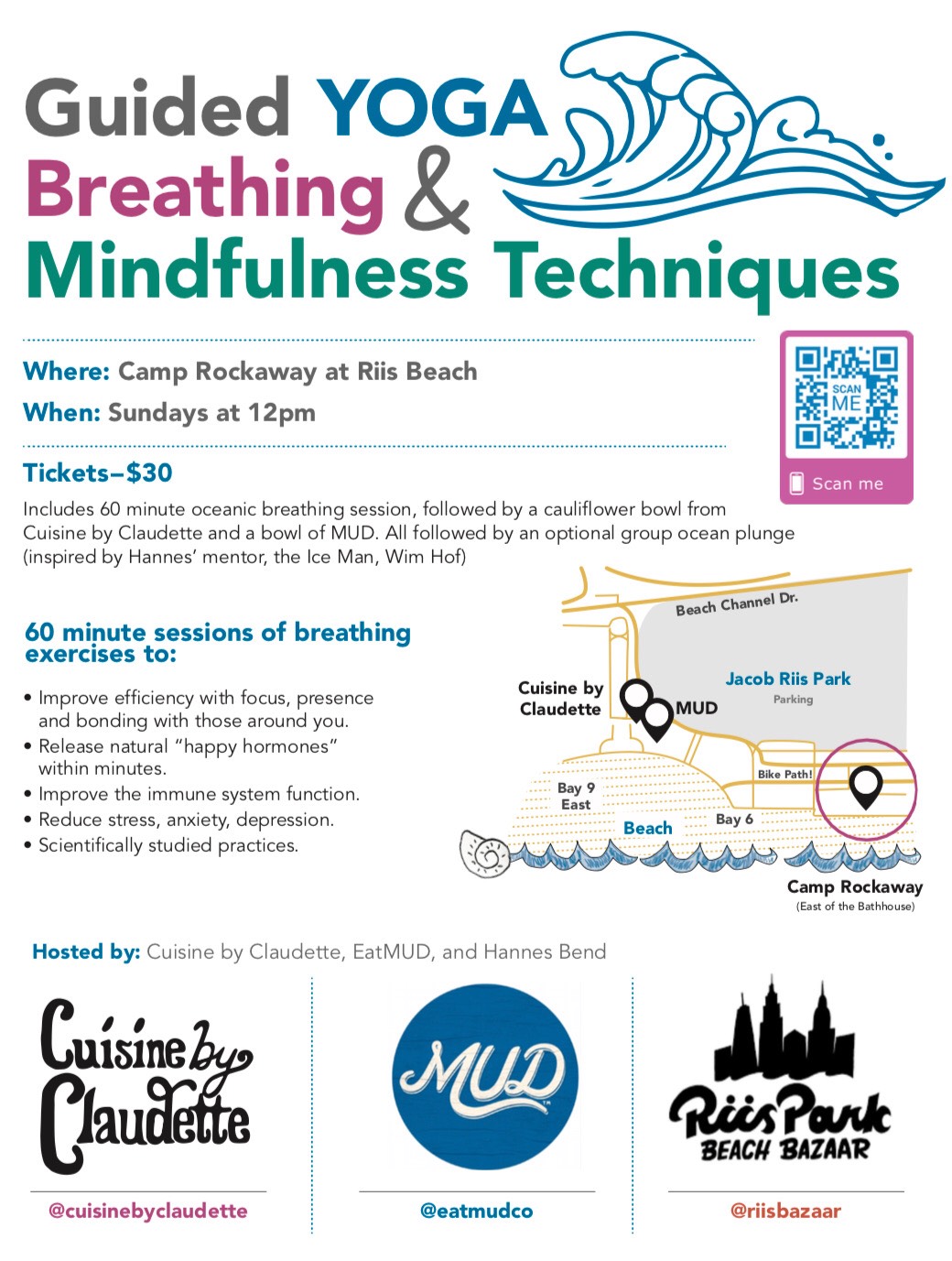 Hannes Bend has been guiding yoga and breathing internationally since 2014 at museums, offices (Google HQ, WeWork), jails, schools and conferences to all ages (2-82y). Hannes has trained with Tibetan Masters and his mentor Wim "The Iceman" Hof since 2015. Find more information under www.webreathions.com and Instagram @hannesbend. Hannes is also part of the healme.nyc team with weekly workshops, and guides a weekly meetup group of 300+ members at Elizabeth Street Garden: https://www.meetup.com/breatheny/
Cuisine by Claudette provides a health-conscious cafe and store and has been a part of the Rockaway community since 2012. https://cuisinebyclaudette.nyc/
Eat MUD is a a rich and creamy dairy free ice cream sweetened only with dates! Paleo and Vegan friendly. Gluten Free, Soy Free, Non GMO, No Added Sugar or Sugar Alcohols. https://www.eatmud.com/
Organizer of Beach Brunch & Breathing! Optional ice bath! Aug 25
Hannes Bend has been guiding yoga and breathing internationally since 2014 at museums, offices (Google HQ, WeWork), jails, schools and conferences to all ages (2-82y). Hannes has trained with Tibetan Masters and his mentor Wim "The Iceman" Hof since 2015. Find more information under www.webreathions.com and Instagram @hannesbend. Hannes is also part of the healme.nyc team with weekly workshops, and guides a weekly meetup group of 300+ members at Elizabeth Street Garden: https://www.meetup.com/breatheny/
Cuisine by Claudette provides a health-conscious cafe and store and has been a part of the Rockaway community since 2012. https://cuisinebyclaudette.nyc/
Eat MUD is a a rich and creamy dairy free ice cream sweetened only with dates! Paleo and Vegan friendly. Gluten Free, Soy Free, Non GMO, No Added Sugar or Sugar Alcohols.  https://www.eatmud.com/