Description
CHECK OUT VIXEN AND HER PREVIOUS STUDENTS
IN INTERVIEW HERE

"So fun and validating…a beautiful blend of confidence, sensuality and power that is very inspiring…extremely valuable and life changing!! - Jennifer Gilchrist – Blissful Bride Coach
Learn to FEEL EXHILARATED about presenting your TRUE SELF…
…the amazing you, the one you didn't realize existed, or are too scared to let out.
Shed your skin of past identities and explore who you are NOW.
Break down your mental barriers of being judged, not being accepted, not feeling good enough.
Realize that YOU are fabulous!
YOU are more than enough!
Learn to accept, and own, what you have and who you are.
"It has changed the way I feel about making eye contact with strangers on the street. It's made me bolder, and sassier as I move through the world" - Senta Burke – Actress
Designed for bodies of ALL ages, abilities, shapes and sizes, actress Cat LaCohie (aka Vixen DeVille) presents her own unique blend of Burlesque technique, fused with elements of her extensive experience in Physical Theatre, Stand-up, Public Speaking, and Theatre Creation.
Using a mixture of supportive group workshops and attentive one-on-one sessions, this 10 Week journey culminates in YOUR performance of YOUR personally created, fully developed, solo act in a professional burlesque show in LA, as proof and celebration of your new fund confidence!
Step out of your (dis)comfort zone and into your unleashed glory!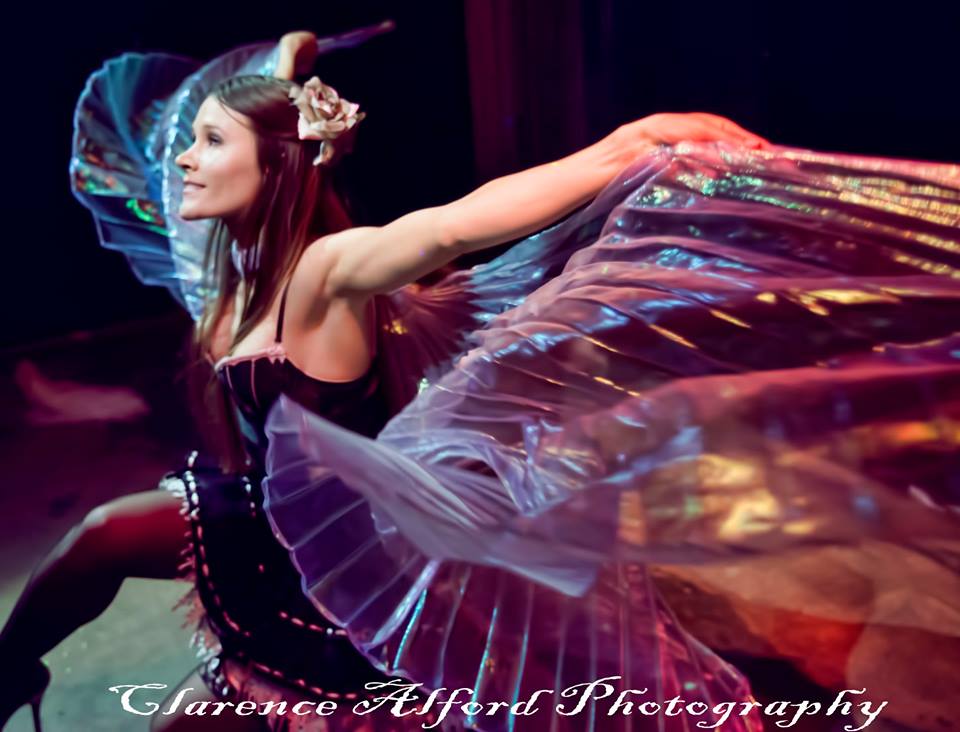 "Vixen is an amazingly supportive, inspiring and dynamic coach… I used to be really heavy and didn't feel connected to my new, thinner body. I also believed I couldn't dance my entire life, which made me even more self-conscious. I went from having a panic attack the first class, to performing my act on stage like a pro 6 weeks later. It was the most fun I've ever had in my life! I now feel sexy, confident and strong. This class was a truly transformative experience!
Don't think about it, just do it" - Kim C. - Casting Director
In Just 10 Weeks You Will:
Discover what qualities you as an individual naturally bring to the stage/into a room and how to manipulate these to your advantage both as a performer and in everyday life.
Find what makes YOU unique in terms of YOUR characteristics, and how YOUR body looks and moves and gain a deeper love and appreciation for this 'YOU-nique' self.
Learn a variety of Solo-Performance and Burlesque techniques including the 'Art Of Tease' and 'Prop Manipulation', to develop magnetic charisma, the ability to 'demand to be seen' and to project a more confident you!
Develop your Burlesque Persona and create a personally tailored solo act with no pressure to be anything other than exactly what, and who, you want to be! Feel the freedom of fully embracing and living as your true self for the duration of the act, and the elation of allowing an audience to witness you in your height of glory.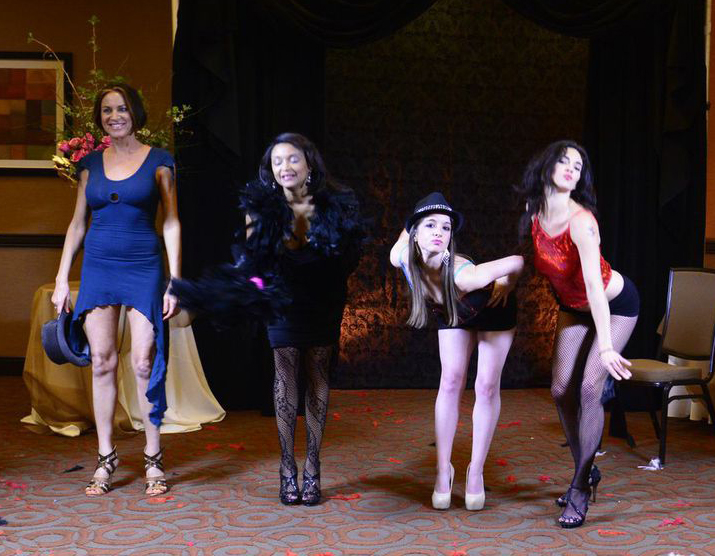 THE ADVENTURE STARTS HERE:
STEP ONE – 30min Consultation with Vixen DeVille.
Vixen will explore what inspires and motivates you in terms of music, costume, theme, and specific performance skills. Together you will pinpoint which issues you particularly want to explore during your 6 Weeks and what type of performance you want to create.
STEP TWO - 2 x Core Concepts workshop led by Vixen DeVille.

(90 mins)
Introducing the core concepts of Burlesque and Solo Performance techniques and the mindset needed to be an engaging solo performer including:
~ Confidence in 'Being Seen'
~ Character exploration
~ Play and Presentation – Rapport with your audience
~ Basic Burlesque moves
Workshop takes place at Madilyn Clark Studios in North Hollywood, CA with a maximum of 20 participants.
STEP THREE - 6 x Act Exploration workshops led by Vixen DeVille (90 mins)
With the added benefit of an encouraging and supportive group environment, a safe space is provided in which Vixen will work with you to gradually shape and mold your performance piece, while also providing the opportunity to learn and take inspiration from the exploration and discoveries of your fellow students. Workshop takes place once a week at Vixen's private studio at 1844 Taft Ave, Hollywood with a maximum of 4 students.
STEP FOUR - 2 x One-on-One Act Development sessions with Vixen DeVille
(60 minutes)
Building on the work done in STEP TWO and THREE, you and Vixen will work privately as performer and director to further develop and fine-tune your tailored act.
AND FINALLY…
***STEP FIVE***
***GUARANTEED APPEARANCE AS A GUEST STAR***
***IN A PROFESSIONAL LOS ANGELES BURLESQUE SHOW***
BONUS: Stills Photography of your GUEST STAR performance.
BONUS: Video footage of your work during Act Development Workshops for your personal review and reference in order to rehearse in between sessions.
BONUS: Provision of rehearsal props and costume - fully explore a wide range of possibilities without extra financial commitment – if you can imagine it - Vixen can provide it!
BONUS: Access to Professional Music Consultant - to help select/edit your music choices as needed ready for the professional stage.
BONUS: Access to the private Burlesque Body Confidence Facebook support group for extra help and advice.
Client Testimonials
"I love working with Vixen. My confidence level is back up, I'm learning to appreciate and love my body and myself again. Vixen is so creative, inspiring and helpful. I had a hard time deciding what act to do, what story to tell, she's been extremely patient with me and has helped me so much. Not only is she a great teacher, she's fun to be around, smart, easy going and a total pro. When I saw her perform, she blew me away. I knew right than I'm in good hands. I love her class, her style and her as a person in general. I've seen some of her other students work on their acts and transform on stage, truly amazing. Plus, it's fun to meet like-minded people and make new friends.
I highly recommend her!!!!"
Jacqueline Van Bierk - Singer
"I wanted to unlock my inner goddess who had been handcuffed by bad relationships, bosses who had berated me, women who had bullied me…and a huge lack of self-worth. I also wanted to express a side of me that was lost when I became mother.
My body is now shared, tugged and constantly sought after for comfort and protection. I wanted to feel like for a moment my body was my own again…never did I think it would have such a profound impact on my self-confidence"
Astrid Vause – Inspire Village Blog
" What I didn't expect... was to find myself in a totally safe and friendly environment, with fun, friendly and encouraging women. I wanted what Vixen was talking about! I wanted to find out who I really was and what I wanted people to see. It wasn't about stripping or nakedness at all…it was about empowering myself. Loving myself. All of me, even the "bits" that I was conditioned to think were faults… I left being able to say "i'm fabulous!"... and for the first time, I meant it! This is a class not to miss!"
Erin Treanor - Theatre Producer.
"That moment when your client tells you that the Burlesque Class you organized is what helped her feel comfortable (& be awesome) on the launch livestream! So it turns out that maybe I'm not crazy? How about that Cat LaCohie!"
Christina Morassi – Ecstatic Wealth Coach
"FABULOUS! This class is wonderful for everyone--woman, man, performer, business professional, housewife. . .
Vixen is an incredibly talented actress/dancer that truly has the gift of being a great teacher. Her enthusiasm, knowledge, experience and patience allows all in her class to excel. I love Vixen and all that she does!"
Mona Harrington – Le Cordon Bleu Chef
"Vixen, really gives you the permission to come out of your shell and express yourself to the fullest. She provides you with great techniques in a comprehensive easy-to-learn way in a safe environment … Absolutely highly, recommend that anyone take this class --- you'll be a more confident, happy, and free person for it.... and have an absolute blast in the mean time. Vixen is the best!!!"
Katie Ann Mitchell - Actress/Singer
"I was able to learn insight into the burlesque world, something I had NO previous experience in. With her help and guidance, I auditioned and became part of The Dollface Dames burlesque troupe in LA. I am not easily impressed by people, but Cat was so good at what she did (and was so fun a person to be around) that she made it hard NOT to be wow-ed by her. I think comedian Steve Martin said it best - "Be so good they can't ignore you!". TAKE CLASSES WITH CAT. DO IT."
Danielle -'Ginnie Hendrix' – Los Angeles (and now East Coast) Burlesque Performer
__________________________________
Core Concepts Classes run 7pm – 8:30pm at Madilyn Clark Studios, Burbank
All Other Sessions run 7pm-8:30pm at Vixen's private studio at 1844 Taft Avenue, Hollywood.
***Classes are limited to 5 students so each student fully receives the personal attention they deserve***
A new round of courses starts approximately every two months.
___________________________________
Email vixen@Vixendeville.com with any questions you may have.

Check out Vixen's reviews on Yelp!
http://www.yelp.com/biz/vixen-deville-burlesque-and-body-confidence-los-angeles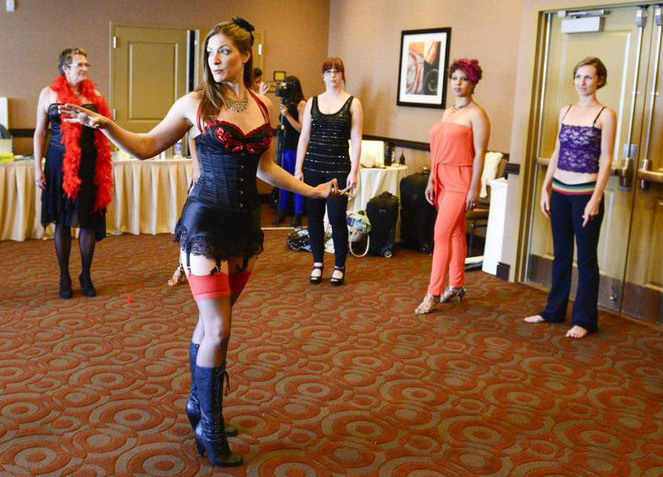 Investment if paid in fulll - $825
OR
Deposit of $250 follow by 3 installments of $220 = $910