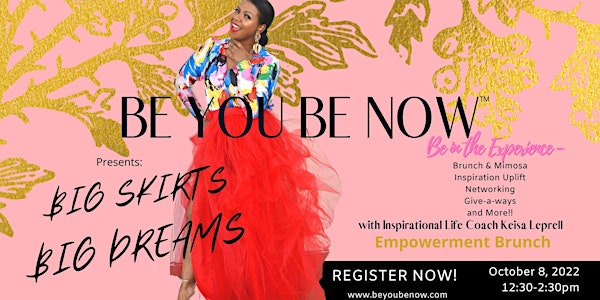 BE YOU BE NOW™ Presents: BIG SKIRTS, BIG DREAMS Brunch
BE YOU BE NOW™ Presents: BIG SKIRTS, BIG DREAMS BRUNCH!
About this event
The Dream is BIG! It's your time Now!
Whether you see it as a dream or a purpose, the time is now. Little steps, Big steps. Little faith, Big faith. Little dreams, Big dreams. Got to start somewhere.
Show up for YOU!
This experience is about moving forward with God, a Dream, Faith, and if fear is still hanging around, it can come too.
Real and Honest Open Talk, Empowerment, Transformation, and Why Now are just a few of the experiences in the making at the BIG SKIRTS,BIG DREAMS event!!!
It doesn't matter where you are with your dream:
Just starting? Ok
Been sitting on it for a few months, years? Ok
Ready to do something for you? Ok
Ready to listen and act to your intuition? Ok
Need the extra push and motivation? Ok
If you just want to brunch and be around good, positive people - Ok
This is for you!
Your Experience includes:
Brunch & Mimosas
Networking
Interactive Activities
Giveaways/Thank You gifts
Attire
Big Skirts & Fabulously Chic
Filming/Photos
This event will be filmed/pictures
Wellness
If you are feeling ill, have sypmtoms, or have been exposed to someone with covid, please stay home and get well. We want everyone to have a wonderful experience! Thanks in Advance!
*****Limited Seating*****
Private Location: provided with registration