About this Event
Brought to you by Be Well in Paradise in partnership with Naples Marco Island Everglades CVB, sponsored by the Health & Wellness Sanctuary, this event is full of fun exciting activities for the whole family. (Please bring your own water bottles which can be refilled on premises.)
Schedule: (Please note there may be last-minute changes)
8am to 2pm Meet the brave firemfighters of North Collier Fire & Rescue, see a fire engine up close and personal and learn about fire safety·
8:30am to 9am Enjoy DOGA, yoga with your dog(s) with Barbara King from BKS Yoga Studio
8:30am to 9:15am Take a Blue Zones Moai Walk (1-mile)
9am to 10am Experience Yoga for Kids & Family with Diana Thomas
10AM to Noon Scavenger Hunt - register in advance*
10am to 11am Family Fitness with Tamika and Spencer from Meant2Move (in Gym)
10:30am to 1:30pm Enjoy Charity for Change Kids Activities with Giver (the 6-foot Orangutan)
11:30am to 12:30am Cooking presentation with Purple Panda Wellness (Michon Jackson)
11:30am Tennis fun in Gym
12:30pm Spencer from Meant2Move will talk about how to do functional exercise for fitness in Exhibit Hall
12:30pm to 2pm Pickleball Master class and demo for all
Plus MINI EXPO with giveaways include:
Be Well in Paradise
BKS Yoga Studio
Blue Zones of Southwest Florida
Charity for Change
Essential Chiropractic: Drs. Greg and Maryella Loman
Longevity Performance Center
Meant2Move
Naples Marco Island Everglades Convention & Visitors Bureau
Retro International Products
Sports Council
Order your FREE tickets now!
*SCAVENGER HUNT INFORMATION:
You'll need to register separately for theBeWell family scavenger hunt. Solve the brain teaser clues sent your cell phone and you could win a great prize. Not only is this experience going to be fun, but it's a great way to exercise your mind and body as a family unit. We will make sure that you thoroughly enjoy and remember each one of the special, surprising, and often hilarious moments from the event. When the hunt is over, you'll have some wonderful family memories to share. To register go to bewellinparadise.com and click the scavenger hunt image on the home page. Please note that 50% of proceeds will go to "Charity for Change".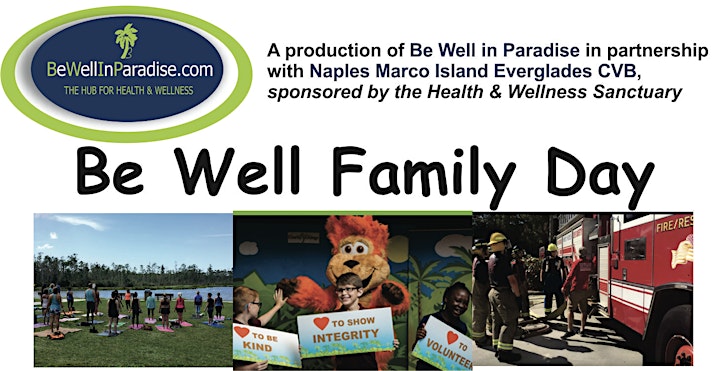 Saturday, September 21st, from 8am to 2pm at North Collier Regional Park