Help Your Mind, Body, and Spirit Be Well
About this event
Be Well Con Orlando 2021 is the inaugural event to invite you into the next generation of Health and Wellness. Step into a day full of inspiration, fitness, and regeneration for your Mind, Body, and Spirit. You'll find presentations by industry experts on a wide range of wellness topics that support your personal development.
Schedule
December 10, 5pm-8pm- Keynote and VIP Preview
Productivity and Execution Expert, Brian P. Moran
Brian is the co-author of the New York Times Bestseller The 12 Week Year, a program developed to empower individuals and companies to achieve more in 12 weeks than what others accomplish in 12 months.
Brian helps people go beyond what they think they are capable of and achieve more than they ever thought possible. His greatest strength is his ability to take success principles and strategies and help others apply them in a way that is powerful and effective…and gets results.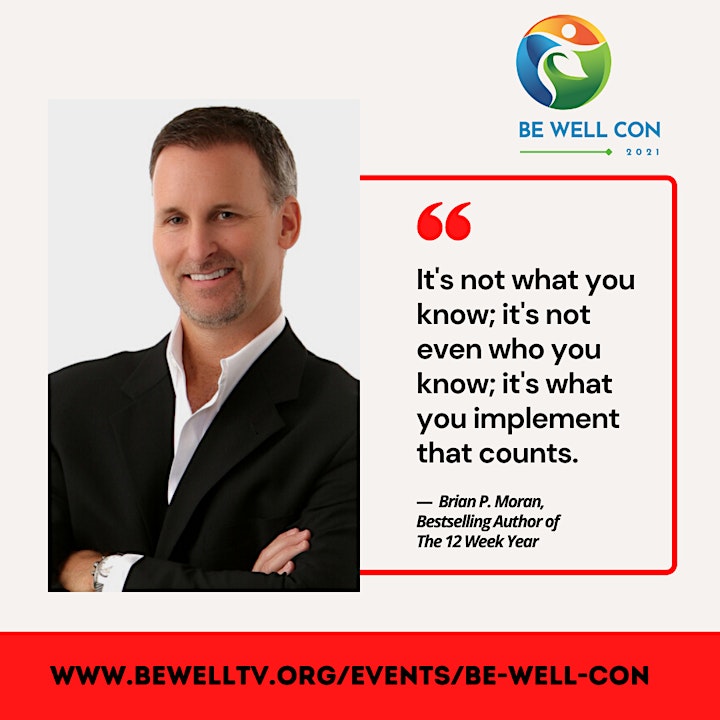 December 11, 10am-5pm
Well Mind Stage
Reassure your mind and engage with presenters who create the vision you need to feel prepared and enthusiastic about life. Learn practical tips to survive and thrive in today's economy and ecosystem. Topics include financial wellness, legal preparedness, and more to provide stability and support.
10:15 am Play, Play, and Play Some More with Sharon Fisher
Sharon Fisher is a professional "experience-maker" and CEO of Play with a Purpose, a creative experiential communications company. As the leader, Sharon custom designs engaging experiences to help businesses solve challenges in an innovative and compelling way. She uses the premise work should be fun or why do it at all as the foundation for her talks and her business.
11:15 am Body Monitoring – 12 Clues to Your Health with Cynthia Paige, MD
A specialist in Family Medicine and Acupuncture, Dr. Cynthia Paige has been caring for patients for over thirty years. With her experience, she emphasizes patient-centered care in her practice by understanding the whole person and working to reach health goals. She develops a mutual understanding and trust with her patients by looking for clues to good health.
12:15 pm The Fit Parent Blueprint with Flex and Marsha Smith
This presentation is for Moms and Dads that would like to get Strong, Fit, & Confident and are looking for direction, support, and accountability.
1:15 pm Your Formula for Financial Wellness with Maunda Land
Financial wellness is a life-long journey. This session will help you navigate your finances regardless of your age or stage in your career. Discuss new ways to develop multiple streams of income through maximizing your skills and utilizing investment vehicles including cryptocurrency. Financial freedom is obtainable for you. Attend this session for the formula for your financial wellness. You don't have to wonder anymore!
2:45 pm INFLAMMATION: How to Transform your health and REALLY Heal Inflammation with Dr. Michelle Trias
In this session we will review the top three inflammatory foods that cause disease and death and the top 3 anti-inflammatory actions that will help you reduce your risk of disease.
Take your LIFE into your hands and watch your health flourish.
Well Body Stage
Jump into the thrill of physical wellness! Connect yourself to your body through various types of exercise to elevate your mood and accelerate your overall health.
10:30 am Breath Work with Maria Marcano
Conscious breathing is known to improve a vast number of health markers. This is an opportunity to understand a corner stone practice for the times we're living in.
11:15 am Get Fit with Flex Smith
Aim for progress, not perfection. Take the stress off your mind and spend the 30 minutes committing to your goals.
12:00 pm Zumba
A total workout, combining all elements of fitness – cardio, muscle conditioning, balance and flexibility, boosted energy and a serious dose of awesome.
12:45 pm Yoga for Everyone, Yoga for You!
Break down the poses in an easy to understand approach, that optimizes each pose's effectiveness, safety and enjoyment.
1:45 pm Injury Prevention through Exercise, Strength, and Mobility with Bridget Jackson
Work your full body from the ground up with Bridget Jackson, coach and founder of Key Life Fitness while she walks you through proper form and techniques to prevent injury.
2:30 pm Zumba
A total workout, combining all elements of fitness – cardio, muscle conditioning, balance and flexibility, boosted energy and a serious dose of awesome.
3:15 pm Get Fit with Flex Smith
Start at the top and work your way down in this full body workout with The BodySmith.
4:00 pm Integrative Yoga Therapy for Health & Healing with Alpa Raval
Heal your body and improve your health with an easy yoga practice to end your day.
Well Spirit Stage
Expand your consciousness and connect with your inner peace with experiences that will enlighten your heart and soul. Prepare for feel-good activity including like meditation, centered breathing, and sound healing. Take the opportunity to learn about deeper healing practices with holistic approach to wellness.
10:45 am Discover Your Power with Victor Latimer, Jr
As we navigate through life, many of us face challenges and difficulties that sometimes keep us from moving forward or growing! Learn to lift yourself by giving to and receiving from a community.
11:45 am Understanding Your Subconscious Mind To Alleviate Anxiety & Stress In Your Life with Shannon Rollins
In this workshop, Shannon helps you understand how the subconscious part of your mind creates these emotions and way to bring your nervous system from a state of dysregulation to a state of calm. The audience will leave with a newfound clarity of why they respond the way they do to situations and tools to regulate their nervous system, further taking back control of their life and circumstances!
12:45 pm A Meditation for Heart Center Joy with Savannah Slawson
Take a moment in time to deep dive into your core and revitalize your heart by sparking a light of joy within. This mediation will calm your mind and invigorate your senses to embody a crystal clear version of self that will inspire you to just be.
2:15 pm Calm in the Chaos with Kristine Iverson
Kristine offers interactive training with a powerful impact and lasting results. Offering scientifically derived statistics, studies and practices for reducing and balancing stressors, with easily accessible techniques that can be done anytime to help balance the body and mind. The techniques are easily implemented into everyday life.
3:15 pm Avoiding Burnout with Maria Marcano
Place your focus not only on the external aspects such as time management, eating, resting, etc but decisively on the mental and emotional drivers of your current unhealthy choices and your body-stored blockages to change.
4:15 pm Take Control of Your Life From The Inside Out with Shannon Rollins
Many times we think that our negative emotions are created from the circumstances around us causing us to feel out of control with our life. What if I told you that these emotions are created within us despite what's going on?
In this talk, Shannon will help you discover how to gain control of your life by using the power of surrender, spirituality, and by understanding yourself more in the process. This talk will help you realize that change doesn't have to be hard and your transformation can be right around the corner, allowing you to feel like the CEO of your own life.