Be the Change: The Impact of Business & Community - Fierce Urgency of Now!
Interested in hearing about what Boston's tomorrow will look like?
About this event
Wondering how businesses impact our region? Curious about how one can advocate for change no matter their industry? Interested in learning about what Boston's tomorrow will look like?
Join us for a dynamic discussion between some of Boston's most accomplished business leaders. This conversation is meant to be interactive, meaning we'll hear directly from several young professionals representatives from Greater Boston who have been invited to ask each panelist one question. We hope that you will leave with the reminder that advocacy does not just fall on city and state representatives. We can all make a difference.
Audience members are welcomed to comment on responses and questions, but will be asked to respect Dr. Crockett when moderating and ushering the program along.
MODERATOR:
SPEAKERS:
AGENDA:
10:15am – 10:20am: Opening Remarks
10:20am – 10:55am: Young Professionals Address Business Leaders
10:55am – 11:05am: Chat Q&A
11:05am – 11:10am: Closing Question
11:10am – 11:15am: Closing Remarks
THIS EVENT IS HOSTED BY: City Awake
City Awake is the Boston Chamber's premier young professional platform that awakens and empowers the city's next generation of thought leaders and change makers who are navigating Boston's business, civic, and cultural communities. The next generation is our future and Boston is home to some of the most creative, most educated, and most diverse young professional population in the U.S. The Boston Chamber supports rising leaders as they embark on their professional journeys throughout Greater Boston and beyond.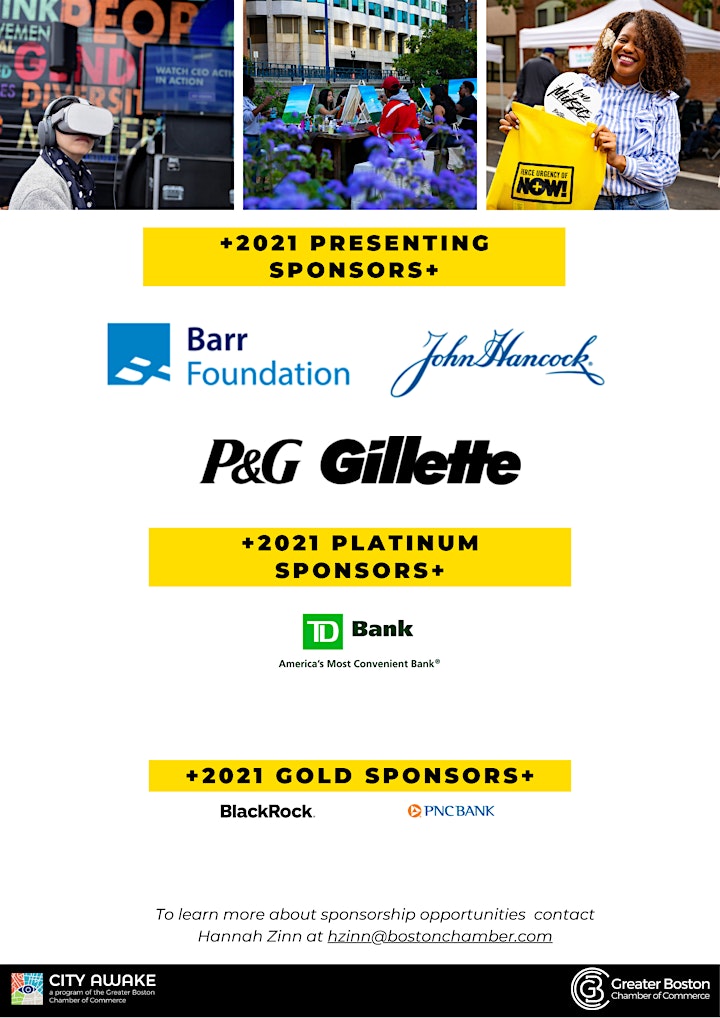 Organizer of Be the Change: The Impact of Business & Community - Fierce Urgency of Now!
Each year, as a part of City Awake, the Greater Boston Chamber of Commerce's young professional network, we host the annual Fierce Urgency of Now festival in partnership with organizations throughout the Greater Boston region. The festival draws thousands of attendees across five days with over 35 events highlighting the challenges and experience of young professionals of color.
F.U.N. encourages our community to share what steps their company or industry is taking to improve the experience of young professionals of color in Greater Boston. Through our programming we also continue to highlight Boston's diverse neighborhoods, voices, organizations, and perspectives through social, cultural, civic, and community events.