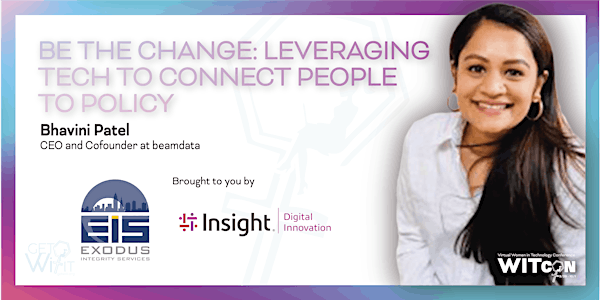 Be the Change: Leveraging Tech to Connect People to Policy
Virtual WITcon Event Series
By getWITit (Women in Tech)
When and where
Date and time
Wednesday, February 10, 2021 · 9 - 10am PST
About this event
Be the Change: Leveraging Tech to Connect People to Policy
Featuring: Bhavini Patel
Event Sponsor: EIS and Insight
Event Link: https://us02web.zoom.us/j/82514346419
SUMMARY:
This proposal is grounded in the idea that building resilient neighborhoods requires a deeper understanding of the root causes of structural racism and a comprehensive place-based plan to increase democratic participation. A key challenge in low-income communities and communities of color are often deprived of opportunities to inform elected officials about how their neighborhoods should be revitalized. This talk will provide an in-depth process analysis for the development of an ethical participatory mapping platform called Be the Change led by a majority-minority team and female founder. This presentation will equip attendees with new skills to successfully align creative place-making technology with equitable community development.
BIO:
Bhavini is the founder of Be the Change (by beamdata), a civic action app that helps people connect with their elected officials to share community concerns. In 2019, Bhavini was a candidate for Allegheny County Council and came in second in a competitive three-way race. In 2020, she was appointed to the PA Medical Marijuana Advisory Board by Senator Jay Costa. As a Pittsburgh native, Bhavini volunteers on the Boards of several nonprofits including Second Generation PAC, the Bhutanese Community Association of PGH and Civically Inc. She graduated from the University of Oxford as a Rotary Global Grant Scholar. Most recently, she was recognized as 30 Under 30 by the Pittsburgh Business Times and The Incline's Who's Next Politics 2018.
About the organizer
getWITit (Women in Tech) started as a local group of women wanting a conference to support women in technical careers and has grown into a non-profit organization with the specific mission to unite and leverage a community's social capital to increase women in technology through programs, resources, and structured activities.
Our vision is to provide local communities with a catalyst for economic growth, created by women's innovations in technology.  https://getwitit.org/