About this Event
Topics covered will include reforestation, regenerative agriculture, soil management, blue carbon, pros and cons of various forms of alternative energy, carbon capture, risks and potential of geo engineering proposals and individual changes to everyday behaviors and #lifestyle. Organized by @nbconservancy and growing group of partners.
FREE registration, FREE parking LOT E, FREE onsite childcare, FREE lunch, and FREE hugs!
Our conference will bring our community together to learn and discuss existing climate change mitigation strategies. Folks will have a chance to attend smaller follow up events and to stay connected through social media.
Morning talks will be recorded and uploaded for free viewing online after the event.
LOCATION: Our morning talks will be held in the Science Lecture Hall (#40). Visit OCC's interactive map here: http://www.orangecoastcollege.edu/about_occ/pages/map-and-directions.aspx.
The morning talks will be held in the Science Lecture Hall (#40 in the map attached here, next to the planetarium). The afternoon event will be set up right outside that building in the Planetarium outside area. Free parking in Lot E only (there is a swap meet in the Adams lot from 8 am -3pm).
LUNCH will be provide to all who register. During lunch, listen to music during the open mic. Kick back and socialize with conference attendees.
AFTERNOON EXHIBITS featuring some of our partners and poster presentations by community college students and graduate students (science fair style) to share information about climate solutions.
Also after lunch, OPEN MIC with comedian Aubree Sweeney. How to talk family members, friends or coworkers who think the world is still flat about climate solutions.
WATCH the Planetarium's 2 pm showing of The Sun, Our Living Star. NOTE: Must purchase tickets separately for this planetarium show.
Organized by Ridge to Reef and Newport Bay Conservancy.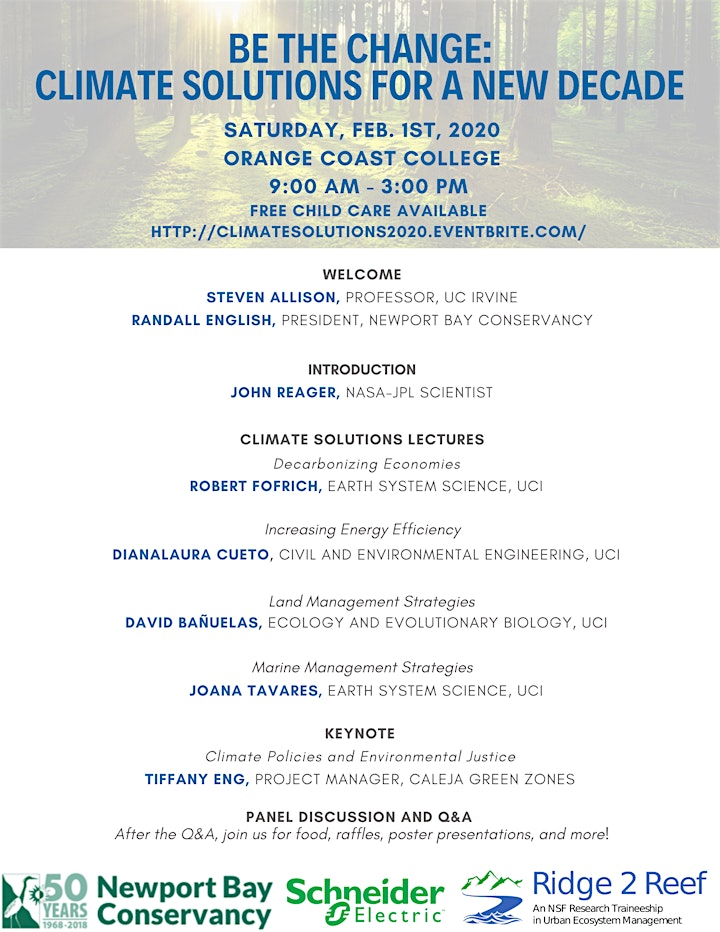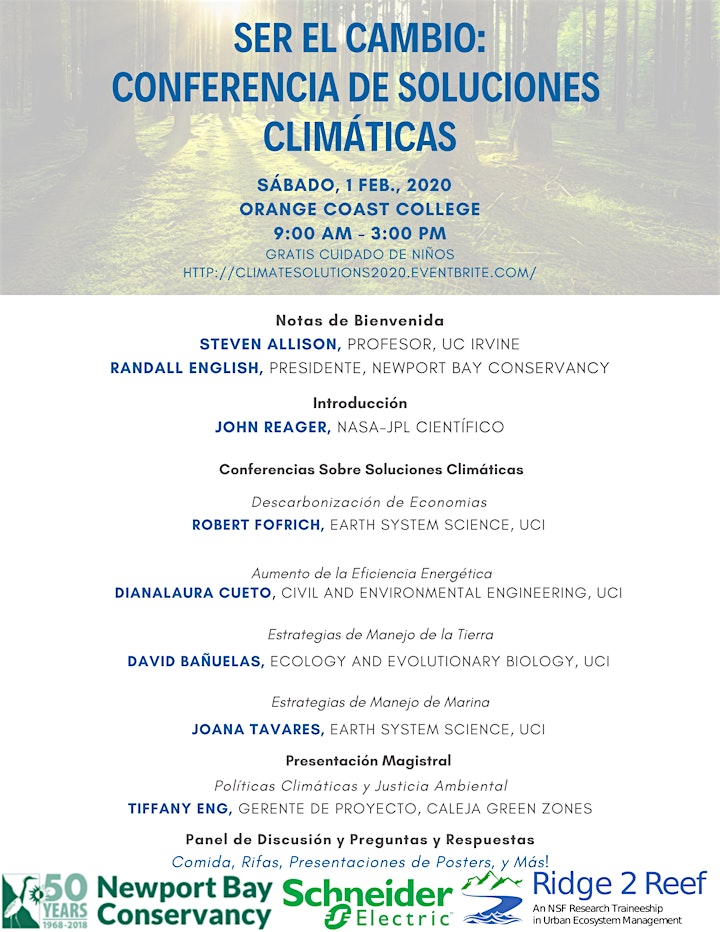 CHILDCARE will be provided for anyone wanting to attend the morning sessions by CPR/FA certified NBC volunteers and staff. Children ages 3 to 10 are welcome to join us until noon for a variety of indoor and outdoor activities. Younger children must be potty trained. Snacks will be provided; however, if there are any dietary restrictions, please notify staff upon arrival and pack and label a snack bag for your child.
One opportunity to get involved with the conference before the date is to submit compelling artwork geared at climate solutions, to be displayed during the conference. In order to be considered, complete this form (https://bit.ly/2DG0JRi), including a short description of your piece.
ONLINE RESOURCE HUB: This resource guide is a compilation of references (i.e. videos, scientific papers, websites, etc.) specifically related to climate change, with an emphasis on solutions. It is filled with science-based information from highly reliable sources, particularly because this subject can often times be very confusing, misleading, polarizing, and highly political.