Be The Change, Be The Refuge: A Benefit for the East Bay Meditation Center...
Description
East Bay Meditation Center warmly invites you to
Be The Change, Be The Refuge:
Cultivating Self Love and Collective Liberation
An evening with renowned meditation teachers Sharon Salzberg and Spring Washam to benefit the East Bay Meditation Center
Musical Offering by Kevin Kihara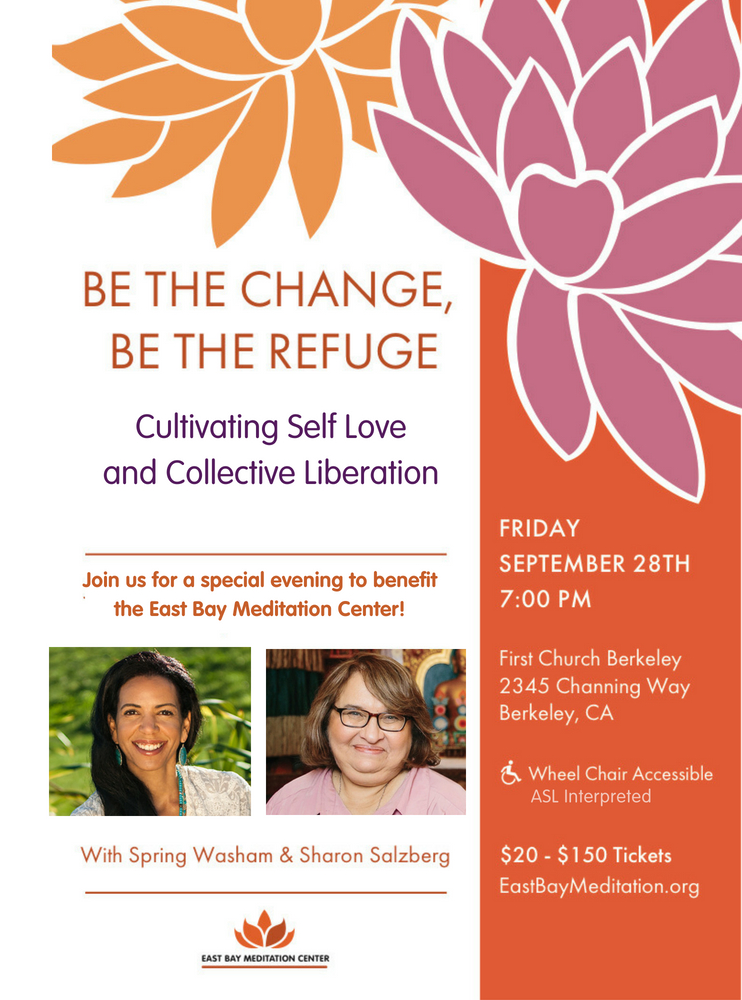 About our Special Guests:
Sharon Salzberg is a central figure in the field of meditation, a world-renowned teacher and NY Times bestselling author. She has played a crucial role in bringing meditation and mindfulness practices to the West and into mainstream culture since 1974, when she first began teaching. She is the co-founder of the Insight Meditation Society in Barre, MA and the author of ten books including NY Times bestseller, Real Happiness, her seminal work, Lovingkindness and, Real Love, her latest release by Flatiron Books. Acclaimed for her humorous, down-to-earth teaching style, Sharon offers a secular, modern approach to Buddhist teachings, making them instantly accessible. She is a regular columnist for On Being, a contributor to Huffington Post, and hosts her own podcast, The Metta Hour, with 70+ episodes. For more information, visit www.SharonSalzberg.com.
Spring Washam is a well-known meditation teacher, author and visionary leader based in Oakland, California. She is the author of A Fierce Heart: Finding Strength, Courage and Wisdom in Any Moment. Spring is considered a pioneer in bringing mindfulness-based healing practices to diverse communities. She is one of the founders and core teachers at the East Bay Meditation Center, located in downtown Oakland, CA. She is also the co-founder of a new organization called Communities Rizing, which is dedicated to providing yoga and meditation teacher training programs for communities of color. She received extensive training by Jack Kornfield, is a member of the teacher's council at Spirit Rock Meditation Center in northern California, and has practiced and studied Buddhist philosophy in both the Theravada and Tibetan schools of Buddhism for the last 20 years. In addition to being a teacher, she is also a shamanic practitioner and has studied indigenous healing practices for over a decade. She is the founder of Lotus Vine Journeys, an organization that blends indigenous healing practices with Buddhist wisdom. Her writing and teachings have appeared in many online journals and publications such as Lions Roar, Tricycle, and Belief.net. She has been a guest on many popular podcasts and radio shows. She currently travels and teaches meditation retreats, workshops and classes worldwide.
Organizer of Be The Change, Be The Refuge: A Benefit for the East Bay Meditation Center with Sharon Salzberg and Spring Washam