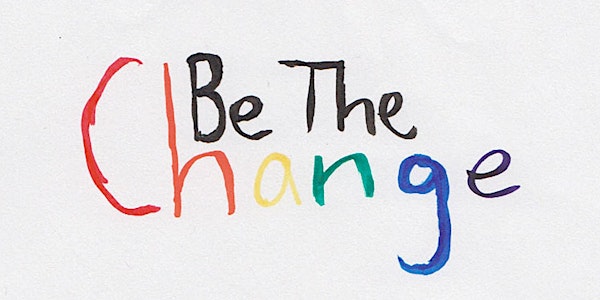 Be the Change 2020: Session 1 Anti-Racism, Social Solidarity & Brave Spaces
Everyone 13 and up is invited to Be the Change!
About this event
Session 1: Anti-Racism, Social Solidarity & Brave Spaces
About this Event
In this session, we are inviting you to explore what it means to practice antiracism––the active process of identifying and eliminating racism by changing systems, organizational structures, policies and practices and attitudes––and how to engage in acts of social solidarity by creating brave spaces for dialogue.
A brave space is an intentional environment where people can choose to engage in challenging dialogues with courage and empathy. This could be a classroom, a community event, a public library, or a virtual meeting. In these spaces, people can step out of their comfort zone and move towards a growth zone to learn from each other's perspectives and address critical issues impacting their lives and communities.
The session will include an opportunity to participate in a sharing circle to reflect on the topics covered in this presentation. Sharing circles are empathetic spaces that center story-listening, healing, and facilitate a process of collective learning.
Key Questions Addressed by the Presenter: What is antiracism? What is solidarity? How can we engage in social solidarity with the Black Lives Matter movement and other social justice efforts? How can we create brave spaces for dialogue?
About the Presenter
Luis Ortega is a multidisciplinary storyteller, facilitator, empathy educator, and the founder and director of Storytellers for Change.
Over the last fourteen years, Luis has worked with youth, educators, and organizations to co-design storytelling strategies, projects, and programs to foster empathy, inclusion, and equity across communities. His work and projects have been featured at the Harvard DACA Seminar, HBO's "Where Do You Exist?" podcast, the Kauffman Foundation Disruptor Speaker Series, and the ArtPlace America Summit. Most recently, Luis was selected as a W K. Kellogg Foundation's Community Leadership Network Fellow and has launched his first visual media book project, 100 Changemakers: Young Leaders of Social Change, at the Bill & Melinda Gates Foundation Discovery Center.
About Be the Change 2020
This year the Be the Change Summit will be a series of virtual events that will explore themes identified by the Riverview Youth Council, such as how to tame stress, how to avoid toxic relationships, and how to form meaningful community connections.
The series will feature short presentations (10 minutes) by special guests followed by a Q&A. In addition, a couple of these sessions will also include opportunities to sign up for virtual sharing circles where registered participants can participate in an intentional check-in activity in small groups.