Description
If you're in or near SF (or will be) on Thur, Nov 15, from 6-8 pm, please mark your calendars so you can start off the Thanksgiving holiday season on the right foot by attending this unique "Thankful For Your Network" event.
Come join us to socialize and connect with other people interested in networking in a "PIF" (pay it forward) way! NextSpace is sharing their space (at a new location!), some light refreshments and snacks will be provided and there will be a raffle of some fun prizes -- including 2 signed copies of my book, I'm at a Networking Event--Now What???
NOTE: Because space will be limited to 50 people, so be sure to register soon! If you'd like to bring a guest, or networking event wingman, please do. At the door admission is $20 and no refunds are available.
What's a PIF Party you ask? Well...
Have you ever been frustrated with the outcomes of or behaviors at some of the networking events you attend? Or maybe you've witnessed behaviors like the old "I'm talking to you, but try not to notice my eyes scanning every other person's nametag that walks by please," to the "So, Lindsay what's NextSpace?" and then their eyes glazing over because you, your situation or words didn't immediately appear to be a prospect for them.
A few years ago, I recognized that there had to be a better way to make and cultivate quality connections, so I started having what have become known as "PIF Parties." PIF means to for pay it forward, and at PIF Parties, that's what people do. The general theme of the event is that each guest comes to the PIF party with the intention of helping others first. And, as can be expected, each person leaves feeling good about the community service they've provided by having helped others as well as the help they themselves may have received.
The help could be personal (need a tip on the best tapas place in Berkeley) or professional (want to find a mentor outside of your company, need some new employees or a better job) or spiritual (looking for a Bikram yoga studio in the Sunset). Here's a video explaining a PIF Party and how to make the most of one.)
Praise for the event:
"I met Sandy at a business meeting and was invited to her PIF party. I have to say, this was probably the best networking event I've ever attended. Great group of people, great environment and Sandy was a fantastic facilitator speaking with everyone and making connections where appropriate. I look forward to future opportunities to attend PIF parties hosted by Sandy." -Marci F.
More on Bella Domain Media's PIF Party here.
-----------------------------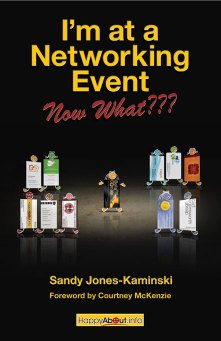 Sandy Jones-Kaminski, host and author of "I'm at a Networking Event--Now What??? will provide an intro to kick off the PIF'ing, and faciliation will be also provided by some veteran PIF party goers. At the door admission is $20 and no refunds are available.
We hope you'll be able to join us!
P.S. Learn more about Sandy's book on Facebook here or read some press about PIF Parties via this link or watch a video about them on YouTube.