BE OUR GUEST! - Magic and Food Tasting Event with Epic Meal Empire TV Show

Wednesday, September 3, 2014 from 7:00 PM to 10:00 PM (PDT)
Event Details
Magic, Food, a NEW TV Show and you are invited!

Magicopolis will be hosting a fun magic and food tasting event with the Epic Meal Time guys on their new TV show Epic Meal Empire. This will be a filmed episode airing on the FYI network, and you are invited to be part of the tasting audience. You will be trying a variety of fun foods from this creative culinary crew, mixed with a little magic. Admission is FREE.  You can't beat that for a Wednesday night!
ALL GUESTS receive 2 FREE TICKETS to an upcoming magic show at Magicopolis.
Check-in time 7:00 PM. Please do not be late to check in.

Tickets will be distributed on a first come first serve basis. Your RSVP does not gurantee entry.
If your are unable to make it, please let us know so someone else can attend the event.

An audience waiver and food waiver will be required to be signed to attend the event. 

If you have food allergies, you are welcome to come to the show, but please note that

ingredients such as peanuts, milk, grain, flour, seafood, etc. in may be served in the the dishes served.




Guests must be 18 years of age or older.
GET ON THE LIST to be part of the tasting audience.

LIMITED SEATS AVAILABLE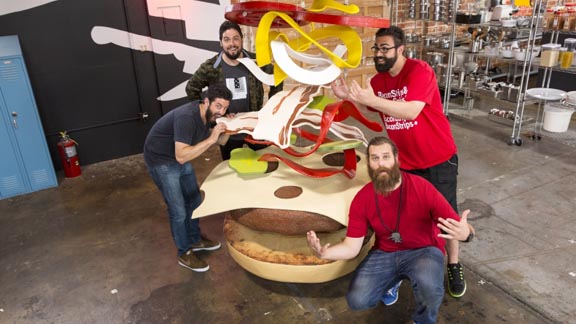 About Epic Meal Empire
With more than 600 million views in weekly webisodes and over 6 million YouTube subscribers to date, Harley Morenstein, aka the "Sauce Boss," and his kitchen crew are ready for primetime television. From whiskey-laced, burger-stuffed lasagnas to donut casseroles to Jack & Coke cupcakes — The Epic Meal Time team delivers recipes that are visually mind-blowing spins on food preparation and presentation. This new FYI series will follow the ingenious group as they invent spectacular new dishes, on a whole new "epic" level.
You can find our more about the show here.

About Magicopolis

Discover the artistry and spectacle of magic shows that are designed to stimulate the intellect, stir the imagination and lift the spirit.
The Magicopolis experience is one of highly entertaining live theater. This is the way magic was meant to be seen - It's leagues beyond televised magic shows.
The shows at Magicopolis run 90 minutes - two hours and feature comedy, magic, music, illusions, special effects and audience participation. Magicopolis provides a special theatrical experience that's not too easy to come by these days.
If images of stuffy black tuxedos, stiff top hats and appearing rabbits are all that come to mind when you think of magic, you need to visit Magicopolis in Santa Monica.
You'll see people dissolve in one place and reappear somewhere else and someone can read your thoughts. Objects move and change guided by the power of the mind and humans float in mid-air. Again and again you are witness to impossible happenings. Sometimes you even become part of one.
FInd out more here from their website.
Sign-up for the LA Taster VIP email list for more great events!

When & Where

Magicoplois
1418 Fourth Street
Santa Monica, CA 90401


Wednesday, September 3, 2014 from 7:00 PM to 10:00 PM (PDT)
Add to my calendar
Organizer
LA Tasters Foodie Group
Enjoying LA One Taste at a Time

Greetings fellow food and beverage lovers!  LA Tasters Foodie Social Group hosts a variety of events — including mixers, wine tasting, cooking classes, dinner parties, foodie scavenger hunts, fitness workouts and special foodie events — to spotlight top restaurants, catering companies and executive chefs throughout Los Angeles. Guests mingle and enjoy selected signature dishes including appetizers, entrees and desserts in a small bite format for one inclusive price. Some events also include wine or have a drink sponsor allowing guests to enjoy a beverage for the evening as well. 
LA Tasters also helps fight hunger by including a donation to a local food bank in Los Angeles from each ticket sold. Giving back is a passion for LA Tasters and we are grateful to be able to help.
Visit our website for more information.
BE OUR GUEST! - Magic and Food Tasting Event with Epic Meal Empire TV Show