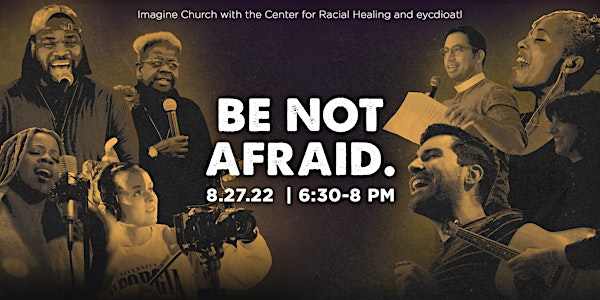 Be Not Afraid
Worship offered by Imagine Church, The Center for Racial Healing, and the youth ministries of the diocese (eycdioatl).
When and where
Location
Absalom Jones Episcopal Center 807 Atlanta Student Movement Boulevard Atlanta, GA 30314
About this event
Join us on August 27 for a special worship service with the Imagine Church musicians and Dr. Catherine Meeks, together with guest choir, The Mighty Voices.
In an age of suspicion and fear, scripture reminds us that God did not give us a spirit of fear, but of power and of love and of a sound mind (2 Timothy 1:7).
What do we fear? What is a brave space? The evening of August 27th, through worship and prayer, we respond.
At the heart of this new partnership is the commitment to gather God's people and honor diversity in all of worship. Seating is limited. You may purchase a single ticket.