Be Made Whole:Standing Boldly For A Renewed You Prayer & Worship Conference
Description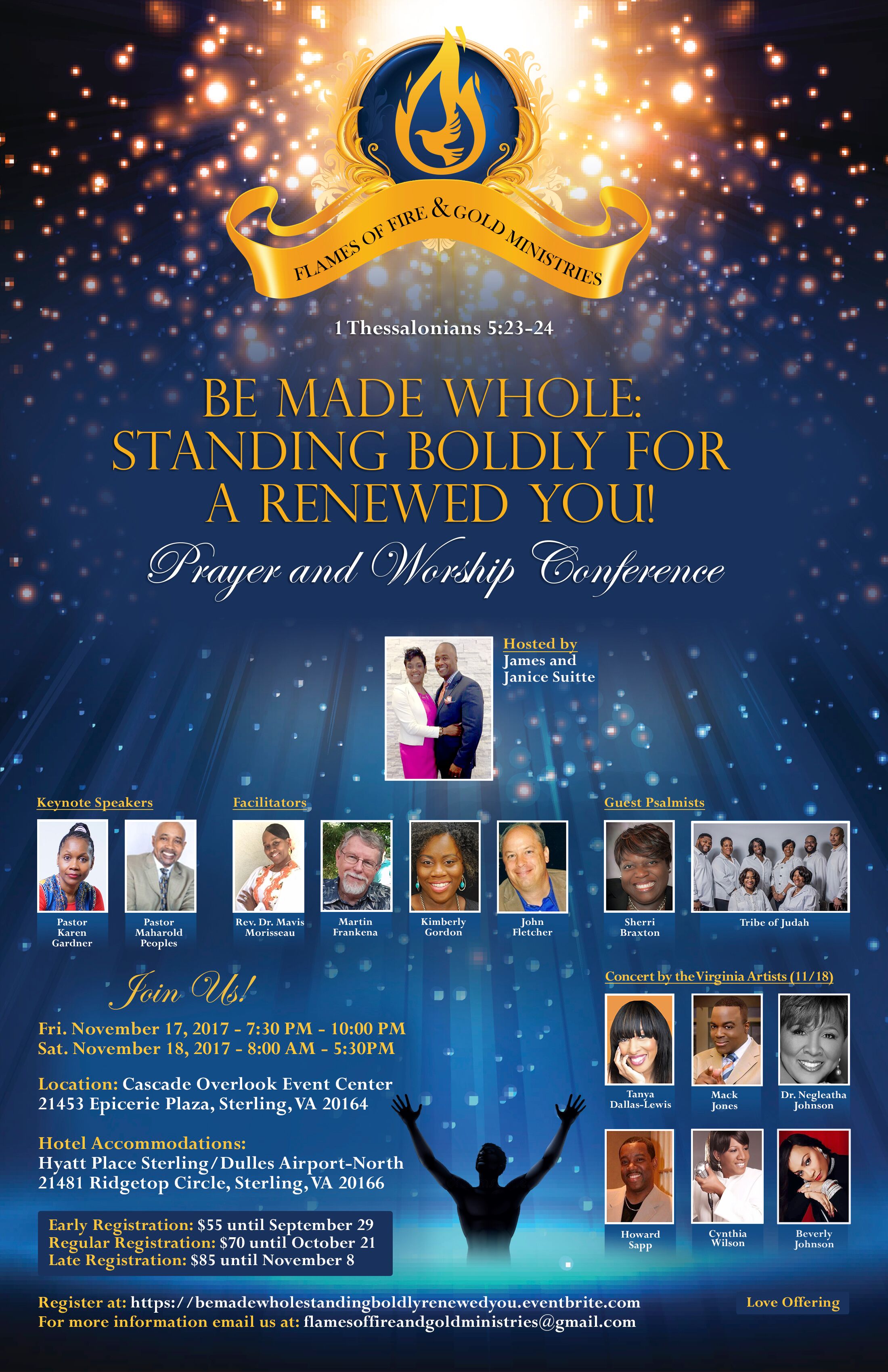 THE WORD: 1 Thessalonians 5:23-24(ESV)-" Now may the God of Peace himself sanctify you completely, and make your whole spirit and soul and body be kept blameless at the coming of our Lord Jesus Christ. He who calls you is faithful; he will surely do it."
ABOUT: Be Made Whole: Standing Boldly For A Renewed You! Prayer & Worship Conference is designed to draw you into the presence of God. We welcome women and men to come out and worship with us. Speakers and worship leaders will guide us during sessions and breakout workshops to equip and empower us to use the tools within, focusing on spiritual, physical and financial health. Take hold of the opportunity to be made whole in every area of your life. Unmask and remove barriers that may be hindering your ability to make a global impact for the Kingdom of God.
MORE: Friday is "Flames Of Fire" Kick-off Friday and Saturday is "Soaking" Saturday. Come experience the "Fire" and the "Water" for a renewed you with dynamic psalmists, preachers, facilitators, and worship dancers. There will be an OPTIONAL Soaking session from 7:30am-8:15am for those that want to enter in and bask in the presence of the Lord with soaking music and prayer.
SPEAKERS: Our Keynote and Breakout session speakers have committed to preaching and facilitating at this conference. However, due to unforseen circumstances, substitutions may occur.
REGISTRATION: After you register, sign up for 1 breakout session for each time slot. This will give you a total of 3 breakout sessions to attend on Saturday, November 18, 2017. Onsite check-in will begin at 6:30 pm Friday and at 7:30 am on Saturday.
CONCERT: We will end with a Praise & Worship Concert from 4:00pm- 5:30pm. Our Virginia Artists will take us to the next level with uplifting and encouraging songs that will feed your souls and melt your hearts. Glory!
HOTEL: We have set aside a block of rooms at the Hyatt Place Sterling/Dulles Airport-North that will be available until October 20, 2017. To make reservations and receive the special conference rate of $74 with breakfast, click on the link.
http://dullesairportnorth.place.hyatt.com/en/hotel/home.html?corp_id=G-FFGM
VENDORS: Market Ministry vendor space is available, but will be on a first come basis. Reservations can be made via Eventbrite.
FOOD: Continental breakfast will be served Saturday morning. Lunch will be on your own. There are several restaurants within walking distance of the Event Center where you can grab something to eat.
CONTACT: For more information contact: Janice Suitte at flamesoffireandgoldministries@gmail.com
Blessings and thanks for attending the conference. We pray that you leave filled and renewed to impact the kingdom of God!