Description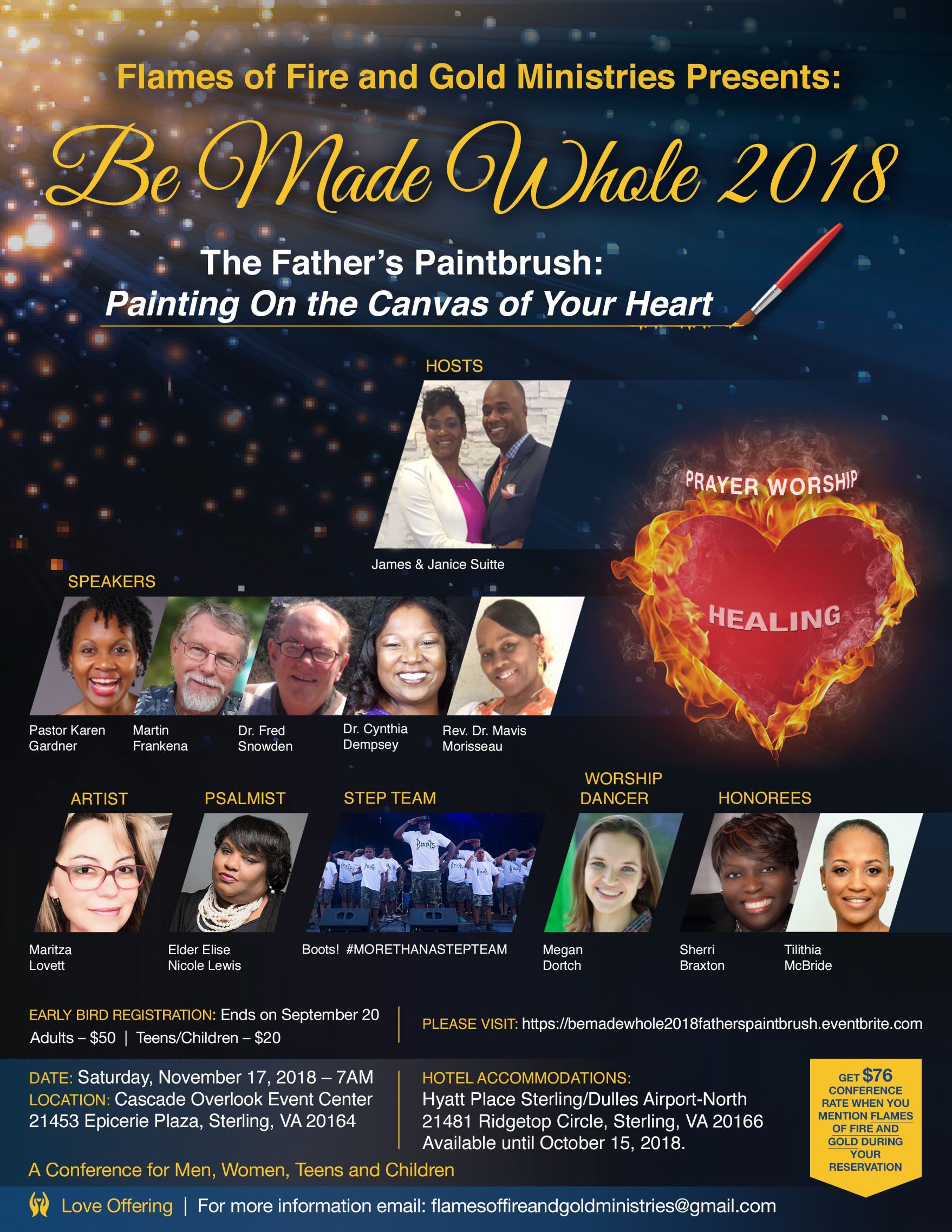 THE WORD: 1 Thessalonians 5:23-24(ESV)-" Now may the God of Peace himself sanctify you completely and make your whole spirit and soul and body be kept blameless at the coming of our Lord Jesus Christ. He who calls you is faithful; he will surely do it."
ABOUT: Be Made Whole 2018 is a conference for men, women, teens, and children. It serves to equip, empower and focus on strategic plans for the saints to be made whole in every area of their lives. This year's theme is The Father's Paintbrush: Painting on the Canvas of Your Hearts! This Prayer, Healing & Worship Conference is designed to ignite the fire within our hearts and usher us into the presence of God. Sessions will include: A heart that forgives, stepping boldly into your calling, prayers for the healing heart, your role as a kingdom leader, and discovering God's covenant relationship as it pertains to marriage and the family unit. Join us for a dynamic transformation and healing of the heart in order to make a global impact for the Kingdom of God.
ATTIRE: Business Casual
REGISTRATION: After you register, sign up for 1 breakout session for each time slot. This will give you a total of 2 breakout sessions to attend on Saturday afternoon, November 17, 2018. Onsite check-in begins at 7:15 am on Saturday.
SETTING THE ATMOSPHERE FOR WORSHIP: There will be an OPTIONAL soaking session from 7:30am-8:15am for those that want to enter in and bask in the presence of the Lord with soaking music and prayer. Come experience Healing, Worship, and Renewal!
SPEAKERS: Every effort has been made to provide the most fulfilling experience possible. However, speakers and topics are subject to change due to unforeseen circumstances.
FOOD: Continental breakfast will be served Saturday morning. Lunch will be on your own. There are several restaurants within walking distance of the Event Center where you can grab something to eat.
HONOREES: New this year, we are excited to present "The Heart of Worship" and "The Spirit of Joy" to worthy recipients.
CHILDREN/TEENS:All children age 5 and up must be registered and age specified on the registration form. Each Child/Teen should have a registered adult with them at the conference.
PAINTING: (Optional) Participants will paint individual canvases with a personal symbol (picture) that symbolizes what The Father has painted on their hearts. This prophetic artwork will be taken home as a remembrance of the experience. Water based paints and smocks will be provided.
MARKET MINISTRY VENDORS: Market Ministry vendor space is available but will be on a first come basis. All vendor products/services must be approved by the organizers. Vendors should send an email to morris-hall@hotmail.com for an application. Please put vendr and Be Made Whole Conference in your heading.Once your application is approved, you will receive an email inviting you to make reservations via Eventbrite. The vendor fee will include the conference registration and a table fee.
CELEBRATION: Our conference will conclude with a Praise & Worship Celebration from 4:00pm- 5:30pm. This worship celebration will include a step team, dancers, psalmists and band will take us to the next level with uplifting and encouraging songs, worshipful movements, and synchronized stepping that will feed your souls and melt your hearts. Glory to God!
HOTEL RESERVATIONS: Hyatt Place Sterling/Dulles Airport-North
21481 Ridgetop Circle, Sterling VA 20166
Rate: $76, includes breakfast and available until October 20, 2017
Make your reservation at the link below:

https://dullesairportnorth.place.hyatt.com/en/hotel/home.html?corp_id=G-FFM1
MORE:There will be a Free Will Offering & Opportunity to Donate or Sponsor Someone. There are no refunds or transferrable tickets.
CONTACT: For more information contact: Janice Suitte at flamesoffireandgoldministries@gmail.com
Blessings and thanks for attending the conference. We pray that you leave filled and renewed to impact the Kingdom of God!