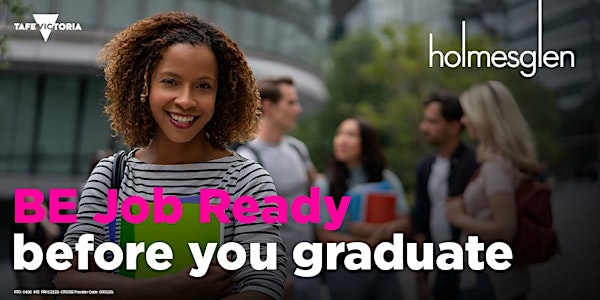 BE Job Ready
Why not BE Job Ready? Register your interest in our work integrated learning program to gain a competitive edge in the employment market.
By Holmesglen Employment Centre
About this event
The BE Job Ready program, offered by Holmesglen Employment Centre is a self-paced digital program designed to support and accelerate students employability skills to be job ready.
This program comprises of two elements:
10 hour employability program – this is a self-paced digital program
Participants will explore key employability skills as well as develop their understanding of aspects of employment readiness. This program will help participants to gain a competitive edge in the employment market.
25 hour Digital Industry Project *
The Digital Industry Project is an opportunity for participants to gain real industry experience and work on a problem for a business, gaining feedback and skills on the way. Working as part of a student team you will be guided through a project with industry and deliver a report for the client. This component runs from 11-24 April 2023, and you must be available for these dates(self-paced program).
Express your interest here to be part of this program.
*Limited places are available so apply early.
Successful applicants will be selected via an application.