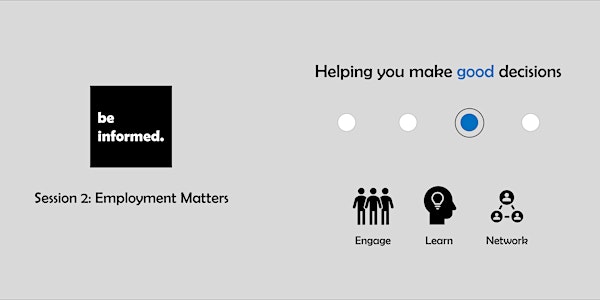 be informed. | Session 2 | Employment Matters
Session 2, hosted by be informed., will explore employment matters (restraints of trade and employee terminations).
About this event
be informed. helps you make good decisions. This Session will explore employment matters. The first Seminar will address the operation and impact of restraint of trade clauses in employment contracts, and the second Seminar will provide helpful information in relation to employee rights with respect to employment termination.
The Session's schedule will be as follows:
Introduction (5 mins): 6:00 PM (AEDT)
First Seminar - Restraint of Trade Clauses in Employment Contracts (25 mins): 6:05 PM (AEDT)
Changeover (5 mins): 6:30 PM (AEDT)
Second Seminar - Employee Rights on Employment Termination (25 mins): 6:35 PM (AEDT)
Q&A (60 mins): 7:00 PM (AEDT)
The Session will be recorded.