Location
Moonlight Studios
1446 W Kinzie St
Chicago, IL 60642
Description
FOR INFORMATION ON OUR 2ND ANNUAL
RETREAT VISIT
BEHEALTHFULRETREAT.COM AND JOIN
US SEPTEMBER 27TH 2015!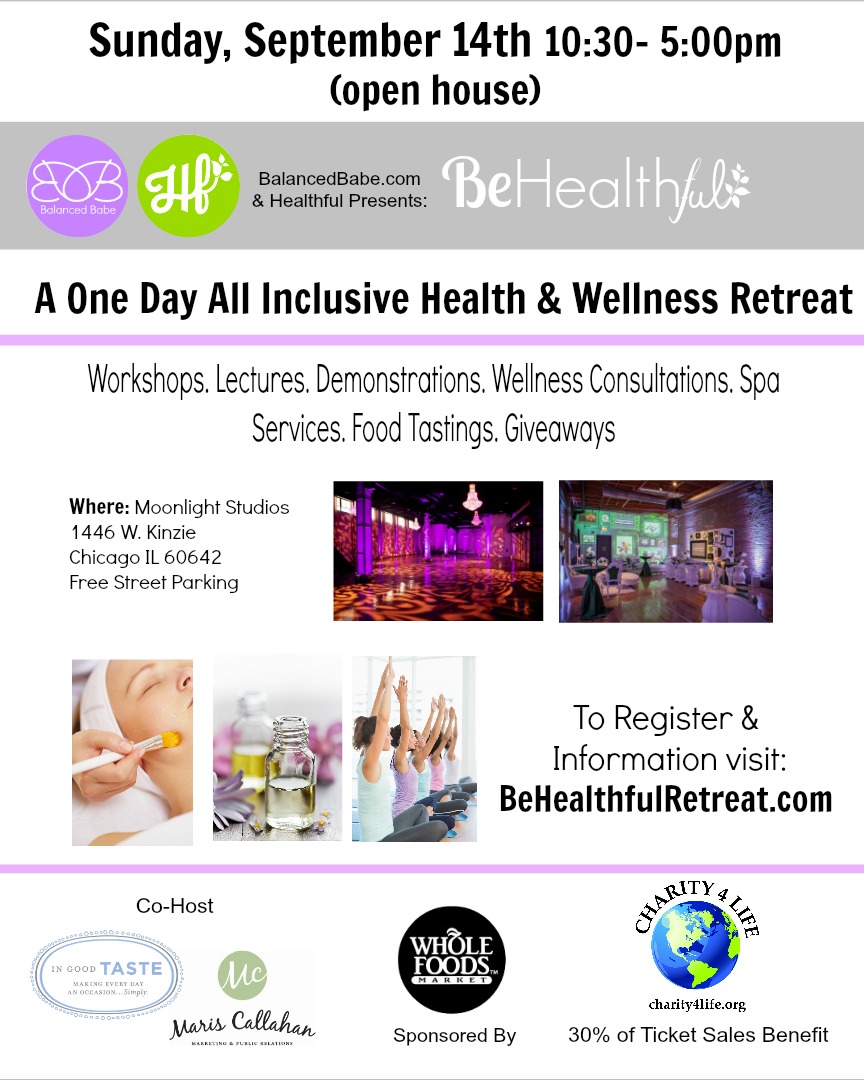 BalancedBabe.com & Healthful Presents: Be Healthful- An All Inclusive One Day Health and Wellness Retreat.
Sponsored by: Whole Foods
Co-host: In Good Taste Magazine
Charity Beneficiary: Charity 4LIFE - Thirty percent of profits benefit Charity 4LIFE
Once registered reserve your activities here!
BalancedBabe.com & The Healthful Guide presents: a holistic health and wellness retreat dedicated to connecting consumers with local businesses and leaders that have one thing in common - holistic and healthy living. With partnerships including our co-host In Good Taste Magazine, and our sponsor Whole Foods, this six hour open house and all inclusive event is packed with vendors and networking, food tastings, spa services, workshops, wellness consultations and giveaways. Create your own schedule by signing up for yoga or pilates classes, educational workshops, motivational talks, meetings with practitioners, and more. Thirty percent of ticket sales benefit the Charity 4LIFE organization. Listen to 10 key speakers throughout the event, and dine on plant-based cuisine and fresh juices all day.
Key Speakers include:
- Karyn Calabrese of Karyn's Raw
- Maris Callahan of In Good Taste Magazine
- Megan Chappell of TruHarmony Yoga
- Charity Gonzales of Urban Fit Club
- Holistic Business Coach Kamila Gornia
- Stephanie Mansour of Step It Up With Steph
- Reflexologist Sarah Preusker of Reflex Feet
- Abigail Simon of The Joffrey Ballet
- Nick Wernimont of Factor 75
- Monica Yearwood of Hamsa Ayurveda
What is included in the registration fee ($39.00)
- 10 yoga and pilates classes (you can take as many as you like throughout the day)
- 7 workshops including Ayurvedic detoxes, reflexology workshops, nutrition and motivational talks, cooking demos, and more
- Full body spray tans (limited availability) - first come first serve basis
- Facials, oxygen treatments, scalp and shoulder massages;

- 30 minute Light therapy sessions
- Mini makeovers including makeup consultations and hair styling, and more.
- Wellness consultations including: detoxing consults, posture examinations, tongue examinations, mind and body consultations, and more.
- Food and bevereage tastings such as: a variety of plant-based cuisine, and fresh juices and smoothies
- Vegan and paleo baked goods, artisan teas, and herbed popcorn. (guests have the option to purchase goods from vendors at guests discretion)
Complimentary Mini Spa Services and Wellness Consultations Provided By:
- Advanced Vein Clinics
- Azul Holistic Health Spa
- BreathSlim
- Chicago Institute for Natural Health
- Dawna MD & Associates
- D.H Reflexology
- Dream Spa Light Therapy
- Elina Organics
- Front Door Feng Shui
- Leah Chavie Skincare Boutique
- Naturally Chic Nails
- Nuovo Aesthetics and SmartLipo®
- Ortanic
- Progressive Chiropractic
- Sphere Holistic Sports Medicine
- Starship Salon
Food and Beverage Tastings Provided By:
Cave Chick

Door to Door Organics

Element Wellness

Earths Healing Cafe

Factor 75

Herby PoP -- herbed popcorn

Juice Rx

Jolly Oak

Karyn's Fresh Corner

Kitch Fix

Lifeway Keifer

Madison and Rayne

Uppitea

Whole Foods
Make sure to reserve your spots in the classes and workshops you would like to attend, and reserve a time with our spa vendors and wellness consultants through our website- BeHealthfulRetreat.com!
ATTENTION: Once you have registered via eventbrite, please use these links below to reserve your spot in workshops and book your spa and wellness services!