Sales Have Ended
Registrations are closed
See you soon!
Sales Have Ended
Registrations are closed
See you soon!
JOIN US FOR A DOSE OF DARE TO CHALLENGE OUR TIME OF COVID TO FIND POSITIVE RESILIENCE
About this event
The COVID-19 crisis is upsetting managerial strategy and forces all leadership to be deeply sincere and genuine. This corporate approach cannot be envisaged without an awareness of a resilient power, "forcing" the leader to develop precise personal qualities in leading his teams and listening to himself. Thanks to precise KBIs (Key Behavioral Indicators) on communication, strategy and politics, we will explore how to be sure to find the courage, the "chutzpah", the dare to challenge the legitimacy of one's place in the matrix.
We are going through times of profound societal changes that call into question not only the balance of our internal forces but also trust in others. Every employee, every manager in the company who has any share of power will have to increase their self-confidence to assume their legitimacy because there will be a real crisis of confidence in the face of any form of authority accompanied by a fear of the future. Only leaders who have accepted to take a conscious step towards resilient leadership, i.e. leadership that has made clear the strengths and weaknesses of the lessons learned from this phase of confinement and the personal and collective consequences, will be able to claim follow-up and real recognition.
We will explore how assessments can help with Key Behavioral Indicators in order to better understand the measurable dimensions to better get access to the necessary courage of trust.
The webinar will be hosted by Colin Kramer, CEO of Digital Catalyser
Guest speakers
Guila Clara Kessous is a research professor at Harvard University and a certified coach, specialized in coaching managers and employees in companies in times of crisis. Whether in terms of communication, strategy or matrix policy, there is a scale of KBIs (Key Behavioral Indicators) that provide the right parameters when a crisis returns so that the acceptance of the leadership bond becomes tacit again. The core of his work is based on the belief that we can strengthen our positive resilience coefficient to come out of a crisis healthier and stronger than before. Based on the latest research from Harvard University in neuroscience and positive psychology (taught by Professor Tal Ben Shahar), she is the co-author of the reference book "The Great Book of Positive Psychology" published by Eyrolles in 2020.
Inbal Arieli is a serial entrepreneur and business executive, and a former elite military unit officer in the Israel Defense Forces' Unit 8200 [Israel's version of the NSA]. Currently, Arieli is CEO of Synthesis, providing leadership assessment to select Private Equity and Venture Capital firms, CEOs and Board Directors, combining methodologies from the unique experiences of elite military unit leaders and executive search industry pioneers. Arieli was featured as one of the 100 Most Influential people in Israeli hi-tech and published CHUTZPAH: Why Israel is a Hub of innovation and Entrepreneurship (HarperBusiness, 2019).
Link to Zoom Meeting will be shared prior to the meeting.
We will make sure to send it to your email, once registered.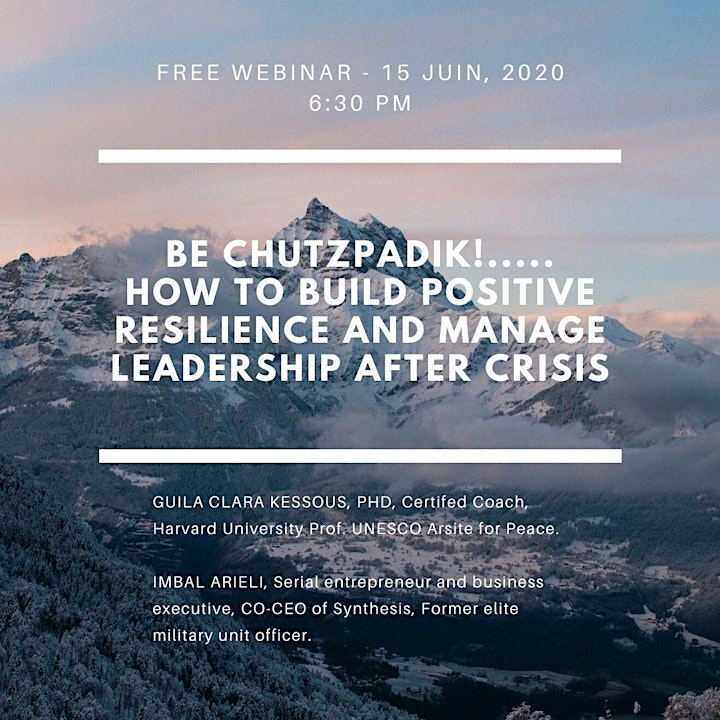 Organizer of Be chutzpadik! How to build positive resilience and manage leadership