Be a Vermi-Composter! Start Your Own Worm Bin.
Description
Here's an opportunity to acquire indoor composting worms and education on care so you can turn your kitchen waste into worm castings – a top-notch soil enhancer and plant growth stimulator. Those who purchase a pound of red worms (Eisenia fetida) with their registration will need to bring a prepared bin. Those who are coming for education only will receive a handout. All attendees will receive 60 minutes education from a Master Composter who has raised red worms for 15 years. (Approved 1 hour CE for Southeast WI Master Gardener education)
Register for the class and purchase your composting worms by Monday October 16, 2017.
Purchase price for worms is $25.
Workshop Cost: Free. A Free will donation toward WCGT Permaculture & Gardening Group activities is requested at the door.
Minimum participants 5. Maximum 20.
For those purchasing worms
PREPARE AND BRING YOUR WORM BIN TO CLASS

Note* Prepare your bin 1 to 2 weeks prior to class! The decomposed material makes it inviting to the new worm population.
1. Bin: Purchased bins can be acquired through Uncle Jim's Worm Farm or on Amazon but I advise trying it first with a simple Rubber Maid tub. Use a non-transparent Rubber Maid tub about 14 gal size (approximately 24L x 12W x 12 H). Cut a hole in the lid for ventilation (approx. 16" x 8"). Landscape fabric and duct tape will be provided at the workshop to cover the hole.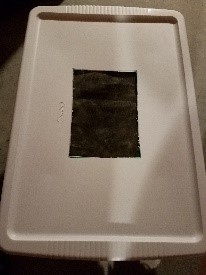 2. Bedding: Soak shredded newspaper or cardboard and then wring out to the consistency of a damp sponge. Fluff and fill worm bin to a height of 12." (It takes quite a bit of newspaper!) Mix in a handful of sand or soil for grit.
3. Food: Bury half way under the newspaper approximately 2 C of chopped up fruit and vegetable kitchen scraps, coffee grounds and/or tea bags. No citrus or plants from the onion family.
4. Bring gardening gloves and if you have one, a turkey lifting fork
Date and Time
Location
Refund Policy