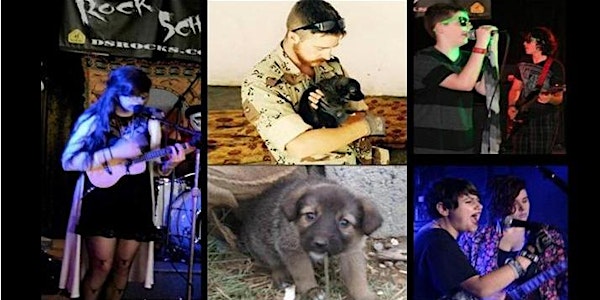 Be A Hero, Rock Against Animal Cruelty!
When and where
Location
Hard Rock Cafe 22-24 Clinton Street Boston, MA 02109
Description
Youth bands from DeAngelis Studio of Music come together to support SPCA International and their effort to help animals in war torn countries. This special event is dedicated to "Dushka & Chris". Dushka is a very special friend to Chris who met her fighting against ISIS on the war torn Iraq streets. Chris reached out to SPCA International to help bring her home to Massachusetts. SPCA International helps many animals whose future would otherwise be very uncertain.
The many teachers, students and families of DeAngelis Studio of Music are huge animal lovers and this cause touches many hearts.
Special Guest, Miss Massachusetts, Whitney Sharpe, has offered to help and will be attending the event!
Please join us to celebrate this good work and if you cannot make it a donation or an auction item would be very much appreciated and put to good use.
The event will feature performances by 10 very talented youth bands, silent auction items and a special visit from Dushka's new family, the SPCA International and perhaps even "Dushka herself!"
Auction items listed here: http://www.dsrocks.com/auction-items/
For Donations: http://www.spcai.org

For more information: please call or email: 978-374-5262. info@dsrocks.com