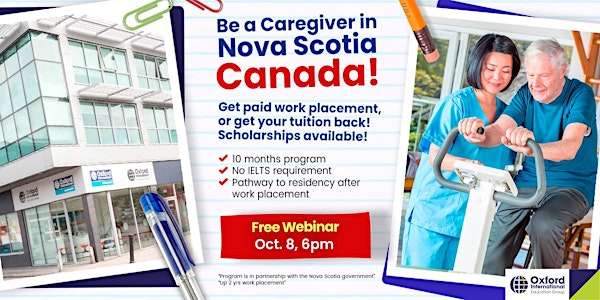 Be a Caregiver in Nova Scotia, Canada! (Oct 8, 6pm)
Get paid work placement, or get your tuition fee back!
About this event
Did you know that caregivers earn $30/hr on average in Nova Scotia? 💰
Study in Canada and get a paid work placement after graduation!
Scholarships available for Filipinos! 🇨🇦🇵🇭
Join our FREE webinar this Saturday, October 8 at 6pm to know how.
🎟 Limited spots only!
Register now to save your spot.
Get the following when you apply through Fortrust:
✅ 10 months program with up to 2 years work placement
✅ No IELTS requirement
✅ Pathway to permanent residency after work placement
This program is led by OIEG in partnership with the Nova Scotia government.
Ideal for nurses & healthcare professionals who want to build a new life in Canada! 🇨🇦
See you soon! 🙂 #FortrustPH