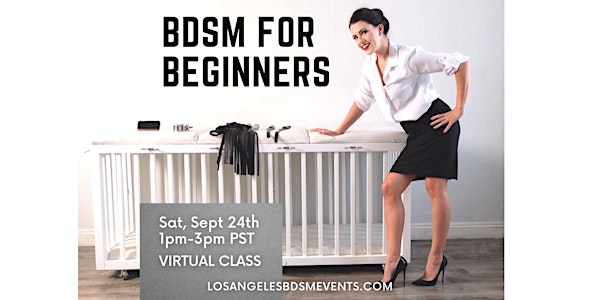 BDSM for Beginners - VIRTUAL CLASS
Curious about BDSM and want to know more?
About this event
*This class will take place online via Zoom*
Curious about BDSM and want to know more? Maybe you've always wanted to come to a dungeon but have been too shy? Want to learn more about your power as a domme, switch or sub?
Join the HBIC, Mistress Justine Cross for an introduction to BDSM that focuses on safe, sane, consensual play and exploration, for all skill levels. The skills that she will be sharing can be applied to all relationships, and will help us all find ways to explore and discuss desires and interests in an open manner. There will also be plenty of Q and A time so can ask all the questions you can think of.
All classes are 18+.
We will cover:
What BDSM is and is not
Consent
How to Negotiate a Scene
What happens before, during and after a scene
Explore the dungeon - what is this equipment and what are all these toys?
Resources and local events
About the Presenter
Mistress Justine Cross is a professional BDSM consultant and lifestyle Dominatrix based in Los Angeles. She is the owner of Dungeon East, Los Angeles's premiere dungeon studio.
With the mainstream growing more aware of BDSM, Mistress Justine's opportunities to educate and correct the curious have expanded, and she's been invited to be a guest speaker or teach classes on BDSM, safer s*x practices, consent, and more at spaces and events like UCLA and the Los Angeles LGBT Center's Women's Health 360 Conference.
Extensively interviewed and profiled, most recently on The Try Guys and Late Night with Lilly Singh, Mistress Justine has appeared in Los Angeles Magazine and Playboy, and been featured in Nylon, LA Weekly, Time Out Los Angeles and on Buzzfeed.com and Salon.com. As busy as she is, she's open to considering new projects, appearances, and clients, always entertaining another opportunity to bring collaborators and audiences to their feet, and her fans to their knees.
Learn more about Mistress Justine Cross at: http://www.losangelesdominatrix.com/
**We will be offering both online and in-person classes - please make sure you read the description and know where your class will take place.
This online class will be held via Zoom. Login information and password will be emailed to your Inbox (the one you registered with) about 1 hour before start of class.  
Get tickets for all events at:  https://LosAngelesBDSMevents.com