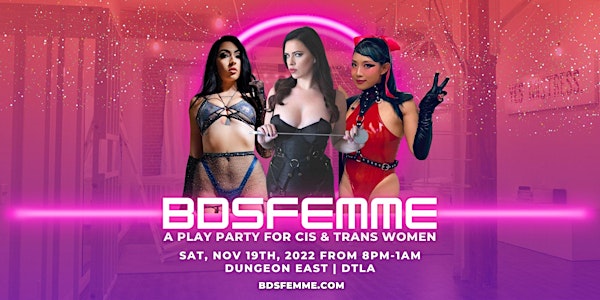 BDSFemme - A Play Party for Cis and Trans Women
BDSFemme is the longest running play party for cis and trans women in Los Angeles.
When and where
Location
Dungeon East Dungeon East - DTLA - address will be emailed day of event LOS ANGELES, CA 90021
Refund Policy
Contact the organizer to request a refund.
Eventbrite's fee is nonrefundable.
About this event
This in-person event is for CIS AND TRANS WOMEN ONLY.
Kink curious? Then come explore BDSM and kink with other women in a gorgeous private studio, Dungeon East.
There will be several stations set up in the space run by professionals.  You are free to mingle and try the different stations for guaranteed safe play. It is also ok to be a voyeur if you would rather just observe.  We encourage you to bring your own toys. There are rules posted as well as guidelines for how to properly clean equipment.
COVID Safety Info
1. Required: Fully vaccinated (2 weeks post final shot); will need to show at door.
Get the digital version and keep it in your apple wallet here: https://myvaccinerecord.cdph.ca.gov/
2. Required: Negative COVID test within 48 hours - any test is ok; will need to show at door.
3. Strongly encouraged: masks
4. Full refunds up to the day of the event if you have tested positive for COVID.
5. 50 guest limit
Details:
Doors open at 8pm / Enter before 11pm / Exit by 1am
Craft cocktails & mocktails, wine, beer and soft drinks will be served as well as light refreshments.  This event 21+
CASH BAR Please drink responsibly.  Smoking outside only.
**Address will be sent at 5pm day of event to the email you registered with. 1 ticket per purchase, and each person must register with their own email. Tickets are non-refundable and non-transferable**
Meet the Players:
Mistress Justine Cross is a professional BDSM consultant and queer lifestyle Dominatrix . She owns Dungeon East (RIP Dungeon West.) Justine is an educator, a provocateur and all around bad ass Bitch. Justine offers classes in person, online and private tutorials; she also hosts BDSFemme - a play party for cis and trans women and co-hosts Deviant - a play party for all queers.
Extensively interviewed and profiled, Mistress Justine has appeared in Los Angeles Magazine and Playboy, and featured in Nylon, LA Weekly, Time Out Los Angeles, Buzzfeed and Salon. She has also appeared as herself on A&E, Lifetime, Epix, VH1 and upcoming remake of House Party.
Please visit her website: LosAngelesDominatrix.com.
Follow her on insta/clubhouse @thejustinecross and twitter: @justineplays; tiktok @thejustinecrossagain
Jordan (sometimes Mx Shane) - Flogging, Rope
Jordan is a Dominant with over 20 years in the kink community. She leads workshops in flogging and bondage at Dungeon East. During the pandemic, she led BDSMeditation online but can now be found banging a gong for Sunday Night Soundbaths at the Dungeon. Jordan offers healing and coaching services for the LGBTQ+ and kink communities through hypnotherapy and cannabis assisted psychedelic journeys.
Mistress Miho 🌹 Domina Tropica
Notorious in the LA underground scene as a "mischievous, spicy neon demon with impeccable precision" - specializing in soft touch, tease, corporal punishment, electro, and desperation play.
Mistress Miho is a Pro-FemDomme in Los Angeles ♥️
Master Alex
Master Alexis is a luxury lesbian pro-Domme located in Los Angeles, California! She has been offering her kinky services (professionally) for the last 4 years and counting! With a special interest in verbal humiliation and impact play, she indulges in plenty of kinks and fetishes that appeals to all genders and backgrounds! She loves learning new thing and meeting new people, and what better way to meet like-minded individuals than at BDSFemme!
Twitter: AlexisToria Insta: HomoCaprisun
Location
Situated in a discreet, code-secured building in the Arts District, Dungeon East is conveniently located just minutes off the 10 freeway. Ample unrestricted street parking; Lyft/Uber recommended.
FAQ
1. What should I wear?
Really, just typical going out wear for a cocktail event/bar - whatever makes you feel s*xy and cool!  Latex, leather, lingerie are also awesome! Nudity is permitted.
2. What should I expect?
To have fun! We are here to help you enjoy!
3.  Should I tip? How much?
Yes! There will be professional tops at stations doing short demo's and tipping is always a nice gesture.  We recommend $5-20+. We strongly encourage you to initiate play and to have fun as you explore the custom BDSM furniture in the space.
4. Who can come?
Cis and trans women 21+.  Please respect this. We will remove you immediately if you are not complying with our guest policy.
5.  What is the photo/video/recording policy?
Absolutely not allowed!  We want to make sure that people feel comfortable to express themselves, which is why we have a very strict no photo policy.  
6.  Do I have to be gay/lesbian/queer/femme?
No.  You just have to identify as a cis or trans woman.
7. I don't identify always as a cis/trans woman/gender is complicated.
We TOTALLY understand but the intention for this specific event is for cis and trans women only.  We happily host and recommend other events that are for all genders.
About Dungeon East
As the only dungeon in the world featuring all-white decor and home to the infamous YES MISTRESS sign, Dungeon East is an exquisite, one of a kind space available for film and photography shoots, events, and lifestyle rentals. Owned and operated by Los Angeles's number-one Dominatrix Mistress Justine Cross, the open floor plan studio is 1400 square feet and features custom-made BDSM furniture. Rentals include use of all furniture and supplies, and are always exclusive—you will have the entire space to yourself.
Three distinct areas make your visit, shoot, or overnight stay comfortable, clean, and kinky: a waiting/lobby area, a play area that includes BDSM furniture, implements, and toys, and a comfortable domestic setting with a bed, kitchenette, and full bathroom, all stocked with guest amenities.
The space's high style has attracted numerous film and television productions, serving as the set for shoots by Kink.com, Evil Angels, the HO HO HO music video with William, Andrew Christian's Zombie video, and a GLTBQ community-focused consent video by Into and Lifetime's Little Women LA (both of which featured Mistress Justine Cross).
In print, Dungeon East has been featured in Frontiers Magazine, Urban Daddy, Playboy, Huffington Post, the Time Out Guide Los Angeles, The Daily Beast, Goop, and Mel Magazine. It's the home dungeon for some of LA's hottest ongoing kink events, as well as BDSFemme, the city's only all-women play event, which has been showcased in Vice Magazine, Nylon, and Your Wet Panties.
For more information about private rentals visit: dtladungeon.com