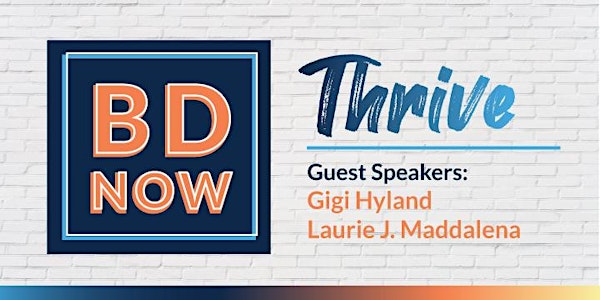 BD NOW | Thrive
Join us to build better futures for ourselves, our credit unions, and most importantly, those we serve.
Refund Policy
Contact the organizer to request a refund.
Eventbrite's fee is nonrefundable.
About this event
Our ability to foster a sense of belonging and connection is now an essential skill for thriving in the new business development frontier.
January 23
The Art of Giving a Damn: Being a Connector
Gigi Hyland, CUDE, CCUFC
Executive Director, National Credit Union Foundation
We live in a world where humans have a shorter attention span than a goldfish. Yet, building connections with each other (humans, that is) requires time, care, feeding and literally, the art of giving a damn about each other. To that end, this session will explore my learnings and observations on what has worked for me and some tips that you can try.
We'll cover:
• What does "being a connector" really mean?
• Where do you find opportunities to be a connector?
• WIIFM (what's in it for me, or in this case -- you)?
• Suggested pre-work will be provided at registration.
January 30
Elevating Success: Maximizing Peak Performance
Laurie J. Maddalena, MBA, CSP, CPCC
Chief Leadership Consultant, Envision Excellence, LLC
Laurie will share success principles to elevate your results and create the mindset to live and work at your highest potential. Whether it's crushing your business development goals or persevering through challenges, you will leave understanding the top strategies of high achievers and be prepared to make 2023 an exceptional year. Laurie is a certified Success Principles trainer and has worked with thousands of leaders to elevate their leadership and success.
We'll cover:
• Learn the three things that set successful people apart from ordinary people
• Learn the most important principle of success that leads to results
• Learn how to develop powerful habits and the mindset necessary for success
• Take 100% responsibility for results, and become more intentional with your goals and actions
Learn more about Laurie Maddalena.
$199.00 per person. This registration includes both one-hour Zoom sessions.
8:30 - 9:30 Pacific | 9:30 - 10:30 Mountain | 10:30 - 11:30 Central | 11:30 - 12:30 Eastern