Event Information
Location
Cedar Cultural Center
416 Cedar Ave S
Minneapolis, MN 55454
About this Event
This is a standing show with an open floor. The Cedar always reserves a section of seats for patrons who require special seating accommodations. To request seating or other access accommodations, please go to our Access page.
General Admission tickets are available online, by phone, ​and at Walker Art Center.
For a Walker member discount ($17.60 Advance, $20 Day of Show), please visit the Walker website.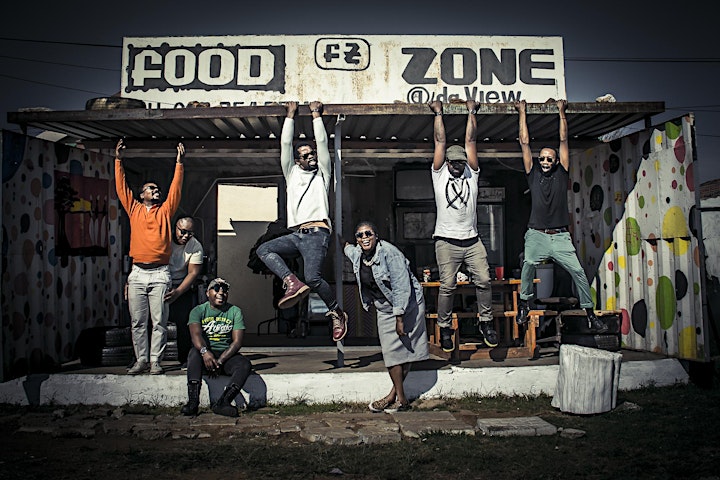 About BCUC (Bantu Continua Uhuru Consciousness)
This tsunami of sound and soul from Soweto has blown the mind of everyone who has heard it since 2016. In less than three years, Bantu Continued Uhuru Consciousness — a polyglot term that hints at what this group, this group that moves as one, is all about — has made its mark on concert stages in France, then in Europe, and now on the other side of the Atlantic, with a formula that contradicts all the predictions of the music world. To succeed, supposedly, they should have recorded albums to formula, in song format. They did the exact opposite, producing vinyl UFOs on both sides of which they developed themes at length, with no concern for timing. The only thing that counted was the ebb and flow of the music, no matter that this pleasure had to pass through miles of sounds loaded with good vibrations. This fantastic, unrestricted sensory overload is the price the listener pays to approach the state of trance seen in the euphoric and redeeming experience of live performance.
"My magic flow is contagious, it's nothing like pop music, it's something that grows inexorably in you!" Snatches of the previous collection, Emakhosini, with words chanted by Zithulele Zabani Nkosi, the singer who looks like a preacher, resonate again and again, differently worded, in the new collection, The Healing. Right down to the sleeve, with its nod towards its two predecessors, this third album needs to be listened to as the last piece of a trilogy that began with Our Truth. The truth that the South African collective founded in 2003 sets out to proclaim, in many languages and even more styles, was based on this ancestral axiom: music has the power to heal our minds by freeing our bodies. "We are descended from tribes who use music as therapy." This sentence is not some preachy platitude, it simply summarises their desire to raise awareness through a message rich in spiritual content. We can throw out punchlines that point to bankruptcies in the system, particularly the excesses of the "rainbow nation" leadership, without forgetting that the central issue is to disseminate other, more democratic values. The seven members of BCUC implement this radical change of mentality every day as they go about their lives. Here there is no leader, no supreme guide, just a collective of singularities committed to changing the order.
"Music for the people, by the people, with the people."  Their baseline, in the form of a slogan, also serves to remind us of what has always guided the two guests in this feast of sound. The Nigerian saxophonist Femi Kuti and the American poet Saul Williams have long taken a stand to shake up the order of things, presenting a testimony that does not shrink from harsh realities. Little by little, and without ever forgetting, these two angry men have managed to channel this energy positively. Each of them experienced it in words and music, on stage as in life, never yielding to the temptations of a divisive system that locks us into a hierarchy and keeps us in line by emasculating creativity. It is no surprise that they should be projected, in their own right, into the universe of BCUC. Having fiercely fought the priests of the sacrosanct chapels and the fetishistic guardians of the totems, they are both naturally in tune with these bards of trance whose mixture defies stylistic barriers and unleashes the freedom to express themselves in every rhythm: beyond all the music of South Africa, those of the present as of the past (Zulu traditions and shona percussions, trumpets and choral singing, mbaqanga groove and malombo swing), the freedom of hip-hop, sweating punk between the lines, free jazz leading into profane improvisations, touching the very essence of gospel-soul. They've been warning us all since 2016: "We are the original spirit of jazz, we are the foundation of rock'n'roll." And this is just the beginning — let's relax and have fun.
Bantu Continua Uhuru Consciousness performing "Yinde indlela"courtesy of Markon Recording Studio's YouTube channel.
Performers
Date and Time
Location
Cedar Cultural Center
416 Cedar Ave S
Minneapolis, MN 55454
Refund Policy