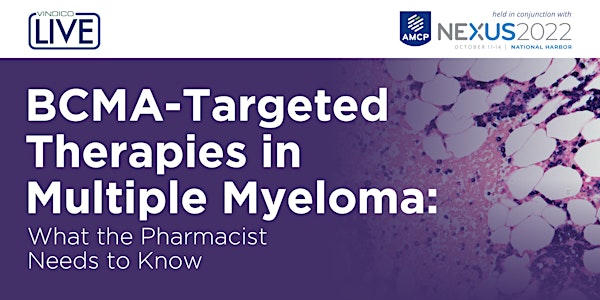 BCMA-Targeted Therapies in Multiple Myeloma: What the Pharmacist Needs...
Attend in-person or virtually!
When and where
Location
Gaylord National Resort and Convention Center 201 Waterfront Street National Harbor Ballroom 10 National Harbor, MD 20745
About this event
Activity Chair
Ryan Haumschild, PharmD, MS, MBA
Director of Pharmacy
Emory Healthcare
Winship Cancer Institute
Atlanta, GA
Faculty
Craig Freyer, PharmD, BCOP
Clinical Pharmacy Specialist – Hematology/Oncology, Stem Cell Transplant, and Cellular Therapy
Penn Medicine at The Pavilion of Hospital of the University of Pennsylvania
Philadelphia, PA
Noopur Raje, MD
Director, Center for Multiple Myeloma
Massachusetts General Hospital
Professor of Medicine
Harvard Medical School
Boston, MA
Saad Usmani, MD, MBA, FACP
Chief of Myeloma Service
Member, Memorial Sloan Kettering Cancer Center
Attending Physician, Myeloma, Cellular Therapy and Adult BMT
New York, NY
Overview
Although the median overall survival rate for patients with multiple myeloma (MM) has nearly doubled during the last 2 decades, MM remains incurable, and a majority of patients develop relapsed disease. The prognosis is poor among these patients, with a median overall survival of just over 1 year after 3 lines of therapy. Although improvements in diagnosis, risk stratification, and treatment continue—with multiple agents now available from various drug classes—additional novel agents with improved efficacy and safety are still needed, particularly in the relapsed or refractory setting. Several therapies have recently been approved that target B-cell maturation antigen (BCMA), a transmembrane protein expressed by malignant plasma cells that is involved in plasma and B-cell survival, B-cell maturation and growth, and activation of regulatory T cells. In this activity, expert clinicians will review the current treatment guidelines and the most recent clinical data supporting the use of BCMA-targeted for relapsed/refractory MM, define the disease and clinical characteristics of patients for whom BCMA-targeted therapy is appropriate, and describe the optimal multidisciplinary care coordination strategies for the management of treatment-emergent adverse events in patients receiving BCMA-targeted therapies.
Agenda
6:00 PM
Registration and Dinner
6:30 PM
Introduction and Pretest
Ryan Haumschild, PharmD, MS, MBA
6:35 PM
Therapeutic Options for Relapsed/Refractory Multiple Myeloma
Noopur Raje, MD
6:50 PM
Targeting BCMA in Relapsed/Refractory Disease
Saad Usmani, MD, MBA, FACP
7:05 PM
Safety Considerations Associated With BCMA-Targeted Therapies
Craig Freyer, PharmD, BCOP
7:25 PM
Clinical Cases
Ryan Haumschild, PharmD, MS, MBA
7:45 PM
Posttest and Question & Answer
8:00 PM
Conclusion
Learning Objectives
Upon successful completion of this activity, participants should be better able to:
Outline current guideline recommendations for the treatment of relapsed/refractory MM.
Review the patient, disease, and treatment characteristics that may make patients likely to benefit from BCMA-targeted therapies.
Assess the latest clinical efficacy data and safety profiles for recently approved BCMA-targeted therapies for patients with relapsed/refractory MM.
Define multidisciplinary care coordination strategies for the recognition and management of adverse events in patients receiving BCMA-targeted therapies.
Target Audience
The intended audience for this activity is managed care pharmacists, oncology pharmacists, and other health care professionals involved in the management of patients with MM.