Description
BCI EQUINOX IS NOW ON ITS 2ND YEAR IN MANILA! Unlike other larger trade shows and exhibitions, the more intimate and relaxed the environment of BCI Equinox means specifiers can easily engage with suppliers and manufacturers over drinks and canapés whilst discovering the latest in new building product innovations.
EXCLUSIVE for architects, engineers, interior designers, and design specifiers

Held in major cities across Asia: Singapore, Philippines, Vietnam, Malaysia and Indonesia

Event runs for 4 hours with a techno futuristic theme set-up

Features 30 to 35 exhibitors
Event Dresscode: Business Casual
Registration starts at 5:00 pm.

Registration is FREE and easy! Simply click on the Registration button, and follow the prompts.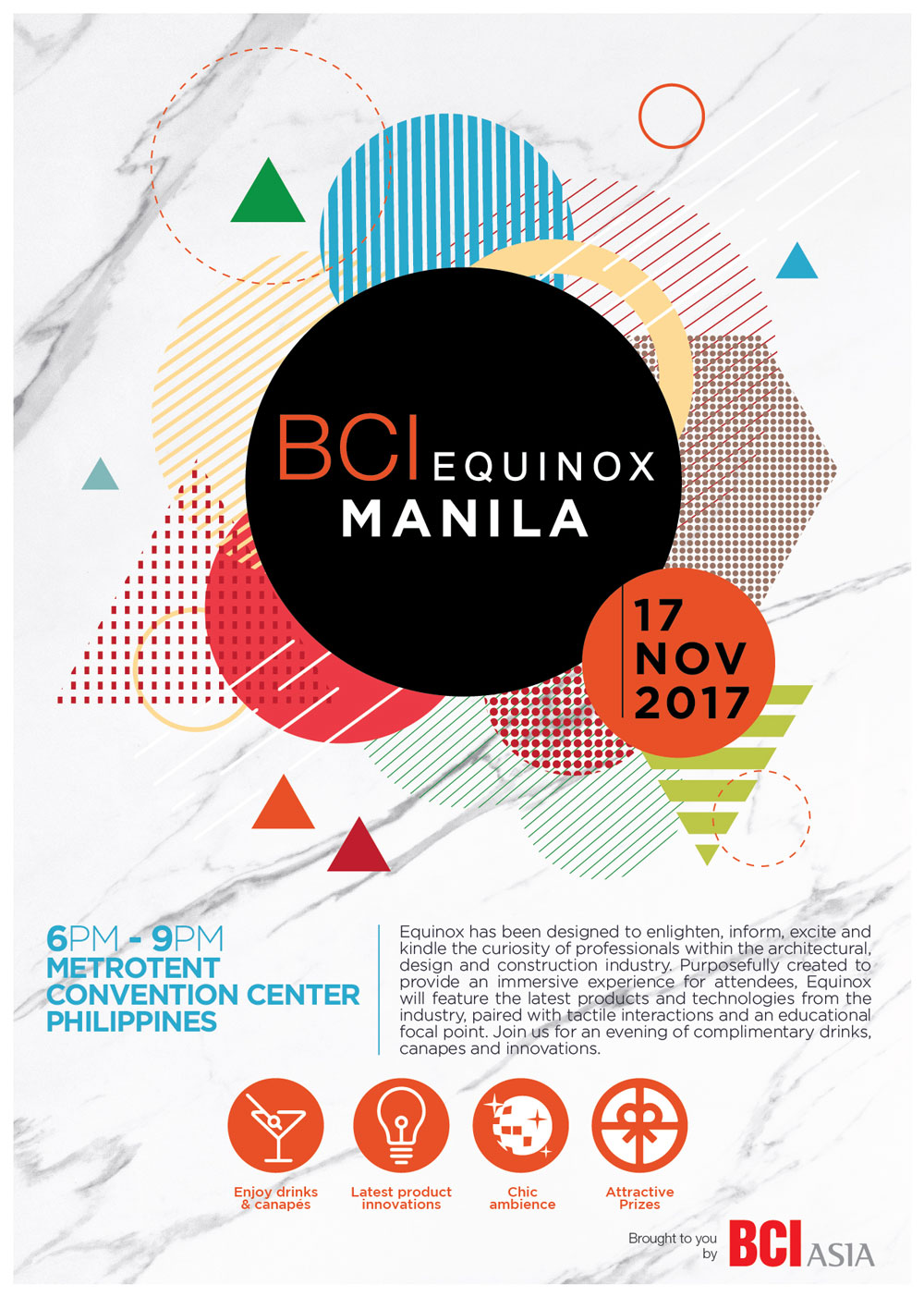 "We see the value for money this event brings, as well as the extensive network of architects, engineers and developers that we want to get connected with. We do not mind joining out of town BCI Equinox as locations were strategically planned and it gives us the chance to tap the notable architects and contacts that we could not have easily gained contact with if it weren't for the Equinox. We will continue to support this initiative to further our businesses and extend our hand to the people and organizations that we aim to help." – FRITZIE MENDENILLA, Business Unit Head, Concepcion-Carrier Air Conditioning Company
"BCI Equinox (Manila) was a unique kind of exhibit. It was very entertaining, interactive and modern compared to the typical exhibits you would attend. An interactive way of knowing the up to date products for the construction industry." – AUDREY BELLE PO, Marketing Manager, World Home Depot Corp.
"Technology hub is very unique, entertainment & design was very good, high-end & according to the theme." – ENGR. NIKKO PLACER, Technical Specialist, PANASONIC

To see what BCI Equinox is like, click here to see our time lapse video from an Equinox event in Australia.
YOU DON'T WANT TO MISS THIS!

For RSVP, and inquiries, please contact,
Shane Arboleda
Senior Event Associate
T: 632 720 1224 loc. 2191 F: 632 753-1338 M: +63 916 438 8511
E s.arboleda@bciasia.com W www.bciasia.com www.futurarc.com