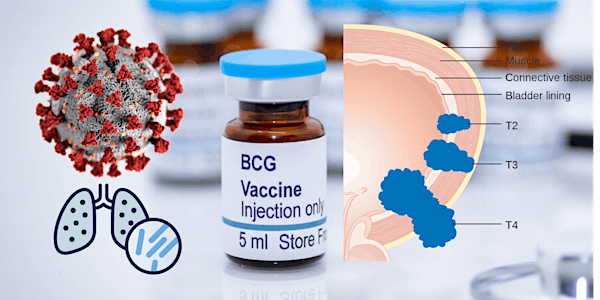 BCG: a therapeutic modality for COVID-19 and cancers
This Zoom meeting will cover recent advances in BCG vaccination field related to COVID-19, cancer and immunity.
Date and time
Wednesday, July 22, 2020 · 1:15 - 2:15pm PDT
About this event
The Bioidea group invites you to join healthcare, biotech and investment community for the virtual session featuring clinicians and scientists working on the BCG vaccine. Our webinar will also discuss how BCG modality can be exploited to construct next-generation genetically-engineered therapies. Event is to be live streamed to multiple platforms.
Bacillus Calmette–Guérin (BCG) is a live attenuated vaccine that was developed against tuberculosis at the beginning of the 20th century. BCG is also approved as a treatment for early-stage baldder cancer. The recent studies revealed a correlation showing that countries with higher rates of BCG vaccinations had lower peak mortality rates from COVID-19. Receiving BCG vaccination during early childhood is associated with reduced risk of subsequent lung cancer development. These beneficial effect of BCG against viral infections are proposed to be mediated by the stimulation of innate immune mechanisms, also termed trained immunity.
Panelists
Dr. Leonardo O. Reis, MD PhD. Professor Livre Docente Urologia, Produtividade Pesquisa CNPq, UroScience / Urology / Oncology
Dr Seth Lerner, MD. Professor of Urology. Beth and Dave Swalm Chair in Urologic Oncology, Director of Urologic Oncology, Director of the Multidisciplinary Bladder Cancer Program, Baylor College of Medicine, Houston, TX, US
Dr Andrew DiNardo, MD. Assistant Professor. Medicine-Infectious Disease, Baylor College of Medicine Houston, TX, US
Dr Ashish Kamat, MD. Professor of Urologic Oncology. Wayne B. Duddlesten Professor of Cancer Research, Attending Surgeon, Department of Urology, Division of Surgery, The University of Texas, MD Anderson Cancer Center
Dr Naomi E. Aronson, MD. Professor of Medicine, Director, Infectious Diseases Division, Uniformed Services University of the Health Sciences
Dr Lewis Schrager, MD. Infectious Diseases, TB. Former VP, Scientific Affairs at Aeras, former chief of the Epidemiology Branch, NAID, former chief of clinical review in the Office of Vaccine Research and Review, Center for Biologics Evaluation and Research, U.S. FDA
Dr Jessica Seeliger, PhD. Associate Professor, Department of Pharmacological Sciences, Stony Brook University. Microbial Pathogenesis
Dr Yossef Av-Gay, PhD. Professor, Division Of Infectious Diseases, The University Of British Columbia
Dr Jordi Ochando, PhD. Assistant Professor, Oncological Sciences, Icahn School of Medicine at Mount Sinai
Dr Boris Shor, PhD. Founder & CEO, Manhattan BioSolutions, Inc.
The views expressed by Dr. Aronson are those of the presenter and do not reflect the official policy or position of her institution (the Uniformed Services University), the Department of Defense or the US government
Event Moderators
Dr Navpaul Singh, MD. Chief Medical Consultant, Nascent Biotech, Inc.
About the organizer
BioIDEA connects biotech companies and innovators to pharma industry executives and investors seeking great investment opportunities. This initiative is a part of a larger vision to help foster a greater biotech community in New York City, creating a unique entrepreneurial environment based on high-quality science and industry expertise