Description
The Rental Assistance Program has limited funds for income-qualifying families in Baltimore City that face a court-ordered eviction. Baltimore City Community Action Partnership (CAP) administers the program to provide self-sufficiency case management and rental assistance to allow clients to remain stably housed and avoid homelessness.
Income Guidelines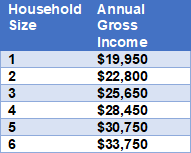 In order to be seen at the Rental Assistance Event at Morgan State University, you must bring COPIES of the following documents for all applicants and household members. Documents will not be returned." Please bring your original documents with you as well in case the copies are not clear enough for our use.
Registration is REQUIRED. Participants must have a confirmation notice to attend the event. NO walk-ins will be accepted.
Photo ID
Social Security Card
Copy of Current Lease (signed by landlord and tenant)
Landlord Contact Information
Proof of Income
Eviction Notice or Warrant of Restitution (eviction date must be on or after Friday, July 12, 2019)
Please Note - By providing the name and telephone number of your landlord, you give Baltimore City CAP permission to contact him/her regarding the Rental Assistance Program.
Organizer of BCCAP Rental Assistance Intake Event