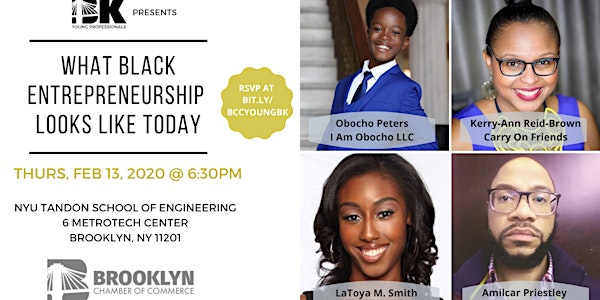 BCC Young BK Professionals -What Black Entrepreneurship Looks Like Today
Event Information
Location
New York University Tandon School of Engineering
6 MetroTech Center
MakerSpace event room
Brooklyn, NY 11201
Explore what it means to be a Black Entrepreneur today in Brooklyn. Gain insight into different perspectives and join the discussion.
About this event
In honor of Black History month, this month's Brooklyn Chamber of Commerce Young BK Professionals meeting is going to explore being a Black entrepreneur today, especially in NYC/Brooklyn, and how that varies for our different panelists. Not only that, we are going to discuss resources, goals, collaborations, and other opportunities for success for event attendees.
Our panelists include:
Our panel will be moderated by Young BK Professionals Executive Board member, Nicole McGarrell of Sunny Day Marketing.
Be sure to join us as we dig in, analyze, chat about, and celebrate the "black entrepreneur" experience in NYC and beyond!
Date and time
Location
New York University Tandon School of Engineering
6 MetroTech Center
MakerSpace event room
Brooklyn, NY 11201