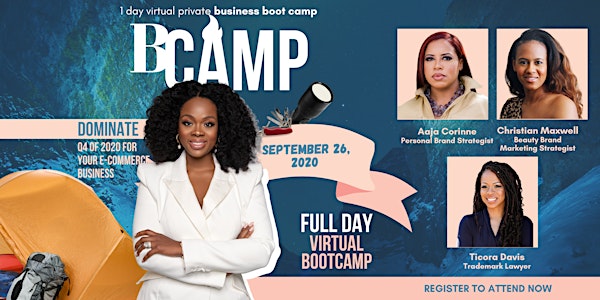 BCAMP: Virtual Business Boot Camp Presented by Rochelle Graham-Campbell
BCAMP is a one-day virtual business boot camp conducted by Rochelle Graham for e-commerce entrepreneurs who want to finish the year strong.
Refund Policy
Contact the organizer to request a refund.
About this event
2020 has surely thrown us all some curveballs, entrepreneurs especially. With all that has occurred this year, figuring out how to close out a year strong is more puzzling than ever.
You may be wondering:
How are other e-commerce entrepreneurs doing?
What should I expect for Q4 after all of the chaos of 2020?
How do I regain my footing for the last part of the year?
I really need a successful holiday season, how do I hit my goals?
How far do I plan ahead now with life being so crazy?
Don't worry we've all thought the same thing. But we came together with what we know already and our business buddies, expert strategist and more to get those answers. Now I want to make sure you have them too!
So what is BCAMP?
BCAMP is a one day business bootcamp for e-commerce entrepreneurs who need a kick in the butt emotionally, mentally and strategically to close out this year strong brand wise, financially and more!
The one day intensive will educate and prepare you to move forward in 2020 with increased confidence and strategic focus!
What will you learn?
How to update your marketing plan for the remainder of 2020
Ethical marketing in an everchanging financial landscape
Logistics in a post-COVID "scarcity" era
The importance of mental wellness for digital entrepreneurs and solo-preneurs
Bootstrapping your business while maintaining 100% ownership
Customer Retention for 6 figure brands
Cost-effective marketing strategies that yield results
If these are topics you crave to learn more about for your business or brand in 2020 strap up your back pack, grab your water and join us for virtual bootcamp!
BCAMP is for
Entrepreneurs who need to close 2020 out STRONG, financially, mentally and emotionally!
The Sessions...
Additional thoughtleaders to be announced
Marketing Your E-commerce Brand in a Post-Covid Era by Rochelle Graham
Customer Recruitment and Retention for 6 Figure Brands by Rochelle Graham
2020 Official Camp Keynote (Speaker To Be Announced)
Wellness Panel for Boss Multi-Faceted Women Entrepreneurs and CEO's
Marketing and Strategy Panel for 6 Figure Brands
Virtual Happy Hour
All attendees will receive
Access to ALL sessions, keynote and panel discussions
Access to ALL Camp Virtual Mixers during the day
Access to CAMP virtual happy hour
BCAMP Masterplan Workbook
Exlcusive digital tools and insider knowledge on how to win in 2020 with your brand