BCAF 2016 Workshop: Intro to Improv Hip Hop with North Coast

Saturday, September 10, 2016 at 1:00 PM (EDT)
Event Details
BCAF 2016 WORKSHOP
INTRO TO IMPROVISED HIP HOP with North Coast (NYC Improv Hip Hop Act)
Saturday, September 10 from 1-3pm at ImprovBoston
$65 per person
Capacity: 16 people
Prerequisites: One level of longform improv at any theater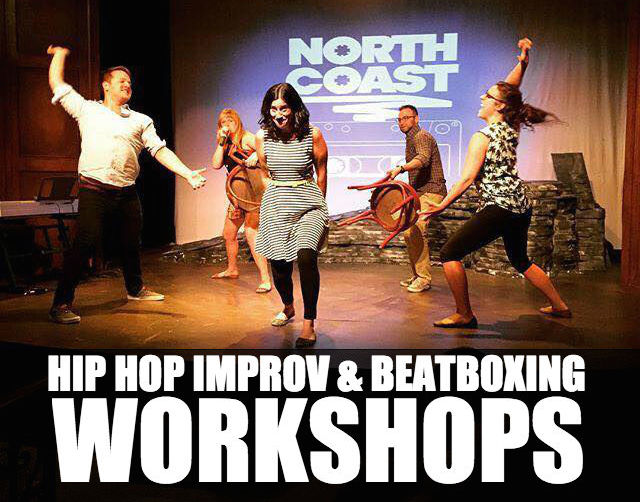 ---
Workshop description:
New York City's premier hip hop improv comedy team, North Coast, is a unique collaboration of improvisational comedy, hip hop, beatboxing, and music. This musical improv workshop will get even the most beginner performers comfortable and confident with freestyle rapping and will teach you how to really drill into the deal of your scene and its' characters. Learn how to set yourself up, find your flow, and weave your rapped verses in and out of your improv scene-work.
Instructor Bios
Richie Alfson Hailing from Oklahoma City, Richie began improvising in Boulder, Colorado where he co-founded and directed the group Left Right TIM. In Colorado he also performed at the Bovine, the Impulse, and with The Dinner Detective Colorado. After producing and performing in a show for the 2010 Edinburgh Fringe Festival, he moved to New York City and began studying at the Upright Citizens Brigade, under the tutelage of Anthony Atamanuik, Lydia Hensler, Rich Talarico, and others. He holds a degree in Theater and a minor in Technology, Arts, & Media from CU-Boulder. He has written, produced, and acted in several NYC off-Broadway productions. Currently, Richie can be seen performing with North Coast, SHADOWS & RapTime.
Katy Berry is a Brooklyn-based writer and performer who has studied at both The Magnet and UCB Theaters. Frequently referred to as "a bad bitch with an incredible smile," when not performing with North Coast, Katy can be found slaying audiences with her indie long form team, Cool Blanche, or indie sketch team, S.A.C.K. Stay tuned for her forthcoming web series, Katy in the Bush.
---
BCAF Show Lineups are subject to change.
For our complete updated schedule check the BCAF website.
Check out our AWESOME Comedy Workshops here.
Organizer
Boston Comedy Arts Festival
The 2016 Boston Comedy Arts Festival covers multiple stages and features improv, sketch, and stand-up comedy. ImprovBoston proudly produces the festival, offering performance and training opportunities, as well as the chance to nurture creative comedy endeavors and build bonds of friendship.
BCAF 2016 Workshop: Intro to Improv Hip Hop with North Coast