BCAF 2016 Workshop: Advanced Hip Hop Improv with North Coast

Saturday, September 10, 2016 at 1:00 PM (EDT)
Event Details
BCAF 2016 WORKSHOP
ADVANCED HIP HOP IMPROV with North Coast (NYC Improv Hip Hop Act)
Saturday, September 10 from 1-3pm at ImprovBoston
$65 per person
Capacity: 16 people
Prerequisites: Intro to Improv Hip Hop workshop or similar experience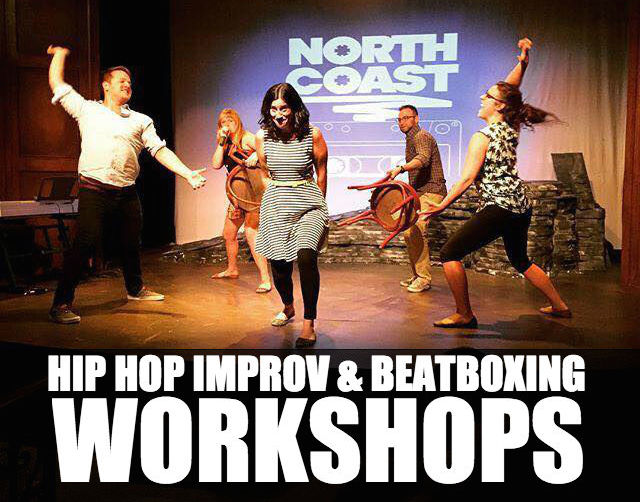 ---
Workshop description:
Take your hip-hop improv skills to the next level using polysyllabic rhymes, second beats, and dynamic scene structures. Trust your instincts and make bold choices that pay off through support work. Students will be expected to make choices with form, flow, and expand their repertoire of characters. Good scene work is imperative to good musical improv; let's drill into the deal of your scene and its' characters so you can learn how to set yourself up, find your flow, and rap from a place that matters.
Instructor Bios:
Jonathan DeMuth has been studying improv in New York City at the Magnet Theater, Upright Citizens Brigade and People's Improv Theater since March 2009. He has studied improv with Ian Roberts, Matt Walsh, John Lutz, Billy Merritt, Armando Diaz, Chris Gethard, Will Hines, Charna Halpern, Peter McNerney, Louis Kornfeld, Shannon O'Neill & Gavin Speiller just to name a few. By day, Jonathan is a television editor. By night, he performs regularly with his improv groups North Coast, Cool Blanche, A Few Good Men & his Magnet Megawatt team TITAN… he also a co-founder of the podcast "Your Weird" (now on iTunes)! On a more important note, he loves his wife Erin, daughter Pepper, sports and video games!
Ethan Scott, known as Exacto on stage, is a traveling artist and performer currently based in New York City. Focused on beatboxing, improv, stand-up, and painting, Ethan hopes to inspire the community to dance, sing, study, and overall enjoy life to the fullest. "Exacto" has performed on stage for a variety of shows, ranging from poetry slams and break dance battles throughout the USA and Canada, to "Tourette's Without Regrets" in Oakland, CA and America's Got Talent in San Francisco. At a young age Ethan found visual and aural media to be the strongest forms of communication, and is determined to create a new look and sound with his work.

---
BCAF Show Lineups are subject to change.
For our complete updated schedule check the BCAF website.
Check out our AWESOME Comedy Workshops here.
Organizer
Boston Comedy Arts Festival
The 2016 Boston Comedy Arts Festival covers multiple stages and features improv, sketch, and stand-up comedy. ImprovBoston proudly produces the festival, offering performance and training opportunities, as well as the chance to nurture creative comedy endeavors and build bonds of friendship.
BCAF 2016 Workshop: Advanced Hip Hop Improv with North Coast