About this Event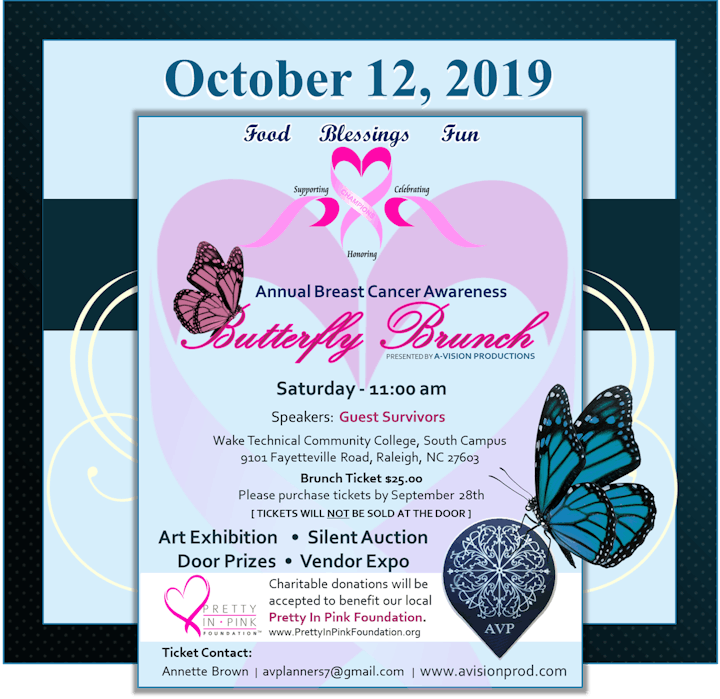 A-Vision Productions (AVP) is a full-service company providing corporate and social event planning services throughout Wake County and surrounding areas of North Carolina; as well as a few out-of-state locals "on demand".
Through our need to give back and include philanthropy as part of our business responsibility, AVP is hosting its 2nd Annual Butterfly Brunch. AVP's Annual Breast Cancer Awareness Butterfly Brunch aims are to recognize Champions who fight and survive through and from breast cancer; as well as, raise awareness and funds toward the cure.
Pretty In Pink Foundation (PIPF) is our selected charity for the 2019 Butterfly Brunch. Pretty In Pink Foundation works together with surgeons, oncologists and radiologists for in-kind services, reduced rates and acceptance of payment at Medicare rates.
Pretty In Pink Foundation is the only nonprofit foundation in North Carolina with a primary mission of helping breast cancer patients pay their medical costs. They make this happen through the generous contributions of sponsorships, events, grants, and life-giving donors.
Proceeds from our Butterfly Brunch will go directly to Pretty In Pink Foundation in support of its mission to provide uninsured and under-insured breast cancer patients in North Carolina with financial assistance for quality, lifesaving medical treatment. Early detection saves lives.
Come and be inspired, educated, empowered and help bring a cure a little closer.
Annette S. Brown ___________________________________________________________________________ Owner, A-Vision Productions