Event Information
Location
KPU Richmond Campus
8771 Lansdowne Road
Melville Centre for Dialogue (Richmond 2550)
Richmond, BC V6X 3V8
Canada
Description
Registration is now closed for this free event. Email info@cancred.ca if you want to be put on a waiting list to take advantage of any cancellations.
---
Help us transform Open Badges into alternative credentials that build our workforce
Come to learn and collaborate at this cross-sectoral workforce design lab, organized by Kwantlen Polytechnic University's Teaching and Learning Commons in partnership with CanCred.ca.

Help us build:
More useful ways to recognize learning, development, capability and achievement in our organizations, professions, institutions and communities.
Better pathways to career success by working with peers and colleagues across sectors.
Alternative credentials that work, based on Mozilla Open Badges.

What if Open Badges* were more than digital doggie biscuits for the gamification of learning? What if they were portable credentials that could carry human capital forward, helping learners and workers build trust and connections in new life situations? What if they helped all kinds of people make transitions from secondary to post-secondary education, education to employment and professional recognition, between careers or even between countries for immigrants and refugees?
This is already happening elsewhere. How can we make this work here? How can we build on what we already do? How can we learn from what's already working elsewhere and adapt it here?

Help us build an open learning and recognition network and build your own professional network as you learn in our pop-up workforce design lab.
Living Agenda
Features "Instigator talks": thought leaders with short (5 min) inspiring success stories, case studies, works in progress, future use cases. Their talks will trigger popup design sessions.
0800-0900: Registration, Continental Breakfast
0900-0915: Welcome: Alan Davis, President of KPU

0915-1000: Open Badges 101: Don Presant, Learning Agents, Nate Otto, IMS Global
Fast paced cross-sectoral overview, with crowd-sourced feedback

1000-1030: Adult Workforce
- Adult Education/Literacy: Diana Twiss, Decoda Literacy Solutions
- Associations/Recognizing

Learning

- Patrick Donahoe, Chair, Cdn. Assoc. for Prior Learning A

ssessment (CAPLA)


- Staff Development: Krista Lambert, JIBC Centre for Teaching, Learning & Innovation
- Workforce Competencies: Jeff Griffiths, (for Canada West Foundation's Human Capital Policy Centre)
- Examples from elsewhere: Don Presant, CanCred.ca


BREAK

1045-1115: Under 18s
- BC Curriculum Reform: Chris Kennedy, Superintendent of Schools/CEO, West Vancouver Schools
- STEAM in Schools: Templeton High School/BCIT/SAP (video)
- Community Maker Spaces: Dethe Elza, Vancouver Maker Education Community
- Examples from elsewhere: Don Presant,

CanCred.ca

1115-1215: Popup design session (Adult & Under 18)

1215-1300: LUNCH (provided)
1300-1330: Post-Secondary Education
- Horizontal Learning, 3D Graduates: David Porter, eCampus Ontario
-

Open Educational Practices, Open Badges & ePortfolios

: Tracy Penny Light, Thompson Rivers University
- Work Integrated Learning (WIL) at a Large Employer: Tom Murad, Siemens Canada Engineering and Technology Academy (SCETA)
- WIL for

e

mployer networks

: Chuck Hamilton and Dana Stephenson, Riipen
- Open Badges in Scottish Colleges: Marie Cheung, Service & UX Designer (formerly wearesnook)

1330-1400: Open Recognition Networks
- Setting goals, tracking impact: Susanna Gurr, BC Centre for Employment Excellence
- Open Badges as learning data: Victor Glickman, Edudata Canada
- Open Badge Networks: Nate Otto, Open Recognition Alliance / IMS Global
- Examples of emerging

Open Badge Networks

: Don Presant, Open Recognition Alliance

BREAK

1415-1515: Popup design session (PSE & Building a Regional Network)

1515-1600: Reflection, next steps, final remarks


Inspired by other communities

To envision a "BC Skills Network" of the future, the Forum will be applying practices from similar networks and events, such as:
* What are Open Badges?
Open Badges are electronic credentials (eCredentials) of skills and achievement. They contain detailed information about how they were obtained, making them transparent and useful. Based on a common digital standard, they can be shared over networks and social media like LinkedIn. They can help individuals build their careers and employers find the skills they need.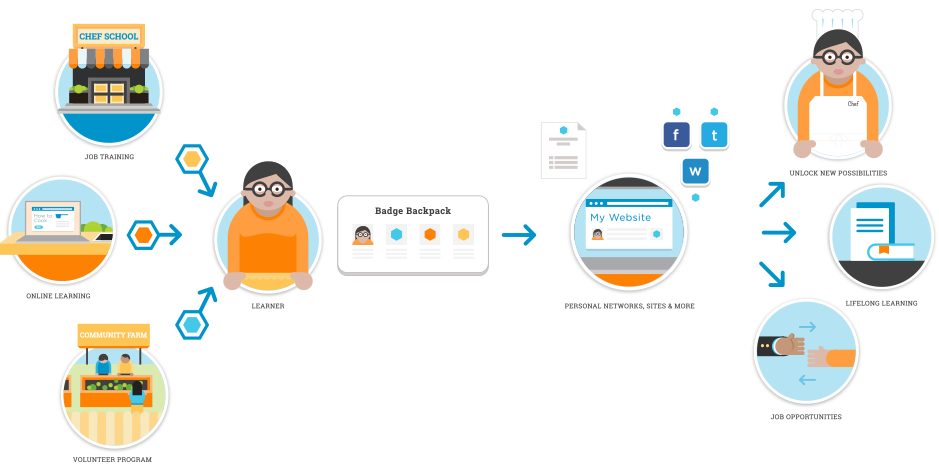 (See image larger: right-click, select "View Image")
Benefits of Open Badges include:
A visual language for Competency Based Education - badged skills frameworks create clear pathways for learning, career development and talent management
The ability to recognize lifewide learning: formal, nonformal and informal
A portable standard that makes it easy to recognize and integrate external learning certificates
Self-directed learners can advance at their own pace along their own pathways
Increased workforce engagement and retention, especially for Millenials, by recognizing lifewide skills and achievements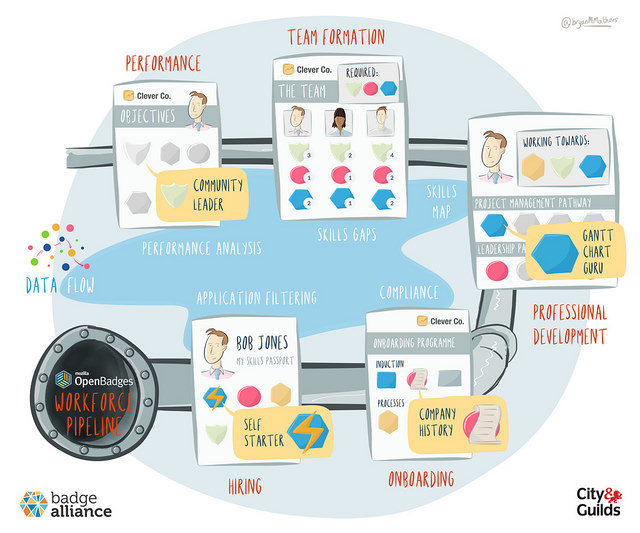 Well over 10 million Open Badges have been issued since they were invented by Mozilla Foundation in 2011. They have been adopted in diverse sectors all around the world: by educational institutions such as Open University, by professional organizations such as the Scottish Social Services Council and by large employers such as IBM and Siemens.
FAQs
What are my transportation/parking options for getting to and from the event?
Parking and Transit

How can I contact the organizer with any other questions?
Email us at info@cancred.ca
Date and time
Location
KPU Richmond Campus
8771 Lansdowne Road
Melville Centre for Dialogue (Richmond 2550)
Richmond, BC V6X 3V8
Canada