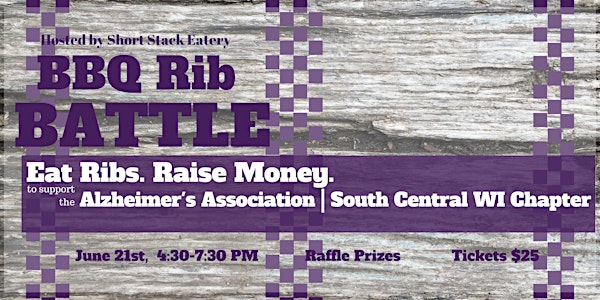 BBQ Rib Battle against Alzheimer's
When and where
Location
Short Stack Eatery 301 West Johnson Street Madison, WI 53703
Description
For decades, Paul Lindenmeyer and Brett Fish have been fighting about who makes the better ribs. Both guys will tell you that their ribs are the best. This year, we are asking the public to decide in order to finally put this feud to rest...until next year.
Come on down for ribs and beer and vote on who makes the most tasty and tender slab! Your ticket includes ribs, sides and a drink and all proceeds benefit the South Central WI Chapter of the Alzheimer's Association. June is Alzheimer's and Brain Awareness month and unfortunately so many of us have loved ones in our lives that have been affected by this terrible disease.
Short Stack Eatery has partnered with the Alzheimer's Association and this event will be part of the national The Longest Day campaign. Show your support by getting BBQ sauce all over your face!
Get a free beer and raffle ticket for riding your bike to this event!