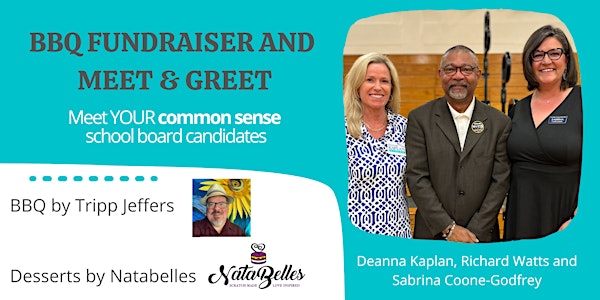 BBQ Fundraiser and Meet & Greet
Fundraiser and Meet & Greet
When and where
Location
Gateway Commons Park 1580 Oak Street Winston-Salem, NC 27105
About this event
It's more important than ever to make sure we have common sense, well-informed, reasonable candidates elected to our school board. And these three fit the bill!
We invite everyone to come out to meet our three at-large candidates, Deanna Kaplan, Richard Watts and Sabrina Coone-Godfrey, and help to raise money for their campaigns. Whether you can give dollars or volunteer time....we want you there!
A complimentary BBQ meal will be provided, courtesy of Tripp Jeffers with yummy desserts crafted by Natabelles! Children are welcome, and there is a playground next to our shelter. Stop in for a moment - or stay for dinner!
Please SPREAD THE WORD and share the link to this event with your friends, neighbors and social network. Our goal is to raise $5000 for our candidates. Help us by going ahead and making a donation today in any amount!