Description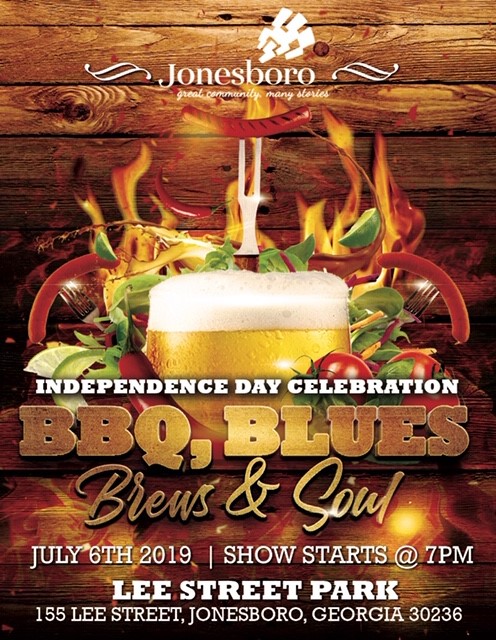 Mark your calendars, today! We are taking it to another level to celebrate the 4th of July Holiday. Yes, you read the caption correctly, on July 6th we will feature the best BBQ, Blues, Great Brews & Soul that you will ever find. This is an event you do not want to miss. And to top it all off, we will feature a Fireworks show that you'll want to capture. The popular show is entitled "The Dr. Love Revue" featuring Albert White, Willie Hill, Eartha Sims.
The concert will be held at the Lee Street Park Amphitheatre. Vendor opportunities and VIP tables are available. For additional information, please contact events@jonesboroga.com.
This year our event is in presented by by T. Madden & Associates, Tara Wrecker, Sports Cafe, Injury to Wellness, C.Ingram Trucking and C&C Lovejoy. Hosting Sponsors include Georgia Power, Apex Insurance, Heritage Bank, SunTrust, LTI, Baranco Automotive & the Clayton County Housing Authority.
About the Artists:
"Albert White is no stranger to rhythm and blues." – Albert White began playing guitar in the late '50s with his legendary uncle, Piano Red, and his group "Dr. Feelgood & the Interns. Since then, Albert has performed with Joe Tex, The Tams, Ray Charles and many such artists during his 50 year tenure as a Blues and R&B musician. Albert still devotes himself to music, performing with his old band member Beverly "Guitar" Watkins and recording Music Maker CDs, including his solo album, The Soul of the Blues.
Willie Hill Man On A Mission - With performances alongside of B.B. King, Bobby Blue Bland, Aretha Franklin and Al Green (plus many more legendary artists) there is no argument that Willie Hill with his deep soulful voice and style electrifies audiences everywhere he has been established as one of the very best blues performers in the south, he is truly a sight to behold.
Eartha Sims has performed all genres of music; Opera, Country & Western, Bluegrass, Blues, R&B, Musical
Theatre, Motown, Hip Hop, and her favorites Contemporary Gospel and Jazz. She is being accompanied by
Producer, Writer, Artist and Founder of New Sky Entertainment.