About this Event
PUTTING SOME ACTION BEHIND EMPOWERMENT.
You've been inspired…
We want to equip women with the knowledge they need to take their personal brands and businesses to the next level. We want to connect women with opportunities to advance and grow their portfolios and networks. Through a series of 60 minute workshops and panels we will deliver a healthy helping of tools and strategies that you can introduce to your business model.
Everyone is VIP so no need to spend the extra money for special perks throughtout the weekend!
But first, let's have dinner with a purpose!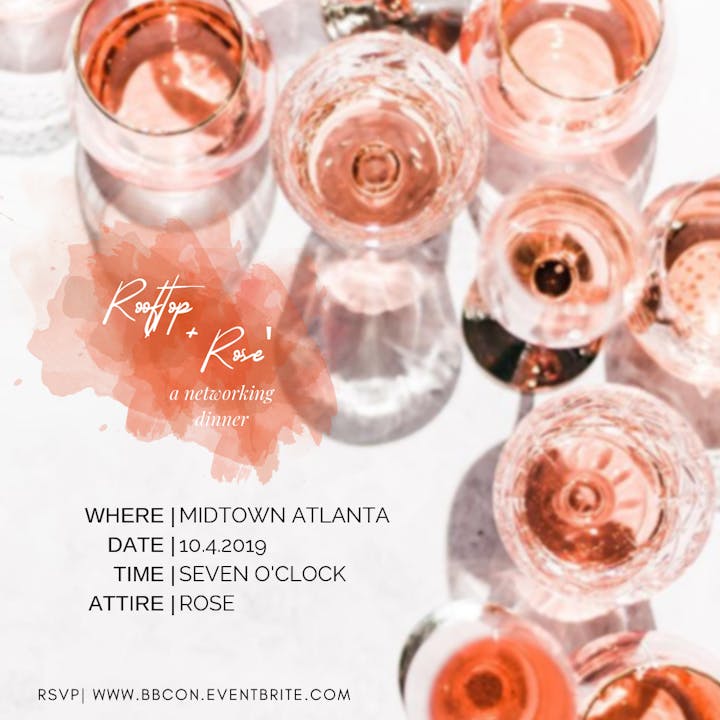 Friday | 10.4.2019 | Rooftop & Rose' Networking Dinner Party | Private Location, Midtown Atlanta | 7 pm - 10 pm
Meet us at the top... literally. We are kicking off our #BBCON WEEKEND with the first edition of our Rooftop & Rose' women's networking dinner series. We want to create a safe space for women to feel beautiful and be heard. so what better way than dinner with the girls? Sip Rose' while watching the Sunset over Midtown Atlanta with some amazing women. Networking is the key to your net worth. Join us for a 3-course dinner, drinks, knowledge sharing, photo ops, music, girl talk, giveaways and of course... Rose'! Attire: Rose Don't drink? No worries, we will have an assortment of other craft beverages for you to choose from. Space is very limited.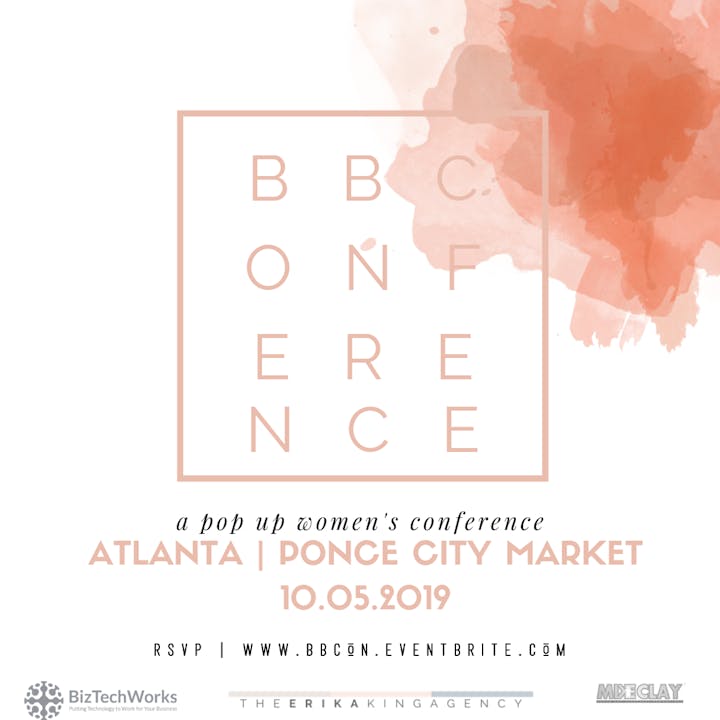 Saturday | 10.5.2019 | BBCON -pop up conference | Registration 9:30 am | Start time 10 am
COME PREPARED TO LEARN....and have a good time while doing so!
Some things we will cover are:
Marketing Tips
Digital Marketing and Online Ads
Lead Generation
Content Creation
Business Planning
Social Media Planning
Tech Stacks & Hacks
SEO tips
Financial Planning Tips
Mini Canva tutorial to create your own professional social media graphics.
AND MORE!
Lunch, snacks and beverages will be provided.
Enjoy free raffle prizes, giveaways and networking activities.
Find your accountability partner with our Accountability Partner pairing system!
Collaborate in a breakout room with our instructors to get a more in depth learning experience after each class.
Special additons! Get legal with, Rosezena Pierce of the RJ Pierce Law Firm as they talk about the importance of "Securing your Brand".
Sponsored by BIZTECHWORKS Atlanta - visit them at www.biztechworks.com