Acrylic workshop on 9/15/21 from 6-7:30pm EST with Hillary Holmes of Green Barn Studio to benefit the Cape Ann Museum.
About this event
Please join us for an acrylic workshop with Hillary Holmes (@greenbarnstudio) on September 15 from 6-7:30pm EST via Zoom. She will be teaching us to paint a beautiful abstract coastal scene on canvas.
All proceeds less $5 per ticket will be donated to the Cape Ann Museum (@capeannmuseum) which provides seeks to foster an appreciation of the quality and diversity of life on Cape Ann while furthering the knowledge and enjoyment of its history and art.
We require a minimum of a $20 contribution but hope that, if you already have supplies or are able, you'll consider offering more to this wonderful cause and in return for our host's time*. We're thrilled to support this wonderful organization!
SUPPLIES:
We're also excited to be offering a limited number of complete supply kits (5) available for an additional $30 each (including tax + standard USPS shipping to the lower 48 states) if you register and order one by TUESDAY, 9/7 AT 12pm EST*. See what's included in the image below.
If you don't already have supplies you'll need to acquire them yourself; following is the list of necessary items as well as the links to purchase them. Please note you do not need to purchase the exact items, but something comparable. (Those included in the kit are also perfect substitutes!) If you participated in our previous acrylic workshop, the supplies aare the same!
-Acrylic paint — at minimum your primary colors (red, yellow, blue), white and black
CONFIRMATION
A confirmation will be sent via email and the supply list will be available here on our Event Page. The Zoom link will be emailed 15 minutes prior to the event and will also be available on the Online Event Page here on Eventbrite.com.
*We regret that we cannot offer returns or exchanges for supply kits or refunds in the event you cannot attend the workshop. You will, however, receive access to a replay in case you miss it.
Please see our website brushbecause.com for the answers to common questions or to learn more, and feel free to email any others to Alexandra at brushbecause@gmail.com. We can't wait to have you on the 15th!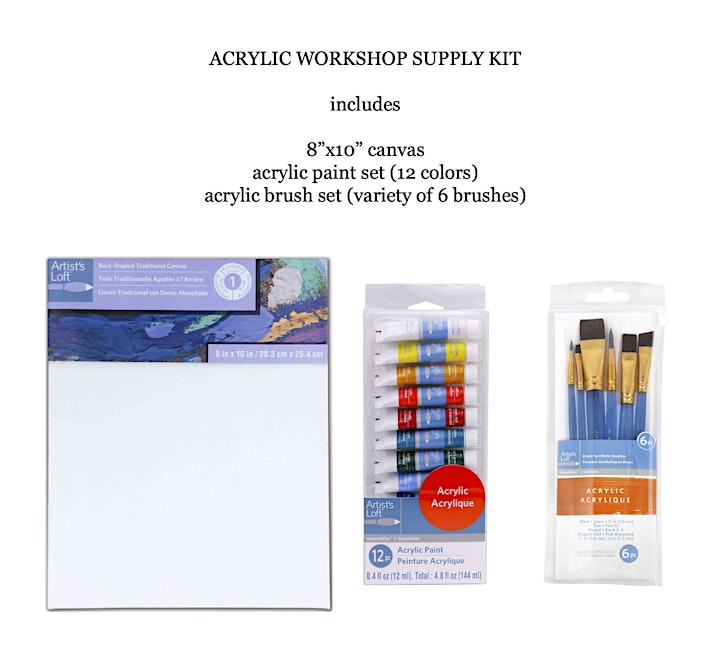 Organizer of BbC x Hillary Holmes Virtual Acrylic Workshop