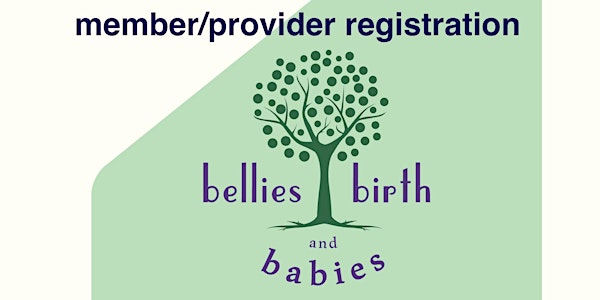 BBB Professionals & Vendors registration - Spring 2019
By Birth Network of Santa Cruz County
Date and time
Saturday, March 23, 2019 · 2 - 5pm PDT
Location
Pacific Cultural Center 1307 Seabright Ave Santa Cruz, CA 95062
Refund Policy
Contact the organizer to request a refund.
Description
Bellies, Birth and Babies - 2-5 pm for the public.
Plan to arrive by 1:30 and stay until 5:30. All professionals and speakers MUST be pre-registered to attend.
Birth Network current professional members: Early bird registration $25 ends Feb 23; $35 (after Feb 23)
Professional Non-members: Early bird registration $40 ends Feb 23; $50 (after Feb 23)
Vendors - Pop-up Marketplace: (by invitation only) – $75: Eight to ten vendors have been invited to have booths to sell items. No one else should be selling items at the event.
Marketing Opportunities:
Donate a raffle prize - Indicate raffle prize, value and description on your registration form. The sooner we know what you are donating the sooner we can feature it in marketing/promotion. By Mar 15 at the latest.
Register early – more likely to be featured in advance of the event. (On call? - Refunds may be requested for missing event due to a birth)
When registering, include your contact info for Facebook, Instagram and your webpage.
Pay $15 now to add a stuffer to the participant bags. Provide 75 -100 copies of your piece of marketing material by March 10, to PO Box 3629, Santa Cruz CA. (No refunds on stuffers, if you neglect to provide the market material, please consider it a $15 donation)
At the event:
Two workshops: Parent participants signed up for the workshops will leave the main hall to go to the upstairs room.
Professional Interaction/Demo Areas: The main hall will be set up with four focus areas where professionals will have an opportunity for interaction with parent participants around specific topics. When registering, please indentify yourself with one of these areas listed below. You will not be required to remain at this "home" Demo area for the event, but you may wish to collaborate on the set up of the areas - Labor Tips area might need a couple of birth balls and rebozos. Supporting Your Body area does not need 3 hanging spines, but might want to have a massage table, pelvic model, etc for demonstrations. Each area will need to be set up communally with appropriate props.
Demo Areas: Baby's Here! - Labor Tips - Birth at Home - Supporting Your Body - Community Resources - Babywearing (in the Studio)
Marketing your business or service: Registered providers are encouraged to participate in informal and ongoing interactions throughout the event in various Demo Areas. There will be one communal marketing table in each Demo Area where your Business cards and brochure may be placed. You are welcome to bring a brochure holder and/or business card holder for your materials; however, you may also want to keep cards with you to hand to people as they interact with you. There is no individual table/space for personal marketing displays.
(Become a Birth Network member or renew your membership here.)
If you are a parent/member of the public register here: https://bbb-spring2019.eventbrite.com
About the organizer
Birth Network believes birth is a deeply personal and empowering family-based event. Our mission is to support parents and care providers by providing information, education, and advocacy for "Mother-Friendly" childbirth. Supporting parents to become more informed consumers is the first step in finding the birth experience that is right for them. You're in the right place to begin exploring options and choices in birth. Check our website for:
Information - Comprehensive listing of Birth Network's professional members—local care providers—and upcoming events.
Education - Evidence-based information; options for pregnancy, birth and postpartum; and links to offsite resources.
Advocacy - Become a member of Birth Network—explore our website—join us on Facebook. Find your connection to important childbirth related topics locally, nationally or on a global scale. Learn how you can help create change around birth, breastfeeding and maternity care issues. Let us know how we can help.