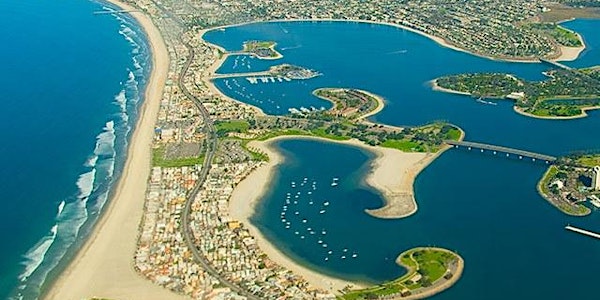 Bay Yin & Beach Yang Walkabout Tour
Bay Yin & Beach Yang Walkabout Tour
When and where
Location
Mission Bay Aquatic Center 1001 Santa Clara Place San Diego, CA 92109
About this event
{[ If your Status as Going to this Event Changes, Please Change your Status.]}
FREE Registration for this Event is required using Eventbrite.
***Any Cost of FOOD/DRINK and/or other is Guest Responsibility. ***
### A minimum of 6 CONFIRMED total is needed via multiple site postings of event for event to not be canceled by host/guide 12hrs. prior to event start time. ***Weather may cancel event.
This approximately 5-mile Beach Bay Walkabout gives you the different vibes of the Bay and Beach as we enjoy the sunset over the Pacific. Approx. Route https://goo.gl/maps/EWcFmGPggdWb7fsQ8
***Look for the Guide/Host Steven Caliridion wearing a Goodwill Ambassadors Travel/Caliridion T-Shirt with a Tan Hat. ***Host/Guide is/are not liable for Injury and/or Loss from attending this event. Recommend Social Distancing and/or Masking where needed.
***Instant 2way Radio Communication for this Event is via the https://www.Zello.com/goodwillambassadorstravel channel on the FREE https://zello.com/personal/download/ starting 1.5 hrs. before event start time. Once event starts this is the most instant communication with host/guide available. Host/Guide Phone Number given after confirmation of GOING received.
Member Owned Meetup Groups:
https://www.meetup.com/GoodwillAmbassadorsTravel/
https://www.meetup.com/CaliforniaOutdoorAdventures/
https://www.meetup.com/CaliforniaExperiences/
https://www.meetup.com/CaliridionTravel/
https://www.meetup.com/FloridaExperiences/
https://www.meetup.com/FloridaOutdoorAdventures/
https://www.meetup.com/UtahExperiencesAndAdventures .
ALL Updates on this event will be posted via the FB event page https://fb.me/e/2O21zytFj .
***Any wanting to create events for FREE on any of our sites contact us.