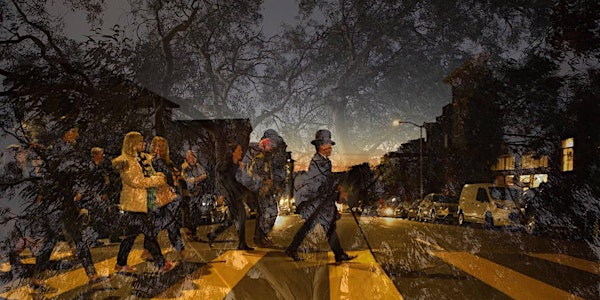 Bay Curious SF Ghost Hunt Tour and Meetup
When and where
Location
1801 Bush Street San Francisco, CA 94109
Description
This event sold out quickly! To stay in the know about future Bay Curious events, sign up for our newsletter.
---

Join Bay Curious for a very special -- and spooky -- tour around San Francisco's Pacific Heights neighborhood, hosted by the San Francisco Ghost Hunt Tour, as heard in our Halloween episode. This tour will be an exclusive night just for Bay Curious listeners and tickets are very limited!
Come hear about the rumored ghost sightings and unbelieveable histories contained on these streets, before joining us for a drink at a nearby (haunted, obviously) hotel.
---
FAQs via the San Francisco Ghost Hunt

WHERE DO WE MEET?
We meet in front of the Healing Arts Center, 1801 Bush Street, SF, Ca, 94109. Corner of Bush and Octavia under the tall trees. You'll walk a mile on tree-lined streets in a safe residential area with fine Victorian architecture. There is one moderate hill, the pace is easy, and the views are spectacular.

HOW LONG IS IT?
You'll enjoy 90 minutes to 2 hours of guaranteed unearthly fun!

NOT RECOMMENDED FOR KIDS UNDER 6
There's nothing inappropriate for kids, however it's late and chilly, and little ones may get tired and restless.

BATHROOM BREAKS?
Unfortunately, there are no options for bathroom breaks.

NO DRINKING OR OTHER SUBSTANCES
We love drinking and other substances but not in the tour. It creates a safety issue on the streets, makes other guests uncomfortable, and can get the tour shut down. Your party will be removed with no refunds. General drunkenness is not tolerated. Having a couple drinks before the tour is fun. Showing up drunk because you think it's a good time means we reserve the right to kick you off the tour, with no refund, even before it starts.

CAN I BRING PETS?
Unfortunately no, unless it's a Service or Emotional Support Animal. Some guests are uncomfortable with certain animals, or are allergic to certain pets. Also, many dogs are walked in the neighborhood and it's hard to know which dogs will be friendly to each other and which won't. For these reasons, and more, we don't allow pets on the tour. But, again, Service and Emotional Support Animals are, of course, always welcomed. Thank you for your understanding.

WHEELCHAIR ACCESSIBLE?
The tour takes place on the streets and hills of San Francisco. It's mostly flat but there is one steep climb we take in two parts. Then it's all downhill at the end. Individuals in battery powered wheelchairs do well on the tour. Older model scooters don't fare as well on our hills.

DO WE GO INSIDE ANYWHERE?
Sometimes we are allowed to enter one particular location. But, we'll keep that a surprise for now. All the rest of the places have those pesky living people inside of them and they don't like it when a tour guide in a top hat barges in on them.

STILL GOT QUESTIONS?
Email us at baycurious@kqed.org.