Bay Area Tiger Entrepreneurs Conference: April 11th - 13th
Description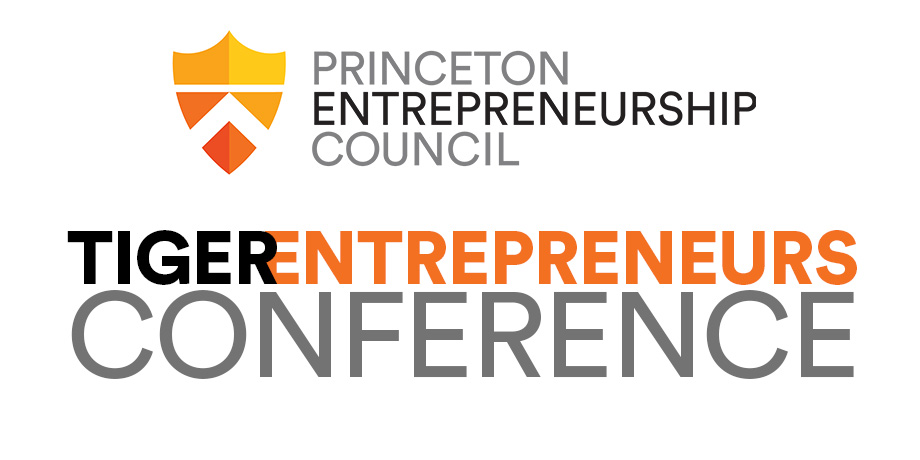 The Princeton Entrepreneurship Council (PEC), the alumni engagement arm of Princeton's entrepreneurial ecosystem, and Princeton Club of Northern California cordially invite you join fellow Princeton alumni and their guests at the second Tiger Entrepreneurs Conference to be held on April 11 through 13 in Sunnyvale and San Francisco, per the schedule below. The conference objectives are to educate, inspire, and engage the vibrant Princeton entrepreneurial community.
The conference will feature a wide range of content:
Several Princeton professors teaching classes from the University's rich array of entrepreneurial curriculum

Keynote speakers Kathy Ireland P21 (CEO, kathy ireland Worldwide) and Tom Siebel P11 (CEO, C3)

Princeton entrepreneurs sharing founder and investor insights from across technology, life sciences, consumer, social impact, and arts enterprises

A Startup Showcase, featuring six premier Princeton startups

Evening receptions

Five skills-based workshops to choose from
The Tiger Entrepreneurs Conference is part of a larger week of Princeton Entrepreneurship in the Bay Area. It kicks off on Wednesday, April 10, with a separate evening event in San Francisco at which selected startups will present at the Princeton Alumni Angels (PAA) Spring 2019 Pitch Night.
Conference Agenda:
Thursday, April 11 from 8:00 AM - 8:30 PM at Google (MP3 1170 Bordeaux Drive, Bldg. 3, Sunnyvale, CA). Day One of the Tiger Entrepreneurs Conference:
Keynote speaker: Kathy Ireland P21, Founder and CEO, kathy ireland Worldwide
Professor Derek Lidow teaching a class from his new course on "The History of Entrepreneurship"
Professor David Miller sharing highlights from his very popular course, "Ethical Behavior"

Corporate innovation business models and strategies -- Samsung NEXT (Brendon Kim '89, EVP), Nike (Rick Waldron '84, former VP, Innovation Strategy), J&J Scientific Innovation (Pierre Theodore '90, VP), X, The Moonshot Factory (Karen Roter Davis '94, Leadership Team), BrainOxygen (Bill Wescott '85, Founder and CEO)
Venture capital trends and opportunities -- SignalFire (Ilya Kirnos '99, Founding Partner), Fenwick West (Cindy Hess '85, Partner), TXV (Marcus Stroud '16, Partner), GV (Laura Melahn '07, Partner), William Blair & Co. (Brett Paschke '90, Head of Equity Capital Markets)
Ed tech initiatives -- Shmoop (Ellen Siminoff '89, CEO), IvyCube (Minerva Yeung *96, Founder), BreakLine Education (Bethany Coates '98, Co-Founder), Coursera (Emily Grassberg Sands '09, Senior Director, Data Science)
Social impact investments and challenges -- 2-1-1 Orange County (Adriana De La Rosa '95, CDO), Omidyar Network (Randy Wiggins '05, Manager), Jumpstart (Aoi Senju '16, Founder and CEO), Global Development Incubator (Sara Wallace Beatty '12, Head of Communications & Marketing), ReBoot Accel (Megan Martin Strickland '07, Sr. Business Development Manager/Head of Community)
How to engage with Princeton's entrepreneurial ecosystem -- Princeton Entrepreneurship Council (Anne-Marie Maman '84, Executive Director), Keller Center (Cornelia Huellstrunk, Executive Director), Princeton Alumni Angels (Michelle Moon '99, Director), Career Services (Kim Betz, Executive Director), Corporate Engagement and Foundation Relations (Chip Hay)
Startup Showcase, featuring the same companies presenting at the Princeton Alumni Angels pitch night event on Wednesday, at which a prize award will be given to the top-judged presentation. The four judges represent each of the three Princeton-focused venture firms (Chaac Ventures (Luke Armour '13, Managing Director), Fitz Gate Ventures (Mark Poag '93, Managing Director), and Nassau Street Ventures (Tom Meyer '87, Managing Director) and PAA (Joelle Rauh '02, Director)); all four of whom are co-sponsoring the showcase. There will also be a People's Choice winner based on audience votes.
Evening networking reception co-sponsored by Princeton's Campus Life/Career Services and Batiste Rhum.
Friday, April 12 from 8:00 AM - 8:30 PM at Gap Inc. (2 Folsom Street, San Francisco, CA). Day Two of the Tiger Entrepreneurs Conference:
Keynote speaker: Tom Siebel P11, Founder, Chairman and CEO, C3
Professor Marty Johnson '81 teaching from his "Social Entrepreneurship" course and sharing current student initiatives
Consumer and med tech startup trends -- Shasta Ventures (Nikhil Basu Trivedi '11, Partner), Willow (John Y. Chang '91, Founder and CEO), Sandstone Diagnostics (Karen Drexler '81, Founder and CEO), Technology Crossover Ventures (Erik Blachford '89, Partner and former President, Expedia), AdsWizz (Don Albert '79, former President, North America)
Life sciences startup/founder and investor insights -- Mammoth Biosciences (Trevor Martin '11, Founder and CEO), Science 37 (Anita Gupta Modi '08, VP of Product Strategy), Verge Genomics (Alice Zhang '10, Co-Founder), Gilead (Valerie Delva '06, Senior Director, R&D Strategy & Operations), 5AM Ventures (John Diekman '65, Founding Partner)
Transit tech: market trends and policy issues -- Boosted Boards (Jeff Russakow '90, CEO), Waymo (Charity Allen '00, Senior Product Counsel), Spireon (Kevin Weiss '79, CEO), Greenfield Labs/Ford (Jamie Lowrey '18, Public Policy and Strategy Analyst), Bavarian U.S. Offices (James Mister '10, Future Mobility and Smart Cities Adviser)
Young alumni founders -- Macro (Minqi Jiang '12, Co-Founder), Front (Paul Dornier '17, Founder and former CEO, Meetingbird (acquired by Front)), DNABlock (Christine Marzano '07, Co-Founder), Lattice (Jack Altman '11, Founder and CEO), IgniteSTEM (Max Greenwald '17, Founder)
Emerging tech market opportunities -- Aquabyte (Bryton Shang '12, Founder and CEO), Rocket (Abhinav Agrawal '04, Founder and CEO), NEA (Amit Mukherjee '10, Partner), Swoop (William McCalpin '12, Product Manager), Venrock (Brian Ascher '89, Partner)
Arts entrepreneurship and creativity -- Twentieth Century Fox (Ted Gagliano '82, President, Feature Post-Production), food writer/critic (Stephanie Rosenbaum Klassen '90), band manager/theatrical producer (Khalil Sullivan '04), singer/vocal coach (Ruth Gerson '92), philanthropist/investor (Erik Blachford '89)
Evening networking reception at Salesforce, Ohana, 350 Mission Street, (30th Floor), Francisco, CA 94105-sponsored by Princeton's Lewis Center for the Arts and Batiste Rhum.
Saturday, April 13 from 8:00 AM - 1:00 PM at DLA Piper (555 Mission Street, 24th Floor, San Francisco, CA). Five content-rich workshops, co-sponsored by the Keller Center, will be offered to alumni and guests interested in diving deeper into a specific topic:
Capital fundraising -- How to identify and target investors and venture firms; build an effective pitch deck, how best to connect with the investor community, and the process to raise seed capital. Workshop Leaders: Catherine "Cack" Wilhelm '06, Partner, Accomplice VC and Laura Melahn '07, Partner, GV, the venture capital arm of Alphabet.
Discovering a Successful Product Strategy -- Learn how to run a successful product strategy discovery at your company. An effective discovery process leads to bold solutions to your product challenges, effective testing and validation of assumptions, identifying risks, and working in an agile fashion. By the end of the

workshop

, you will have a better understanding of how to build out your product or feature set in a way that promotes efficiency, creativity, and flexibility. Workshop Leader: Julia Macalaster '12, COO, Def Method.
Arts Entrepreneurship in Film and Entertainment: Tigerwood 101 -- Hollywood insiders will provide an overview of how the entertainment industry works, discuss new and emerging technologies and business models, and work with attendees on their entrepreneurial dreams. Workshop Leaders: Ted Gagliano '82, President, Feature Post-Production, 20th

Century Fox; Bill Wescott '85, CEO, BrainOxygen LLC; Ben Wolstenholme, CEO, Madefire; and Loic Bailly, Owner, 2451 LLC.
High-performance team-building -- Discussions will focus on building a strong startup culture, mindset, and brand; attracting, recruiting and retaining recruiting key employees; and tapping outside resources and internal stakeholders to build effective teams. Workshop Leaders: Ed Zschau, Jr. '86, Director, Parker Remick and Ian Thomson '09, Executive Recruiter, One Bridge Partners.
Mindfulness-Based Wellness -- Honor yourself, take time to yourself, meditate yourself, understand yourself, nurture yourself, and you will have more of yourself to give. Workshop Leader: Jaclyn Long '98, Founder and Director, Mind Body Moms, with workshops designed for both women and men.
You are invited to join us on any of the three days. Conference packages are also available for the first two days and all three days. When registering, please note that tickets are segmented into three categories: Young Alumni (graduation years from 2015 to 2019), All Other Alumni, and Friends and Guests.
Please be advised that photography and video/audio recording of the conference will be performed for educational and promotional purposes only.