Description
Inner Sounds Level 1 is a two-day foundational course to begin utilizing sound as a healing modality for yourself and/or to share with others.
Whether you are an inexperienced beginner with no instruments, someone who has a crystal bowl but no idea what to do with it, or a fairly versed professional looking to hone up on your skills, this is the course for you!
With our two day curriculum, students will learn the foundational principles of sound as a healing agent, play a variety of instruments, learn the anatomy of a sound bath for personal or group use, and develop the confidence necessary to begin administering sound healing experiences.
We provide all the instruments needed to learn and practice, no need to already have instruments or be worried if you don't!
THIS COURSE IS FOR YOU IF:
You are curious about sound & have an open mind.

You, your partner, child, or loved one are stressed, anxious, depressed, have insomnia, chronic pain or other stress related issues and are searching for viable wellness alternative.

You are a Musician, Yoga Instructor, Therapist, Coach, or Practitioner who would like to compliment your vocation with sound healing in your sessions, events, or classes.

You really want to start giving sound baths for yourself or loved ones but are worried you'll hurt someone or are scared you'll do it improperly.
TRACTION
Right now we see sound healing gaining A LOT of traction in the news, sound healing is EVERYWHERE. Throw a rock and you'll hit a sound healer.
YES, it is relatively easy to buy a curated set a bowls and start playing, BUT, their is a growing danger of a lot of inexperienced, untrained practitioners administering sounds without knowing the impact they are having on their students and we are seeing A LOT of negative feedback.
It took many years of personal experience, with plenty of mistakes, to learn how to cultivate the awareness and sensitivity required to create a safe space for healing.
This introductory class is focused on developing the necessary foundation, resources, and knowledge to begin working with sound so you can know with 100% confidence that you are 100% supporting and benefiting your clients/students family or friends.
WHAT YOU WILL LEARN:
Fundamentals of Playing Crystal Bowls, Ocean Wave Drum, Koshi Chimes, & Gongs

What a Sound Bath is and Various Types of Sound Baths

Anatomy of a Sound Bath - What to use when?

The Science & History of Sound Healing

The Difference between Facilitators & Performers

Sound Psyche: The Energetics Effects of Sound

What to Choose and Why? Understanding Types of Bowls, Gongs, & Mallets

Pairings: Basics of Pairing Sounds & Instruments

Preventing Burn Out: Grounding & Self-Care Practices

The Art of Deep Listening: Playing from a Present & Engaged State

Resonate Tone: Each participant will discover their "resonant" tone and identify exactly what bowl to start with and why for their own self-healing journey.
** Class size is VERY LIMITED to assure each person will get a chance to practice and fine tune their skills.

INSTRUMENTS
We will supply all the instruments needed to learn and practice.
**This introductory class is focused on: crystal bowls, ocean wave drum, koshi chimes, and gongs.
**Due to the desire for a lot of playing time, we will not be going over Tibetan Bowls or Tuning Forks.
CERTIFICATION
We offer Level 1 Certification with additional coursework, practice, and sound bath feedback. More to come when you register.
ALSO!
We offer a 15 min follow up call where you can ask questions, explain techniques or theory, and provide tips.
Immediately following the training, we will offer a discounted set-up consultation for those wanting more specific guidance on what to purchase or how to compliment their current instruments best.
NO REFUNDS POLICY:
*Refunds are not available.
If you are unable to make the training, you are allowed a one-time transfer to a friend or to another date (if one is scheduled and there is space) for an additonal $100 transfer fee. No transfers are allowed less than 7 days prior to the training.
If anything is unclear please ask us prior to making payment.

Your registration and payment for any training with Inner Sounds Meditation implies your complete agreement with these policies.

All policies apply regardless of individual circumstances. If you do not follow the policies your participation in the training may be canceled without refund. We reserve the right to refuse service to anyone.
No refunds or exchanges, all sales final.
*Please note that we will break for lunch each day, bring a lunch or buy one at a nearby restuarant. Meals are not included in the class price.
Parking is ample and this venue is wheelchair accessible. More details to come with confirmation of registration.
---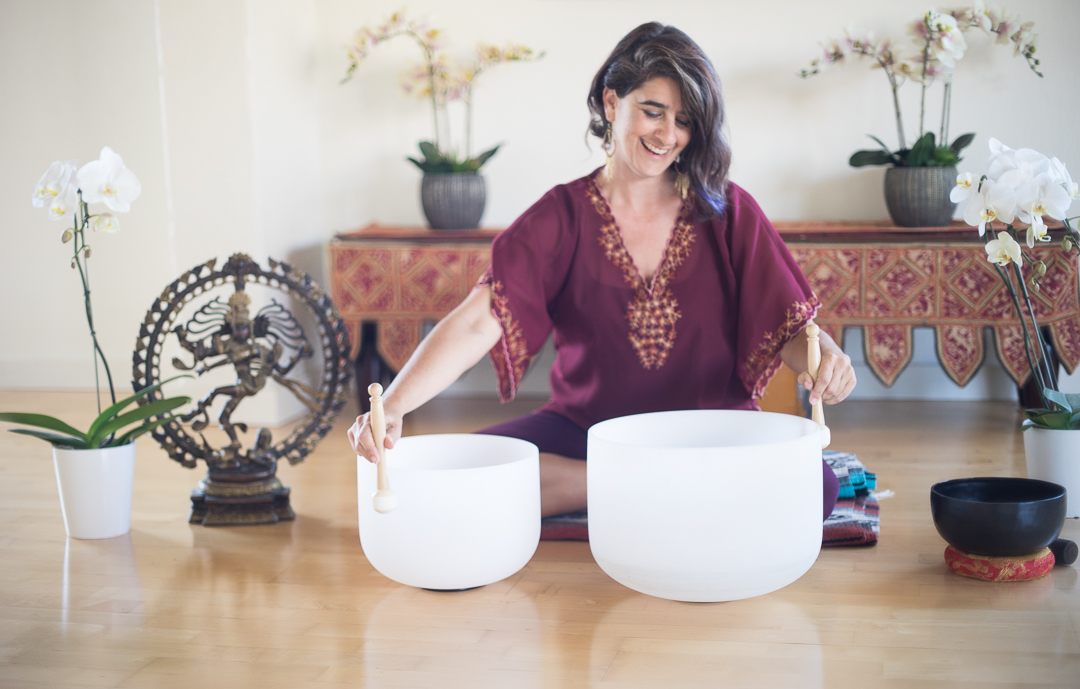 WHY TRAIN WITH ME - My Healing Story with Sound
My journey to sound healing is tied to my father.
His journey and my journey go together, hand-in-hand walking a long and troubling story; the kind that can't really be explained easily, it has too many textures and intensity for words to fully describe it.
At the beginning of my thirties, my father fell severely mentally ill and, sadly, never recovered. An MIT graduate and engineer for HP for over 30 years, my father was suddenly lost, ignored, and abandoned by a broken system.
​
During this time, I was paralyzed by two polar extremes of severe anxiety from the fear of my father's safety and a very dark depression from the sadness of losing the father I knew.
​
As his journey worsened, my body and mind began to break down from the constant stress of anxiety. I suffered: insomnia, digestive issues, fatigue, TMJ, migraines, back and neck pain, coupled with emotional hardship and trauma.
​
Days stretched to months and months to years. I started to lose my hair, I had an uncontrollable shake, I wore sunglasses everyday all day inside, every day felt bleak.
I took unpaid leave from my corporate job and, by PURE chance, walked into a yoga class where a crystal bowl was played during savasana and felt my body receive TOTAL relaxation for the first time in years.
I could feel my entire body exhaling.
​It was in that moment, I felt a tiny sense of hope.
Maybe my life could be different?
Maybe I could feel healthy and happy again?
Maybe I could be different?
​
I immediately bought three crystal bowls and began to self-heal with sound. Soon, as my nervous system re-balanced, all the stress symptoms were alleviated: my TMJ and muscle tension disappeared, I slept soundly, my digestion system repaired itself, and my body became healthy again. The turn around was incredibly fast considering the years I spent suffering.
With space and time, I received my own medicine. One that wasn't reliant on expensive talk therapy, western pharmaceutical drugs, addictive behaviors, or other things that left me feeling ashamed or depleted.
​
This medicine was within myself.

After a few months of my physical body healing, the real magic began when I started experiencing deeply meditative Theta brainwave states. I had flash insights of deeper truths and was able to finally metabolize the emotions and trauma of a very complex and unsettling situation.
​
Within a year, anxiety were eradicated out of my life permanently and I haven't experienced either since.
I've spent the last ten years researching and providing sounnd healing to others and am excited to finally empower and share this modality with others. In addition to sound healing, I am an 800 hr certified yoga therapist and lifelong learner, learn more about my business at here.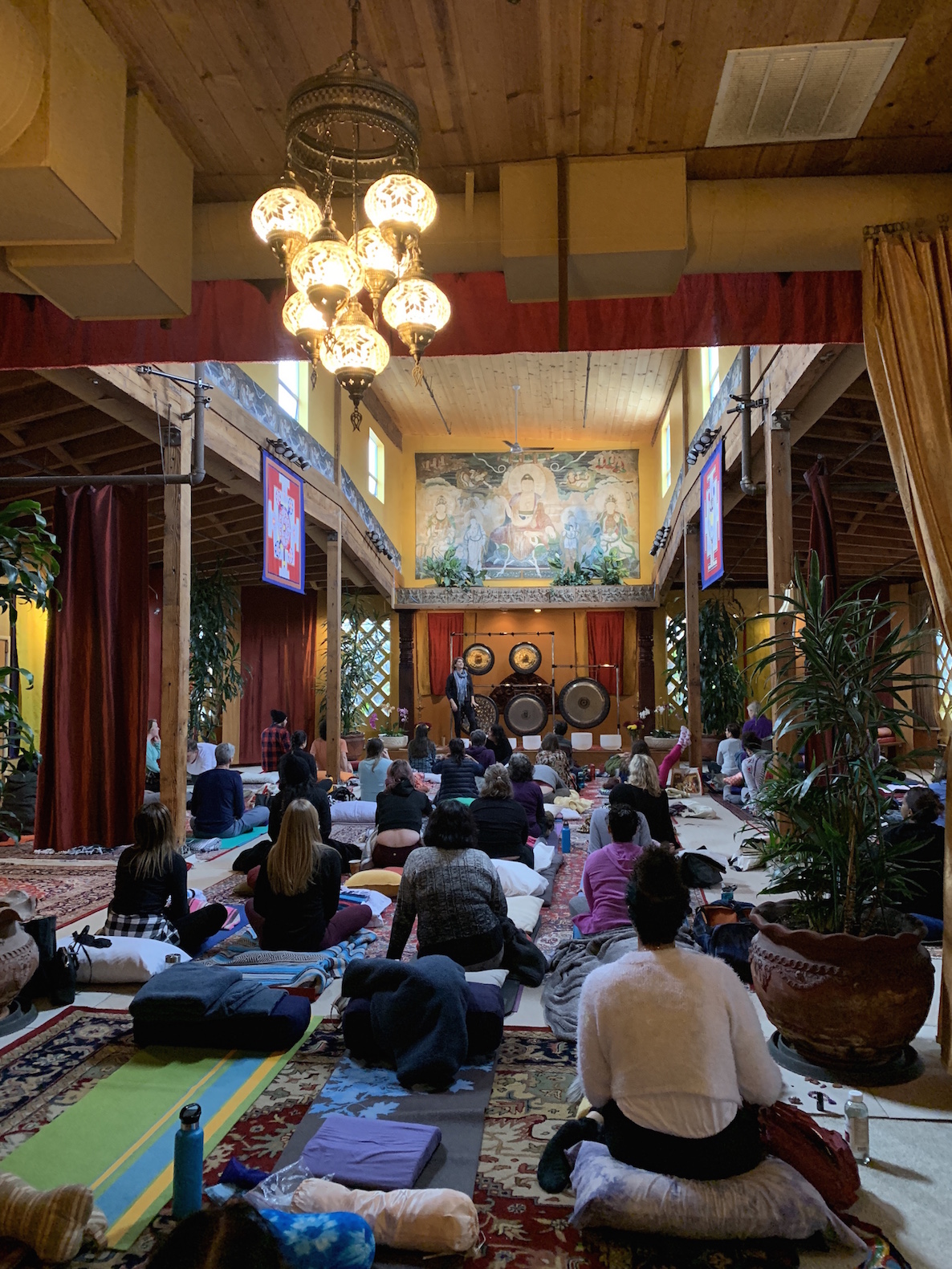 WHY WE NEED YOU:
On average, there are 123 suicides per day. Suicide is the 10th leading cause of death in the U.S., and the 2nd leading cause of death for people aged 10–34.

Anxiety, Depression, & Mental Illness affects over 46 million adults each year.

Of that number, only 41% of adults with a mental illness received mental health services in the past year.

100 million Americans are living with Chronic Pain

Need I go on?
With rising health care costs, we are in desparate need of non-invasive, natural, affordable healing therapies that compliment traditional medicines.
Experience a deep inner calm through a quiet mind
Release muscular tension
Explore a path of self-discovery and enhance your intuition
Metabolize and release your emotions without effort
Restore your nervous system by nourishing the rest and digest and decreasing fight or flight
Enter meditative states with ease
Feel an elevated mood through boosting of natural opiates
Deeply rest in the Delta brainwave state and receive an equivalent to a good night's sleep
Journey inward with colorful visuals and dreamlike states.
Feel a sense of harmony and wholeness
We look forward to sharing this powerful healing modality with you! Questions? Please email Melissa directly.